Haunted Child, Royal Court Theatre
Published:

Tuesday, December 13, 2011 18:10

| Review by:

Keji Dalemo

|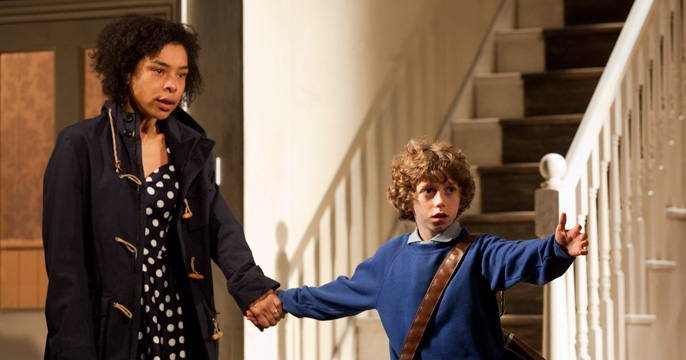 After leaving the family home for weeks without a word of warning to his wife or friends that he is going let along where and for how long, Douglas suddenly appears in his living room late at night, disorientated and dishevelled looking as though he has been sleeping rough to the bewilderment of his fraught wife Julie who just a few hours ago was having to deal with the fall-out of Douglas's random absence by consoling their young son whose behaviour has taken a turn for the worse following his dad's disappearance. 'No, daddy has not been killed by a bus, why do you say these things'? Julie asks her son Thomas both saddened by him understandably missing his father yet also disturbed by the macabre thoughts he has taken to articulating and demonstrating. Within minutes of Douglas's return, it transpires that Douglas's absence may well have been the last of the good times as the really dark days are still to come.

In Joe Penhall's latest play 'Haunted Child' which sees him return to London's Royal Court Theatre, we see what happens to a family when personal discontent leads one to look for fulfilment outside of the family unit without considering the ramifications it will have on the whole family. While still loving his wife, Douglas has embarked on a journey that has led him into the arms of some kind of 'group' that espouses 'esoteric' teachings to which Ben Daniels's Douglas will go all around the houses in not describing to avoid his new network being labelled the cult that Sophie Okonedo's Julie and the audience clearly know it is. Penhall's story is well written, unfolding as any good piece of drama should with the extent of Douglas's commitment to this cult revealing itself as the play progresses also throwing light on the source of the dark thoughts coming from their son Thomas. Daniel's alternation from the feelings that his old life provokes to the energetic person that he becomes when talking about his 'group', confident and enthused by its rhetoric, then back again to the feeling that he has betrayed something and lost control when he is lured by the pleasures of his former life is executed wonderfully and convincingly with moments of charm to Penhall's humour speckled script.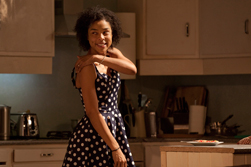 Anyone familiar with her work will not be surprised to learn that Okonedo does not disappoint, she is brilliant. Okonedo opening the play with young Jude Campbell's Thomas was a great move. Okonedo commands the audience's attention as soon as the lights go down as the exasperated Julie trying to be strong for her son while trying to hide her anger and fear as to what has actually happened to Douglas. In Julie, Penhall has created a well-constructed character, which in turn asks a lot from the actor playing her. Okonedo brings a vulnerability (and again a welcome humour) to Julie, which solicits audience's sympathy; does Douglas love 'them' more than her?

Young Jude Campbell gives a confident turn as Thomas who is perhaps the biggest victim of in the whole sorry scenario as Douglas feeds his young fertile mind with esoteric nonsense to which Campbell gives a rather charming bemused yet accepting look in response to; after all, he's just happy to have his dad home and taking him to school.

Particularly satisfying is that under the helm of Jeremy Herrin's directing, the three strong ensemble own every nook of the stage while on it always knowing what to do even when peripheral to a scene. An enjoyable play with a good story at its centre although at points it felt rather long.
---
Related links
Haunted Child is at the Royal Court, Sloane Square, London, SW1W until January 14, 2012