Comedy of Errors, National Theatre
Published:

Thursday, December 1, 2011 7:10

| Review by:

Abiola Lawal

|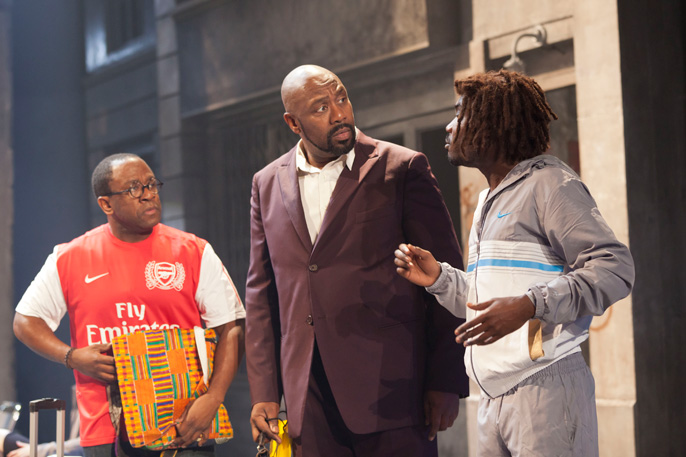 Dominic Cooke's current remake of the Shakespeare classic, Comedy of Errors, is a definite hit. It opens in dark tragedy setting the scene for the cause of what will later be slapstick, farcical mishaps that rival any Benny Hill sketch. The story starts when twin boys are split at birth, along with their twin slaves, and separated from their parents. They have grown up in different cities but in a stroke of adventure manage to find themselves in the same town of Ephesus where one gets confused for another and from there the comedy ensues.

Lenny Henry as Antipholus of Syracuse does not lose any of his trademark funny man value, although the African accent he puts on is a bit dodgy it still gives you jokes. His right hand man Dromio played by Lucian Msamati, whom some of you may remember from the televised No. 1 Ladies Detective Agency, is a bundle of energy that will have you rolling in your seat. They are without a doubt the funniest comedy duo I have seen since the Two Ronnies; the onstage chemistry between them is fantastic. A much more serious Antipholus of Ephesus played by Chris Jarman manages to maintain some kind of dignity in the face of all the injustices served against him, giving as good as he gets when his life is flipped upside down through mistaken identity. His main man Dromio, played by Daniel Poyser, connects with the audience at every confusing turn helping us share his pain and laughs.

I am grateful that the use of language stays true to Shakespeare's pen giving the comedy a poetic and theatrical tone, yet is set in a very contemporary world, reflected by the up-to-date WAG style worn by Antipholus' wife Adriana and her sister, Luciana; it all adds to the humour.

This adaptation is a wonderful Shakespearean romp that I thoroughly enjoyed, with a tasty African-Caribbean flair to it that just made me smile. Go see it!
---
Related links
Comedy of Errors is taking bookings at the National Theatre until April 2012