Cinderella, Theatre Royal Stratford East
Published:

Monday, December 19, 2011 13:44

| Review by:

Ekua Ekumah

|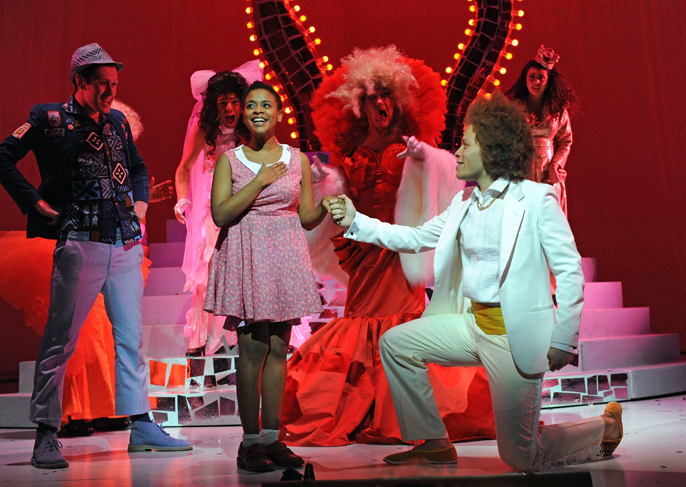 If you are looking for a panto that has the right mix of traditional charm and urban flavour, sprinkled with just the right amount of adult humour, then look no further than Theatre Royal's Cinderella.

This traditional tale has been given the Stratford East treatment by challenging the sugary sweet image of the traditional Cinderella to give us a straight talking give as good, if not better than she gets, down to earth Ella. Ayesha Antoine's Ella is feisty and 'real' and also manages to show us an extremely tender relationship between her and her father the Baron. His happiness is paramount to her, which is why she puts up with the atrocities dished out to her by the delightfully 'devious' and 'violent' Stepmother, played superbly by Michael Bertenshaw. Leading the trio of villain dames, Stepmother and her Ugly Daughters Sugary and Spicy provide a lot of the hunour in this piece; in fact everyone does, but Stepmother's 'wicked' humour and rapport with audience deserves special mention.

Special mention goes also to Sandra Bee, the flying Fairy Godmother- Cinderella's

late mother, who has taken up her new job up in the heavens, making rain! Her calypso song 'Cooking up a storm' that transforms Ella into 'Princess Anne of Animous" stole the show for me. Without needing to resort to expensive gimmicks, this show indulged our imagination and with the aid of animation, magnificent carnival costumes and real magic, managed to turn two fleas, three mice and a pumpkin into an enchanted carriage that made the audience gasp in wonder.

I could go on to mention my other favourite bits like the way the set represented the art for the Baron, or the Gold clad Queen Ugenia, whose kingdom is only ruled by women, the musical adaptations of Jessie J's 'Price Tag', the dancing to the Hustle and the Electric Slide…

All I can say is, go and see this show. I am certainly going again. I can understand why it was the people's choice in the theatre's Open Stage project, where the public chooses their favourite productions.



---
Related links
Cinderella is at Theatre Royal Stratford East until January 21, 2012
Afridiziak Theatre News interview with Ayesha Antoine, Cinderella, Theatre Royal Stratford East