Aladdin, Lyric Theatre, Hammersmith
Published:

Tuesday, December 6, 2011 8:53

| Review by:

Gillian Fisher

|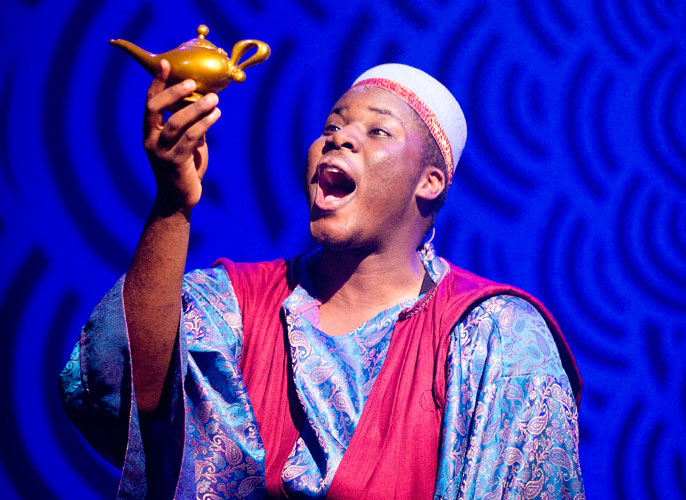 It's that time when men put on their best frocks, food is lobbed willy nilly and people shout raucously at complete strangers. No, it's not Saturday night on Old Compton Street, it's Christmas Panto!

At Hammersmith's Lyric theatre the traditional tale of Aladdin has been given a rather modern revamp. As a genie accompanied Aladdin tries to win the heart of proudly independent Princess Karen, obstacles are thrown in his way by lisping villain Abanazar, determined to be the most powerful sorcerer since Derren Brown and rule supreme in the kingdom if Ham-Ahh-Smitt. With Widow Twanky and Wishy-Washy ready to lend a hand and his crew eager to throw some shapes in any given situation will Aladdin win the fair princess' heart? Will good prevail over evil and Abanazar be vanquished? And will we ever discover why Wishy-Washy is a giant blue monkey?

From the opening scene in which we see our hero looting a giant bag of sweets it is obvious that this is going to be a pantomime with a difference. Add to the mix a superhero inspired genie with a west country accent, a Jamaican fairy in a purple tutu and matching doc martens and a gaggle of smart mouthed handmaids and the result is an evening of ultimate family fun with mass appeal.

Whilst the traditional elements are all present and correct in the form of panto dames and sing alongs, the musical selections range from Cee Lo Green to Jessie J and the script is cunningly interwoven with witty references to the banking crisis and modern culture. Our hero is played by Hammed Animashaun, cocky yet good natured, he swaggers onto the stage with a greeting of 'supp Fam?' to be answered unanimously with 'What's gwarnin?'His beloved Princess Karen played by Dominique Moore is all sass with plenty of wagging fingers and pouting lips. Ringo, the fairy of Abanazar's ring is booty shakingly spectacular, played with incredible liveliness and pluck by Sophia Nomvete, also demonstrating amazing singing skills.

The all important cross dressing element is provided by Shaun Prendergast as pink haired Widow Twanky. Sweetly greeting the audience in a selection of fabulous outfits to contain her sizeable bosom, she is the very epitome of the panto dame. Proficiently doubling up as the MC Hammer singing genie and Yorkshire Emperor is Nigel Betts, always clutching a different cuddly toy. Ostentatious baddie Abanazar is played with villainous smugness by Simon Kunz. Steven Webb as Wishy-Washy does rather steal the show. Being the product of a hot wash, a monkey and a blue sock he prances around the stage with incredible physical comedy, talking in txt spk, and ensuring loadsa LOLs.

Done without absolute confidence this urban themed panto would have been a patronising catastrophe. Luckily, with a cast who commit entirely to the production it succeeded in being fresh and fast paced whilst still embodying the classic spirit of pantomime with plenty of audience participation and ingenious sketches. Funny, chaotic and camper than a row of glitter encrusted tents this pantomime had me shouting out louder than the five year olds in the audience. A classic and much loved British tradition spruced up to reflect the Britain we know today. Fasten the seatbelt on your flying carpet and go and see this magnificent production.

Written by Joel Horwood, Morgan Lloyd Malcolm and Steve Marmion.
Directed by Steve Marmion.
---
Related Links
Aladdin is at the Lyric, Hammersmith until December 31, 2011