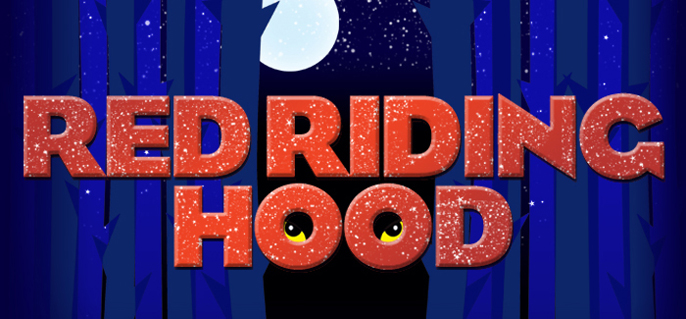 I felt a sense of unity at the Theatre Royal Stratford East at the Red Riding Hood press night. And above any other sense of purpose sort, the director must surely have given himself a pat on the back, having achieved this united front. The theatre's festive gathering, centres on Trish Cooke's adaptation of Little Red Riding Hood. Abridged title, Red Riding Hood; book and lyrics Trish Cooke, music and lyrics Robert Hyman, at the Theatre Royal Stratford East, until January 22nd 2011, directed by the award winning director/chorographer Omar Okai. Ah, pantomime, I hear you cry.

The season of pantomime is upon us in full force… However, do not fear. Okai, manages to take that tangled web that is pantomime: comedy, stage-fights, coarse humour, fantastic creatures, gender reversal, sung-narrative, and a smidgen of tragedy, to a place where nobody is irritating and nobody fell short of their role. Moreover, adding to the sense of unity, between audience/public, which The Theatre Royal Stratford East has achieved over many years.

The opening number, performed by the Three Little Pigs Straw (Gemma Salter) Woody (Darren Hart) and Bricks (Stephen Lloyd), assured the audience early in the proceedings that fun was ahead. This was no gentle warm-up routine and the Three Little Pigs were duty bound to mention, during the course of the performance 'Don't Mess with the Pigs,' as it happens, before we were seated the Three Little Pigs got going, no need to usher us to our seats there. These pink-eared, pearly-decorated, coloured-plimsoll-wearing creatures are the business when it comes to warm-up acts. Especially, with Woody (Hart) leading their rendition of Old McDonald had a Farm, E-i-E-i-O. This went down like a riot, also accompanied by pantomimic shouts that made the audience keen, to enter this world, and enter the audience did.

The evening was much like visiting The Rocky Horror Picture Show in places. Moreover, I mention this observation in conjunction with my enjoyment, regardless of all other ingredients tossed into the mix, whilst adapting, the tale of Red Riding Hood, at Stratford East. However, not wanting to make an outright comparison to the Rocky Horror Show, it cannot be a bad thing to leave a performance with that sense of enjoyment.

By way of the Pantomime genre, all the festive season has to offer is there: The broad busty Dame - Grannie (Derek Elroy), Red Riding Hood (Chloe Allen), the baddie, Lupinus Wolf (Michael Bertenshaw) deep throated and wonderful. And alongside Red Riding Hood, her closer cohorts and family: The Hooty Owl (Delroy Atkinson), Squirrel, Baby Owl, and Red Riding Hood's seemingly dysfunctional family, her sister, Big Blue Bossy Boots (Ayesha Antoine), their mother Violet (Sharon Sasson) and Violet's romantic fancy, Ben the Wood Cutter (Marcus Ellard).

All in a fairy tale setting which is itself finely tuned to allow: Grannie, to give beauty tips, 'It's not about the cucumber it's about the courgettes,' as she lays back to cover her face with said courgettes. In addition, her innocent but sparky granddaughter, Red Riding Hood, who takes use from the start of the performance to the end of the evening, undaunted and unawares, which I must say is credible to watch when she comes face to face with baddie Lupinus Wolf. 'I would like to f-e-e-d upon your f-l-e-s-h,' Mr Wolf remarks, as he tries to gorge himself through the inhabitants of Woodland Green.

Hooty Owl, (Atkinson) - and one must state for the record - Atkinson's ability to fill the auditorium with his voice - well! Squirrel and Baby Owl, the Henson/Sesame Street, type puppets are a charming addition to the plot. Red Riding Hood's mother, you half expect to breakout into 'My Old Man said Follow the Van, but don't dilly-dally on the way…' does not disappoint throughout the performance. Her romantic attachment to Ben the Woodcutter, 'Ben's my name and woodcutting's my game,' presumably quintessentially played to model himself on the BBC's Country File's personality Ben Fogle-very funny and well acted out.

Designer Emma Wee's, expressionistic set adds greatly to the ambience of the piece, as do her costumes. In the forest of Woodland Green, there are plenty of fog-filled corners, swimming amidst the blues, violets, purples, and green setting. So as well as Grannie, sexily clad, in shimmering nylon, polyester, crimpling, poly-cotton with her-size-15 feet-to-match, in her garish apartment, there she finally meets Mr Wolf- in that same apartment- deep in the woods. Wee, with her design, draws the audience into her adaptable woodland setting, sometimes dark - and darker still, enough to create the abdominal cavity that is Lupinus Wolf's stomach. Moreover, e-x-p-a-n-d, it must to imprison Red Riding Hood, her mates (the Three Little Pigs) and the missing inhabitants of Woodland Green. So now, the once bright and hue filled woodland, is no longer filled with the spring time chatter of Hooty Owl, Baby Owl, Squirrel and their friends. Ms Wee plays no cheap tricks here, just a good sense of the artistic, incorporating too, Lupinus Wolf's den, high up there in the woods.

Omar Okai's direction re-orders the tale of Red Riding Hood with intelligence. There is the contrasting scene, in Lupinus Wolf's stomach, almost Glam-Rock in essence. Think of those old 70's musical, Tommy for instance and the Acid Queen, and mix that with the characters, Bile, Gunge, and Trip, in the acidity of Lupinus Wolf's intestinal track-now there is a performance for you. While at the same time, the director uses the same intestinal environment to depict, credibly, a Blues Dance with Lovers Rock music pumping out romantically, performed by Grannie (Elroy), as the captured Woodlanders, think of ways out - sung well too. Not forgetting the one-man show, that Lupinus Wolf performs, also with flashing lights, 'Wolfylicous,' the banner states, and sung earlier in the production. This and similar instances ensured that the audience were on the directors journey until the end of the evening. The fairy tale narrative, never, really far removed from Little Miss Riding Hood's original tale, so the director did have a difficult task before him. However, Omar Okai, uses years of acquired experience to stretch the whole narrative even further.

It is my guess that many musicians/ musical directors in these modern times, all around the world, would time travel given the chance. In order to feel that pride of place that musical arrangements gave a musician in an era when audience/community counted their blessings on such occasions. Moreover, when the order of the day was cue sheets, and music itself was an essential contribution to vital emotional clues of the action staged, emphasising body language and facial expression, so that the audience could understand comic stock devices, and traditional slapstick humour.

Robert Hyman (Music and Lyrics), keyboard (Sean Green), drums (Perry Melius), and bass (Wayne Nunes) do not have to time travel, because Hyman's music was beautiful in its simplicity at times reminding one of a silent movie. A point in time when effects such as brass, drums, cymbals and other instruments accompanied some of the action watched, Grannies confrontation with Lupinus Wolf, being a perfect example, not withstanding the heavier musical numbers in the show. This is a good night out.
---
Related links
Red Riding Hood is on at The Theatre Royal Stratford East, until the January 22, 2011