It Had to Be You, New End Theatre
Published:

Thursday, November 25, 2010 9:24

| Review by:

Juliet A Green

|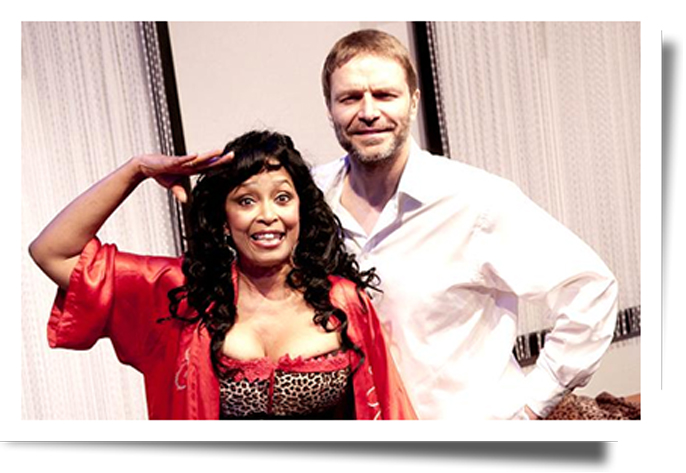 Either you will get Renée Taylor and Joseph Bologna's comedy, or you will struggle unnecessarily to do so. In my opinion, mistakenly if you allow the latter. Comedy is a release, it should be liberating and I found this comedy funny in a way I did not expect.

Carol Lawson (Theda Blau) and co-star, Anthony Green (Vito- Pignoli) depict just how funny life can be, especially when life heaps the full weight of its struggles upon humanity's often too fragile shoulders.

Lawson delivers a convincing performance as Theda a woman battling to keep the real meaning of her life and its surrounds in tact. As the performance commences we are taken back to a point in time, when Theda, confesses to the audience that she may have been going through a breakdown. Hardly surprising, when we first meet Theda, 'out of work actress, aspiring playwright, loveless and jobless,' it is Christmas Eve and Theda, attends another audition, only to be rejected, by all accounts, yet again.

Enter Vito Pignoli, Anthony Green's character, perhaps a little quiet, and rather reflective, at least to begin with. Vito Pignoli, producer/director, ladies-man, is about to address the upcoming reversal of his situation. Before progressing onto the life he secretly (albeit un-knowingly) craves, Vito- about to break for his Christmas vacation - meets, Miss Theda Blau, pronounced Blau as in wow.

Theda and Vito, share a cab home because of their chance meeting. At which point, Theda, decides, unbeknown to Vito, that 'IT HAD TO BE YOU,' determined, as she is to change her life, with the full force she has previously given to her career. We witness a reversal of feeling and personalities over the festive season, as Theda and Vito, simultaneously, shrink-and-grow-grow-and-shrink, with well-timed comic antics, directed by Michael Monks, using the coaching techniques of Ivana Chubbuck, in Theda's tiny New York apartment, designed by Juliet Shillingford.

Nevertheless, the essence of life's chances sometimes lost for good; melt before our eyes, as we watch the actors' performance, prior to being built up again, as the couple finally reveal to each other the ultimate sadness of their current situations.

With the reversal in their lives, now complete and as with all things in life, what's up next?
---
Related links
It Had to Be You is at the New End Theatre until December 24, 2010