George's Marvellous Medicine, Bloomsbury Theatre
Published:

Sunday, December 19, 2010 8:45

| Review by:

Anna Stopps

|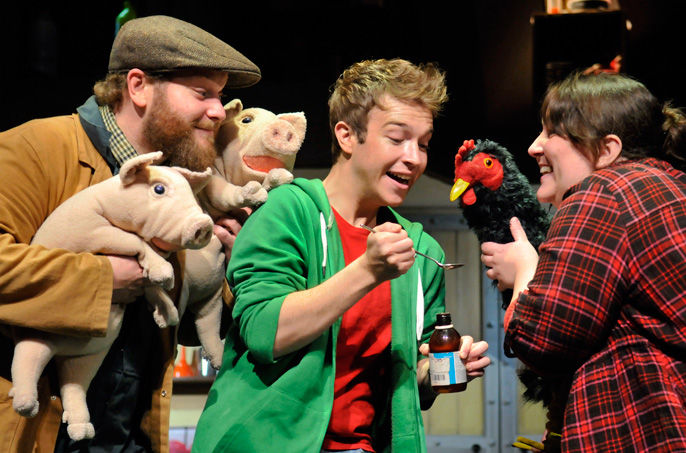 Bloomsbury Theatre's George's Marvellous Medicine by Roald Dahl and adapted by David Wood tells the story of a boy who lives on a farm with his parents and his grandma, who makes everyone's life miserable with her constant fault-finding and demanding ways. She takes daily medication which, as George points out, clearly isn't working – she isn't getting any nicer – so he decides to make her some himself.

The home brew makes grandma grow so tall and large that she shoots through the roof. It has the same effect on the farm animals and George's father is delighted; he sees it as a solution to all farmers' problems and wants to mass produce and market it. However, batch two has the reverse effect, Grandma shrinks to the size of a grain of sand – then disappears altogether.

The stage production of this was brilliant, with the audience included in pantoesque style and when the grandma actually grew to shoot through the roof there were gasps from the children in the audience. Clark Devlin puts in an impressive performance as George but the star of the show was the wonderfully cantankerous gran, played by Erika Poole. This play is family theatre at its best, your children will love it.
---
Related links
Roald Dahl's George's Marvellous Medicine is at the Bloomsbury Theatre until January 22, 2011