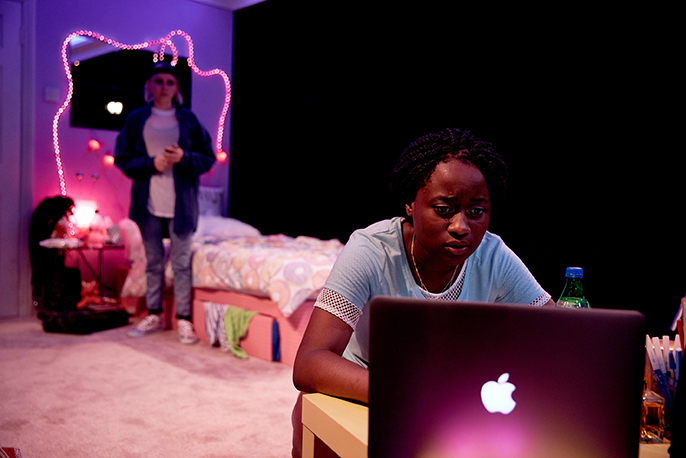 Considering that they perform as a duo for an uninterrupted 90 minutes these two young actors Tara Tijani ('Funke') and Katherine Humphrey ('Cleo') are to be commended for their energy and focus
This two-hander play deals with black teenager, 'Funke' and her white friend, Cleo. These two self-proclaimed 'bitches' rail against their respective outsider statuses – and buttoned-down conformity - by, firstly, becoming best friends, and then creating, and starring in, a regular 'vlog' (a video blog posted online).
Set in Funke's bedroom, the introduction to the play sees the two wordlessly preparing to post their final vlog ('for a while'), by listening to several profane, misogynistic, and (most importantly) cool contemporary pop tunes. They dance, they giggle, they preen, and - generally – they act like teenagers.
Unfortunately, their attempts at recording the latest on-camera installment founder, as the two vie for social supremacy. The issues raised seem modern, and yet, strangely familiar:
Funke is dissatisfied with Cleo's (barely) emotional response to a US. cop's recent killing of a black man; Cleo is confused ('but you're not even American').


Cleo's assertion that 'All lives matter', and that she 'doesn't see colour', is at odds with Funke's critical assessment of a racist 'post-Brexit' Britain.


The argument between the two as to why black female rapper Azealia Banks gets banned from Twitter for racism, while Katie Hopkins (white, female 'journalist') continues to… well, do what she does – has both feeling frustrated.


Cleo asserts that - as she's learnt to 'twerk' through watching Miley Cyrus - by extension, if it isn't visible/trending online, it simply doesn't exist (!); this naturally infuriates Funke.
And on, and on...
In the 1987 Hollywood movie, 'When Harry met Sally', the question was posited: 'Can men and women really ever be friends?'
For all the pseudo-political (mass) debating, online discussions about cultural (mis) appropriation, and post-modern posting, this play seeks to ask a similar question: '(In these so-called modern times) Can a black girl, and a white girl really be friends?'
Young women in their mid-teens are a mixture of wisdom, stupidity, profundity, ignorance, conformity, rebellion, bullying, nurturing, self-loathing, narcissism, sensuousness, awkwardness, and... hormonal inscrutability. Bola Agbaje's script is smart enough to deal with these contradictions, yet wise enough not to let her two mouthpieces write too many bouncing cheques.
Ultimately, Cleo is scared and saddened that her friend is leaving her behind, and Funke is both empowered – and intimidated - by the life she is aiming for. In some ways, this feels like a 'last hurrah' for their childhood friendship.
The 'bedroom' set is well designed, and the sound and lighting are appropriately brash.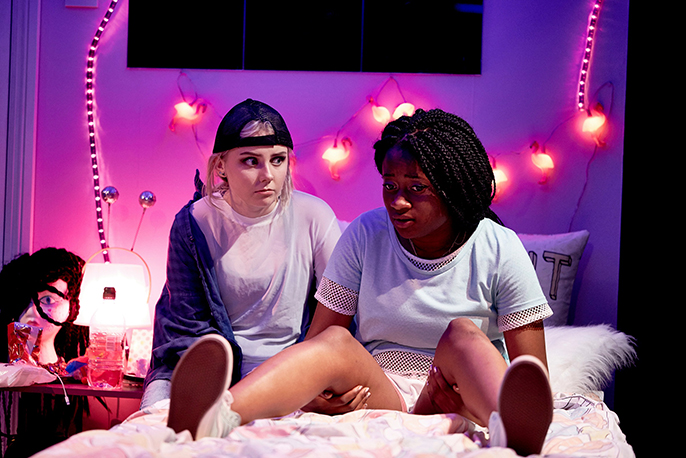 The performances, by Tara Tijani ('Funke') and Katherine Humphrey ('Cleo') show promise. They nail the teenage randomness, but they sometimes seem a little hesitant in their emotional transitions (perhaps due to their National Youth Theatre status). Considering that they perform as a duo for an uninterrupted 90 minutes these two young actors are to be commended for their energy and focus.
'Bitches' is ostensibly a play about the modern phenomena of growing up while simultaneously learning to express oneself in public and – to quote an earlier American drama – with an over-reliance 'on the kindness of strangers'.
This need for constant approval from said strangers - based largely on the number of new online 'followers' (oh, the irony) – shines a light on the vacuous, and sometimes insidious, nature of contemporary online posting.
Ultimately, though, this is an old-fashioned piece about two girls re-evaluating their friendship, while working out who they actually are. The fact that they feel the need to have the world watch them/follow them/love them through a camera lens, makes this tale seem even more… traditional.