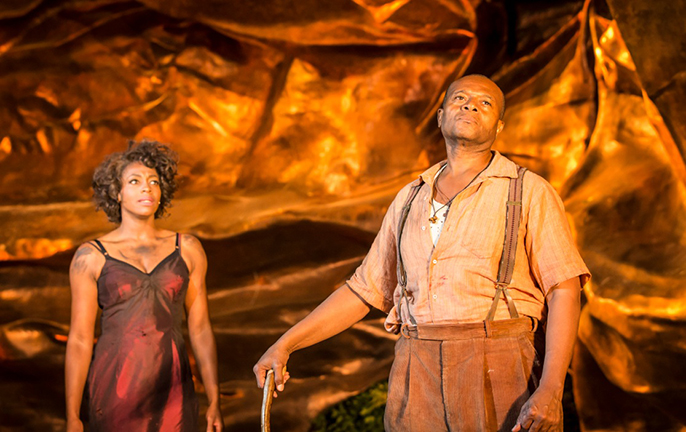 Whether singing, dancing, or acting, the cast is excellent. So much so that it almost doesn't seem fair to single anyone out.
It's both a blessing and a curse of The Gershwins' 'Porgy and Bess' that, nearly 80 years after it was first written and performed, it still stimulates debate as much for the colour of its creators' skin as for its musical content and character(isation). This adaptation deals with this issue by stripping (almost) everything away in order to let the piece speak for itself.
Regents Park Open Air Theatre (with its coliseum-like seating and lush foliage) seems, on the face of it, an incongruous setting for this American tale of love and death in 1930's South Carolina. As I join the predominately white, middle-class audience (tourists included) drifting in clutching glasses of Pimms and/or champagne to witness a 'black folk opera' (written by a two Russian Jews), I can't help but contemplate such concepts as 'contemporary relevance', and 'cultural misappropriation'. However, once the piece starts it's clear that here is a production, which, free from petty constraints can walk proud, committed and unafraid.
At the start, the stage is bare, except for a chair adorned with a single red dress. Dressed only in her undergarments 'Bess' enters to claim it. Putting the article on, she has the tired air of a prostitute stripping for an old… old client. Indeed, Nicola Hughes imbues the donning of the garment with such exhausted self-loathing, it's almost as if we are witnessing a public suicide attempt and in some ways, we are. Thereafter, with help from the male chorus (and some 'happy dust'), she morphs into the community's 'good time gal' - dancing, shaking, cavorting, and snorting her way through 'Catfish row' - almost like she wished there were no tomorrow.
Through various songs and asides, we are introduced to the main members of the community: 'Clara', 'Jake' and their unnamed baby; mephistophelean 'Sporting life'; older couple 'Serena' and 'Robbins'; community matriarch 'Mariah'; bully (and Bess' de-facto man) 'Crown'; and last, but not least, the good natured cripple, 'Porgy'.
I'm sure almost everyone is familiar with the tale of poverty, murder, public shunning, authoritarian injustice, redemption, love, social acceptance, tragedy, responsibility, and backsliding. The question of whether it ends with the ultimate act of love, or with foolhardiness in the extreme depends on how romantic - or indeed cynical - one is.
But the narrative beats don't tell half the story of 'Porgy and Bess' and certainly not this production! Firstly, there are the songs and what songs! Even taken separately, they include some of the most well-known and influential 'popular standards' of the last century (e.g.,'Summertime', 'It ain't Necessarily So', 'I Loves You, Porgy').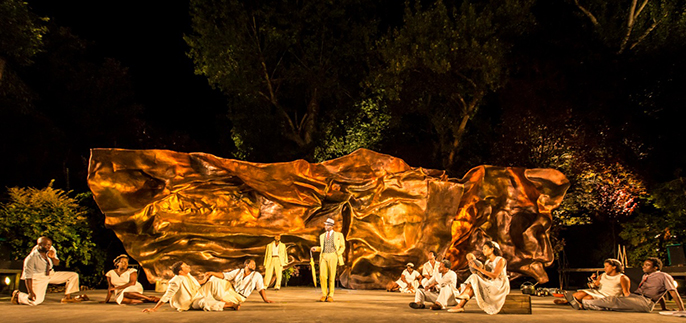 The full score, famously fusing elements of African-American, classical European, and folk music, is beautifully brought to life by conductor Simon Lee and his (hidden) 14-piece orchestra.
The full score, famously fusing elements of African-American, classical European, and folk music, is beautifully brought to life by conductor Simon Lee
The musical accompaniment is subtle and powerful in equal measure, sometimes supporting the narrative mood so closely as to seem almost undetectable. The staging, too, is a delight; being sparse and minimal (the backdrop is a single rippled bronze construction), it allows the cast space to breathe and dance and sing. Tables, chairs, and netting (the main props used onstage) are occasionally transformed into fishing boats, coffins, or hurricane barricades. At other times, a chair is still a chair(!) But such invention - to paraphrase another jazz standard - 'don't mean a thing if it ain't got that swing'.
The performances are the key and (whether singing, dancing, or acting) the cast is excellent; so much so that it almost doesn't seem fair to single anyone out. However, as we all learn from 'Sporting Life', life ain't fair. Golda Rosheuvel as 'Serena' is a revelation; the intensity of her acting (especially when mourning her murdered partner), and the emotional clarity of her singing are outstanding!
With a voice that reminds me of the great Al Jarreau, Rufus Bonds Jr. ('Porgy') is also wonderful. Possessing a charisma and a gift for understatement that can only come from mastery of the music theatre art form, he takes the audience with him through all of Porgy's emotional ups and downs (sometimes with but a gesture).
Cedric Neal as 'Sporting Life' is a perfect counter-point. He has possibly the most consistently exciting male voice on the stage and, like a modern-day 'serpent' (with 'happy dust' standing in for 'the apple'), he brings with him a sly, tongue-in-cheek knowingness to his work that is always entertaining, and oftentimes thrilling.
Finally, Sharon D Clarke ('Mariah') is able to convey both power and dignity with but a stern look, a sung note, or a spoken word. Special mention must also go to Nicola Hughes' emotive 'Bess', George Ikediashi's incredible baritone voice, Liam Steel's movement direction / choreography, and Timothy Sheader's direction.
This adaptation eschews the overt sexualisation and strict adherence to period props of past productions (costume notwithstanding); instead, its stripped-down framework emphasises more contemporary concerns, such as a growing antipathy in the face of a brutal authority, and the groups' solidarity against rising poverty and its own self-destructive elements.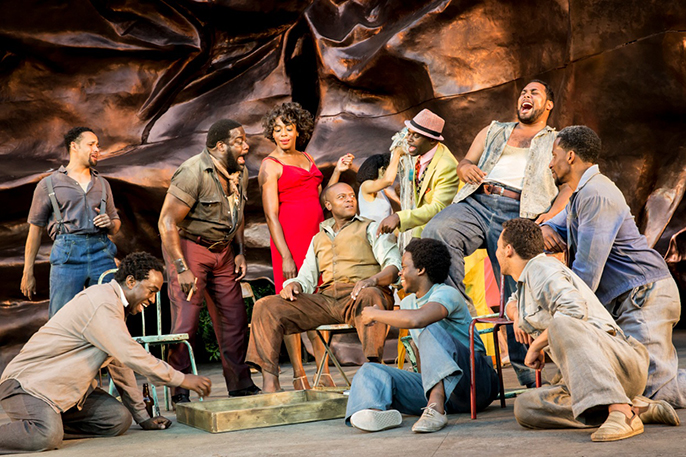 In the final scene, Porgy is elevated by his community; despite their misgivings they recognise and respect his belief in a love he feels he and Bess can still share (despite evidence to the contrary). And so, they lift him up onto the table(s) and, by extension, hold aloft their own hopes and dreams.
Porgy doesn't 'dance', though; instead, he walks upright towards his goal, his head held high, his body unbowed - clear in both focus and intention. Despite all he knows and all he has been through, here is a 'Porgy' that will not be hobbled by the 'songs' of a by-gone age, or crippled by the shared 'stories' of the here-and-now - but instead will use them to forge a brace for the future.
And therein lies the beauty of The Gershwins' 'Porgy and Bess': shorn of the rhetoric regarding its place in the so-called 'black pantheon', what's left is a generation-spanning artistic triumph; one which has given decades of pleasure to millions, and a platform from which to shine to thousands.
"Who could ask for anything more?"
And yet... if only similar resources were made available to help create more contemporary snapshots of the 'black experience'; if only greater support could be given (by Pimms and Guinness Punch drinkers alike) to both capture and perpetuate newer, more relevant 'black mythologies'; if only 'Porgy' wasn't so damn ubiquitous; if only... if only... (sigh)
Info: The Gershwins' Porgy and Bess is at Regent's Park Open Air Theatre until August 23, 2014 | Book tickets
Related links
Cape Town Opera's The Gershwins' Porgy and Bess, London Coliseum – review