Funmi Olawumi at the Vortex Jazz Club – review
Published:

Wednesday, August 6, 2014 8:11 AM

| Review by: Shari Bollers |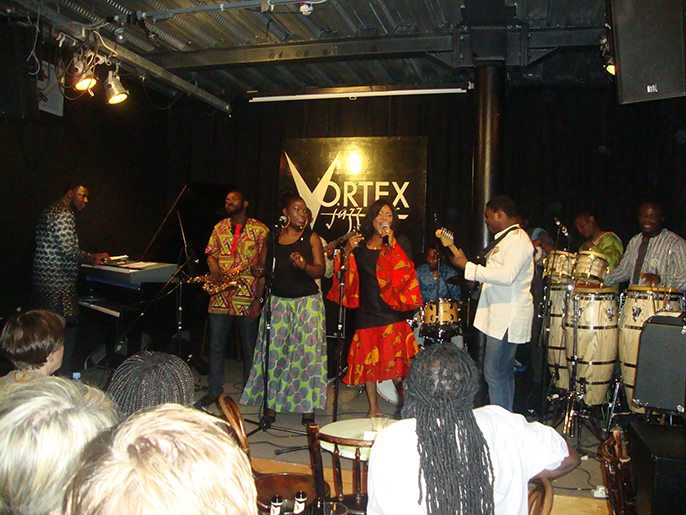 Funmi Olawumi's music was rhythmic, catchy and a true collection of Nigerian rhythms.


The audience politely took to their seats in front of the stage and obediently waited for the songstress to make her way to the stage. We were all there to see a performance by Nigerian singer Funmi Olawumi, also known as the leader and founder of the Yoruba Women Choir.
Sitting by the window overlooking the square that the club is situated on, I saw a diversity of people outside; even though we are clearly not in Nigeria it had the same ambience. The atmosphere was jovial, turned up a few notches on the volume and colourful. Which I hoped would be closely matched by the performance tonight the Vortex Club, a perfect venue for a small and intimate show.
Olawumi's nine-piece band, including backing singer took to the stage and kicked off the show by performing a number to settle us in. It was just what was needed to put the audience in the mood and get us ready for the main lady herself. And she did not disappoint, we were clearly her audience and she had us held firmly in the palm of her hands.
I cannot fault the performance for not being energetic because it was. The musicians on the stage were clearly enjoying what they do and great at it too. Throughout the whole performance there was a smile on all their faces, even when the heat from the spotlight was causing their faces to sweat, they were still smiling through it and getting lost in the music. Not only was Olawumi, singing she was dancing as well however it felt a times there was more of dancing than singing.
Olawumi, is a true performer and gave us a show. She was humble when interacting with the audience, even stepping off the stage to interact and dance with us. Sadly what was lacking from the performance was not clearly hearing the quality of her voice, which was lost in the intensity of the backing band. However, her music was rhythmic, catchy and a true collection of Nigerian rhythms.
Related links
Funmi Olawumi live at the Vortex Jazz Club – press release
Artists who work with Joyful Noise