Eye of a Needle – review
Southwark Playhouse
Published:

Sunday, August 31, 2014 6:54 AM

| Review by:

Ronke Lawal

|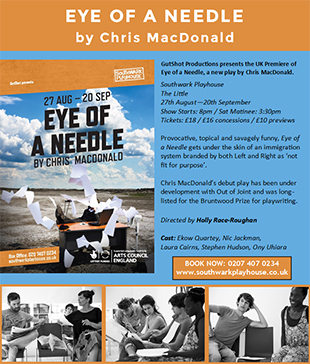 "Eye of a Needle" is Chris Macdonald's debut play and it has everything that debut should; it is daring, bold and provocative. Dealing with multi-faceted issues that are so relevant and poignant in today's society it is a brave under-taking for a debut. Set in a detention centre in Croydon we are introduced to various "cases", individuals, seeking asylum in the UK based on their homosexuality. From Uganda to Jamaica to Nigeria, the irony of citizens from former British colonial states seeking a home in the nation that used to rule them is not missed here. Also the religiosity (brought in by missionaries from the west) that has defined the homophobia in these nations has a similar impact on the ironic humour of this distinctly original play.
With a small cast the play managed to make a big impact, tackling issues that can never be resolved in less than two hours. Problems of the overstretched British Civil service, issues of immigration policy that is giving rise to a new wave of right-wing propaganda, African and Caribbean political systems and how homosexuality is viewed in those nations. That is not to say the "Eye of a Needle" is seeking to offer solutions, that would be naïve, instead the play seeks to make the audience think about their own perspectives on race, sexuality and the struggles of just trying to survive in life. There are various survival stories here, but the two most visible are of the central characters gay rights activist Natale Bamadi (Ony Uhiara) and her caseworker Laurence (Nic Jackman). Both characters are trying to survive their own struggles, a juxtapose of a blissful party lifestyle being held back by a dull 9 to 5, in the case of Laurence compared to Natale's traumatic life experiences witnessing the brutalities of homophobia in her Motherland.
Dealing with multi-faceted issues that are so relevant and poignant in today's society it is a brave under-taking for a debut.


Both characters give us an insight into how we view homophobia, how we view what it is be safe and what it is to have true freedom and each actor plays their roles with true gusto. Stephen Hudson (Ted) gives an exceptional performance as the plays "baddie", the brutal realist who sees beyond the sob-stories that are presented to him, and cuts through cases with almost robotic, dispassionate professionalism. Caroline (Laura Cairns), the legal representative adds an extra voice of reason, albeit in a cut-throat style, to the cases that she handles, often at loggerheads with Ted and Laurence, she is a great addition to the never-ending drama of the centre. Ekow Quartey has to be commended for playing 3 roles in this production and playing them well, particularly Harrison, the Jamaican asylum seeker whose spirit has been pushed to its brink in the centre. There is a scene in act two with Natale and Harrison in which they speak on the strength of spirit, a fight that is eventually the defining point of the play itself.
Macdonald has created a strong and balanced production here, I feel that the point of Laurence's party lifestyle is lost in translation at times and Natale's strength was so overwhelming that one was not always able to truly empathise with her in the same way that one could with Harrison. That is not to say that a show of strength diminishes anyone's struggle for freedom but her presence sometimes overshadowed the cause she was giving a voice to. I enjoyed this play and would recommend to anyone who cares about gay rights, immigration and society as a whole.