Romeo and Juliet, The Shed, National Theatre
Published:

Saturday, August 3, 2013 9:07 AM

| Review by:

Ekua Ekumah

|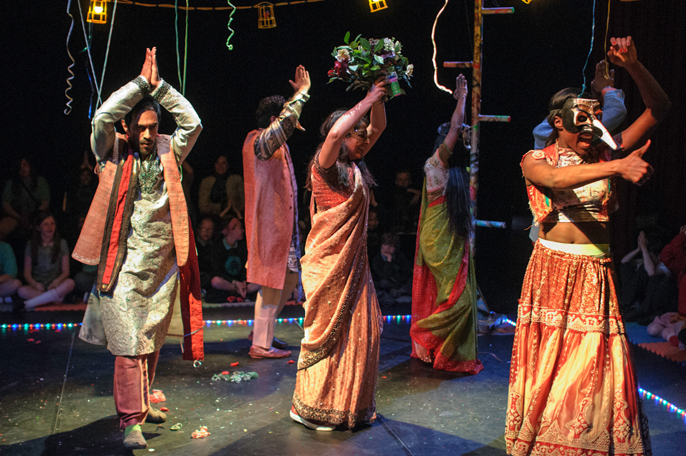 Ben Power has given William Shakespeare's classic tale of the 'star crossed lovers' Romeo and Juliet an urban twist in his adaptation. Performed in the National Theatre's 'Shed', a space described to 'present some of theatre's most exciting artists in an intimate new performance space on the South Bank' the largely young cast represent a kaleidoscopic reflection of a multicultural Britain.
The rivaling families of Montague and Capulet are clearly distinguished by their costume and not the obvious ethnic difference within the cast. The Montague's are recognisable in their block coloured suits, braces and hats and contrasted that of the Capulets' Asian inspired bejeweled jeans, waistcoats and headpieces.
My nine-year-old daughter was engaged the whole time.She said this of the final scene between Romeo and Juliet. 'That was very dramatic."
Romeo (Tendayi Jembere) is an incorrigible urban youth who falls in and out of love and is lead completely by his heart. His mother (Lashana Lynch-who doubles as Tybalt) is presented as first generation African diasporic migrant, cautious as she watches her son grow up within this city from the periphery. She is unable to reach her son as his world is filled with modern realities/technology that shuts her out. The scene with Romeo listening to Adele's 'Someone Like You' on his headphones oblivious to his mother's presence was both funny and poignant. The same generational configuration is observed in the Capulet family with Umar Pasha representing the patriarchal Asian father to Natalie Dew's, initially obedient Juliet. The giving of Juliet's hand in marriage to Paris resonates with traditional notions of arranged marriages within Asian communities.
The complexities of identity and belonging that the younger generation living in Britain has to contend with are cleverly highlighted in this adaptation. The issue of language is introduced through Juliet's father who constantly infuses an Asian language into his speech. Another poignant moment for me was in a conversation with his future son-in-law Paris in his language, who replies 'I have no idea what you are saying'!
A third moment for me was the killing of Mercutio and Tybalt, because it brought home so clearly the realities of the gang warfare across the nation, but particularly so in London. The chalking of the corpses were a constant reminder of the futility of life within the community, the now so recognisable black and yellow tape signifying the police line only added to this painful reality which I felt was necessary to address. The choreographed sequences are a credit to the director Bijan Sheibani who managed to make this production so relevant and accessible for a young audience.
I must make special mention of the music and subtle singing (apart from 'Romeo's rendition of 'Someone Like You') by the cast to support this production. My nine-year-old daughter was engaged the whole time, even though she was hungry. She said this of the final scene between Romeo and Juliet. "That was very dramatic"