The Epic Adventure of Nhamo the Manyika Warrior and his Sexy Wife Chipo - review
Published:

Tuesday, August 20, 2013 4:15 PM

| Review by:

Uchenna Izundu

|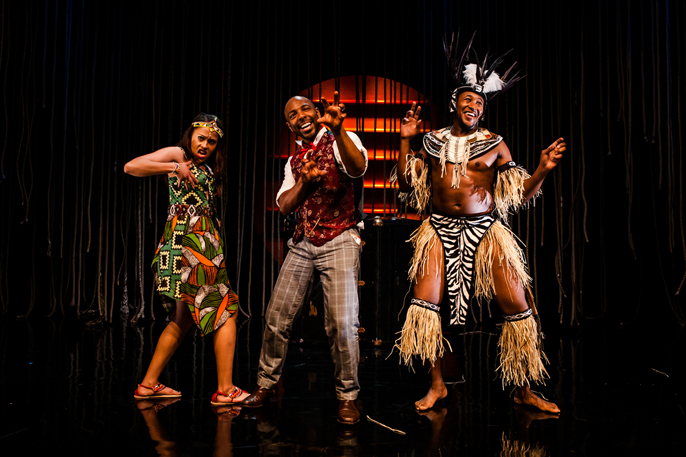 Like so many children in the UK, I was enchanted by fairy tales: warriors were Prince Charmings rescuing damsels in distress, outsmarting ogres and witches, and being rewarded with their darlings' hands in marriage – living happily ever after. I didn't question that none of the characters looked like me or indeed looked for an African infusion of backgrounds, tastes, or approaches. The closest equivalent in the folklore that I came across – weaving cunning tales around his oppressors – was Anansi and he always felt menacing.
Now, on stage Zimbabwean Denton Chikura offers us a modern rags to riches story in Nhamo, the Manyika warrior, who grabs the attention of his soon to be sexy wife Chipo. Initially a goat herder minding his own business in the bush, Nhamo (Ery Nzaramba) is dragged reluctantly into lights, camera, and action by the Narrator (Don Gilet) who has invoked the literary spirits – Chinua Achebe, Wole Soyinka, and Richard Pryor – to conjure a hero for him that will star in an new ITV soap opera in just 24 hours.
With wonderful, infectious chemistry, the cast transports the audience to a land far, far away where warriors and old school courting values clash with acknowledgement of Batman, Harry Potter and Neighbours. Posh and Becks are whispered about as exotic, fairy tale characters; Wikipedia is "a spirit in the wind that knows everything". It is a witty, physical, and rhythmic comedy where Chikura shoots from the hip on how too many African stories in the West must always start with sounds from the bush and it is littered with pop culture references with Chipo's constant mantra that she is an independent woman who will not be bartered like the last piece of chicken on the plate. The cast are hilarious in depicting the cacophony of harmonised jungle sound against the melody of The Lion Sleeps Tonight.
Tanya Fear is a haughty Chipo who doesn't take kindly to being reminded that she's donning a weave – even if it's high quality or that she's competing with Snow White for the A list roles. Gilet is a dashing and charming Narrator, deftly manipulating circumstances to his preferred outcome and Nzaramba is a naive and sweet Nhamo, simply entranced with Chipo because he wants to secure a regular dose of rice and chicken.
Brazen in full tribal Zulu uniform, Nyasha Hatendi is the imposing Vaseline greased Commander Specimen and he steals the show as Nhamo's love rival. Specimen is an artist dedicated to showing the Narrator that he has a full acting repertoire – whether that's drawing upon Shakespeare or laughing manically to demonstrate he's sooooooooo bad, he's good.
This is bubbling, silly fun that just keeps on drawing the laughs and audience's participation throughout with the 'ooohs' and 'aaahs' required to galvanise the characters in this political satire of western African stereotypes. Lucian Msamati, the new director of British African theatre company Tiata Fahodzi, marks his tenure in a great way showing that the African narrative has so much more to offer than gloom, doom, guns, and gang banging.
---
Related links
The Epic Adventure of Nhamo the Manyika Warrior and his Sexy Wife Chipo is at the Tricycle Theatre until August 21, 2013 | Book tickets
Press launch - The Epic Adventure of Nhamo the Manyika Warrior and his Sexy Wife Chipo
Escape to Africa this summer at the Tricycle Theatre
Tricycle Theatre and Tiata Fahodzi: The Epic Adventure of Nhamo the Manyika Warrior and his Sexy Wife Chipo