1936 by Tom McNab, Lilian Baylis Studio, Sadler's Wells
Published:

Thursday, August 2, 2012 6:17

| Review by:

Gillian Fisher

|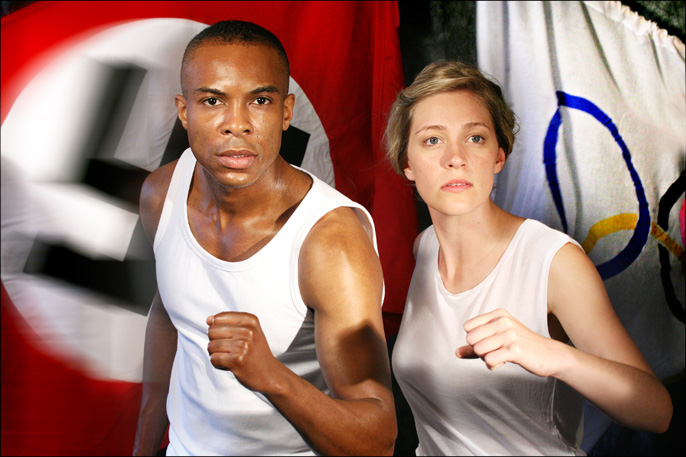 At the dawn of the Third Reich, Hitler planned to win the German people's support for his Nazi regime by boosting national pride. Convinced by Goebbels that the 1936 Olympics would be 'the making of Germany' the Fuhrer built a stadium of record shattering proportions and enlisted the PR skills of Leni Riefenstahl to create the world's most elaborate sporting event. But an Olympic games in a Nazi state was no place for Jews and any athlete or sporting official who kept the Sabbath was immediately banned from taking part. Across the pond journalist William Shirer broadcast the anti Semitic proceedings to America which sparked a movement to boycott the games. Fastest man on the planet Jessie Owens was asked by US officials to lead the boycott, but facing the daily discrimination of segregation the young runner refused to yield to such hypocrisy. Would the 1936 Olympics succeed in bringing together all nations beneath a banner of human excellence? Or would it prove to be the decisive event in facilitating Hitler's diabolical new order?

A meticulously researched and excellently portrayed piece of historical drama by Tom McNab. Neatly directed by Jenny Lee, the convoluted series of events that led to the 1936 Olympics are relayed through a series of independent interactions. Pillow talk between Goebbels and lover Christine in Berlin, Olympic Committee speeches in New York and high jump auditions in London intelligently demonstrate how far reaching the influence of this Olympics really was. Shirer acts as the glue connecting the individual dialogues. Played with measured resolve by Ryan McCluskey, his summaries and introductions provide continuity and enhance the production's sense of cumulative effect.

The set is simple to facilitate the vast number of scenes; a few props and projected backdrops of mountain ranges and kitchen wallpaper take us to an array of different landscapes and locations. Performances are whole hearted. Tim Frances skilfully emulates the Nazi leader with his obstinately set jaw and rigid wagging of fingers. Goebbels is sly and quick thinking; John Webber plays the role with a constant air of anxiety. His mistress Christine is wise but light-hearted played with a cut glass English accent by Lauren St Paul. Throughout the period of 1932 to 1936 we see the dramatic change in a number of key historical figures. Avery Brundage played by Peter Harding is originally so vocal in his disapproval of Germany's banishment of Jews from the games but bribery and manipulation render him the primary force in convincing Owens to compete.
Lucidly demonstrating the wider implications of the 1936 Olympics this production is a fascinating historical drama. With the gift of hindsight the audience knows what lies ahead for German Jews and watching the ethnic cleansing of Germany in its initial stages is harrowing in the extreme.

Each performance is followed by excerpts from Riefenstahl's propaganda film Olympia as well as a discussion with a panel of special guests from the sporting world. This was a hugely informative, thought provoking and enjoyable production. Candidly showing how crucial a role athletics can play in influencing the ideology of a nation one can't help but wonder what wheels are being set in motion by the Olympics in 2012. Tom McNab's 1936 is at the Lilian Baylis Studio, Sadler's Wells until August 5, 2012