Talawa's Young People's Theatre - I Am England
Published:

Saturday, August 27, 2011 11:38

| Review by:

Ekua Ekumah

|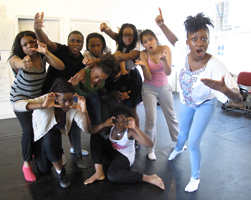 Expectations were high, having watched a number of TYPT productions. The bold statement of its title, especially in this volatile time where black youths are concerned, also raised the bar further. Billed as a production that explored black British history over 25 years, seen from the perspective of the next generation was an intriguing concept and an urgent and necessary voice, which was vital to add to the debate on this month's uprisings in England.

Ten young people populated the sparse stage, save for a Perspex wall at an angle across upstage and a rather useful white silk curtain down stage left. The long curtain served as a dramatic entrance/exit and a clever projector upon which the chronicling of the 25-year span of black British history was projected.

The abstract nature of the piece, which worked so well in the previous TYPT production of Krunch, could not boast the same success here. The voices of Margaret Thatcher, Tony Blair through to David Cameron, Barack Obama, even Nick Griffin were heard, in mapping the changing face of England in the last 25 years, but the most important voices, the people it affects the most and who were telling the story were for me muted.

The lack of a central story was problematic, which made the piece too disjointed and not critical enough on the issues it touched on.

I was left with a timeline of British history but not how that history impacted its black British population. What was highlighted predominantly was the racism during the period but nothing on the positive impact black Britain had and continues to make to England.

I must however commend the energy and talent of the young cast who were impressive.
---
Related links
I am England is on from 25-27 August, 2011
Afridiziak Theatre News review of Krunch
Afridiziak Theatre News interview with Patricia Cumper