Conversations with Love, Soho Theatre
Published:

Sunday, August 7, 2011 7:10

| Review by:

Keji Dalemo

|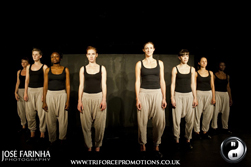 I've long given the art that is placed under the 'Dance & Performance' category a wide berth, sceptical that many of these performances that claim to 'challenge and provoke thought in the audience integrating poetry, dance and sign language…' is little more than contrived attempts to intellectualise art, propagating an eliticism that excludes the masses from the arts. And it is with this in mind that I approached Conversations with Love. I was regretting agreeing to go and see it. After approximately 60 minutes, I left London's SoHo Theatre exhilarated and stunned having perhaps just seen the best piece of art. Ever.

Conversations with Love is accurately described as a mixture of performances. There is poetry, there is song, the strum of a guitar, a lot of dance, and the sign language is also there - all playing out against the backdrop of a soundtrack of music. But this works. Not only does it 'work' it is a sheer triumph.

The beauty of the performances by the all female cast, dressed identically, moving to the same choreography that appears to still allow each to move in her own way, in accordance with her own personality, made me question, unwittingly, which one I thought was most like me while one of the conversations with love was playing out.

The monologues are acted out so naturally (and at times honest), they sound like a conversation that one would genuinely have, or imagine having with that special other. The featured monologues run the gamut of emotions that love stirs; the pain, the joy and excitement and all the grey areas in between.

The writing throughout is simply divine, delivered with passion by each of the cast. There was however one monologue in the stellar ensemble that stood out delivered by Ann Akins the writer, director and choreographer. A mesmerising piece of writing and performance that segued into a dance piece featuring Akins and Lianne Tucker that brought tears to my eyes and I cannot explain why. The combination of the dance, the preceding words and wonderfully perceptive musical soundtrack (that played throughout the performance) just tapped into something that caught me off guard.

The dance and movement (and the soundtrack, again, a very powerful and intuitive selection of music) is the prevalent form in this production. It both supports and directs the writing but work as visual, physical monologues in their own right. The chemistry between the cast members as they danced as a duo was incredibly touching and beautiful, particularly that between Catherine Ashton and Akins. Ashton generally showed herself to be a beautifully emotive dancer who relished every movement she made.

I do not have a bad word or even a suggestion as to how this show could have been better. I loved every second of it and give it five shooting stars.
---
Related links
TriForce Present: Half Baked with Chizzy Akudolu's The Rec Room
Triforce Promotions