Two Gentleman of Verona
Published:

Tuesday, August 17, 2010 8:13 AM

| Review by:

Monique Needham

|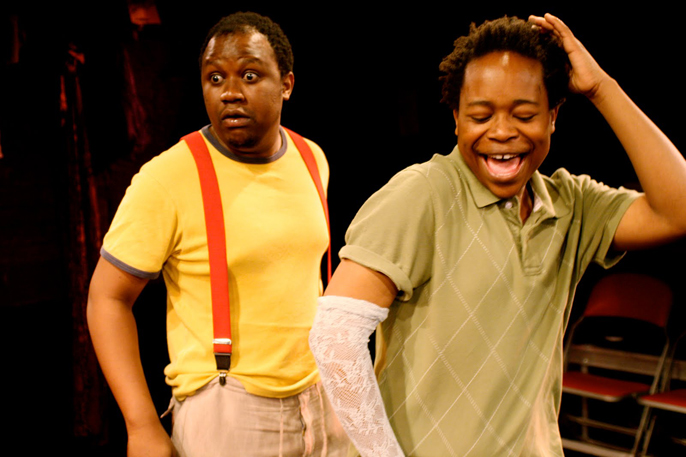 Many are intimidated about the idea of having to watch a Shakespeare play, too many thou's and thee's. To be honest, it can be overwhelming and much of the language can go straight over your head. You may have memories of being forced to study Romeo and Juliet, Hamlet or Macbeth at school and thinking 'I just don't get this'. Well the play Two Gentlemen of Verona is no different. However Vakomana Vaviri ve Zimbabwe, the Zimbabwean adaptation of the comedy, may just make you change your mind.

This laid back, two-man performance, delivered by Denton Chikura who plays Valentine and Tonderai Munyevu who plays Proteus is hilarious and beyond entertaining. We watch two friends who fall in love with the same woman and through comedy we witness rivalry, deception and betrayal.

With such a simple stage, just a washing line with various items of clothing hung up, you sit in the audience, curious about what to expect from this performance.

As soon as you sit down, it feels as though you have been transported to Harare Zimbabwe. Original music sets the scene and so does the introduction to the performance being delivered in Shona then translated in English. The light hearted and comical element of this introduction informs the audience that 'yes this whole play is going to be in this language'.

Chikura and Valentine were brilliant; they were spontaneous, interactive, engaging and had the audience in stitches throughout the performance. Being aware of those watching was what made this performance so unique. With the audience clearly looking lost at various points in the play the entertaining duo looks directly at them to ask 'are you lost, again' and gives a recap of what has been happening so far – a perfect way to get the Shakespeare novices up to speed.

The various items of clothing we saw hung up actually had a purpose. Chikura and Munyevu were playing multiple characters and instead of complete costumes each item represented each character. When you are laughing so hard tears are in your eyes and you cannot even look at the stage anymore during a Shakespeare production it proves that Shakespeare is not that scary after all. The director Arne Pohlmeier has identified a unique style and it is imperative we see more.
---
Related links
Afridiziak Theatre News review of Two Gentlemen of Verona (2008)