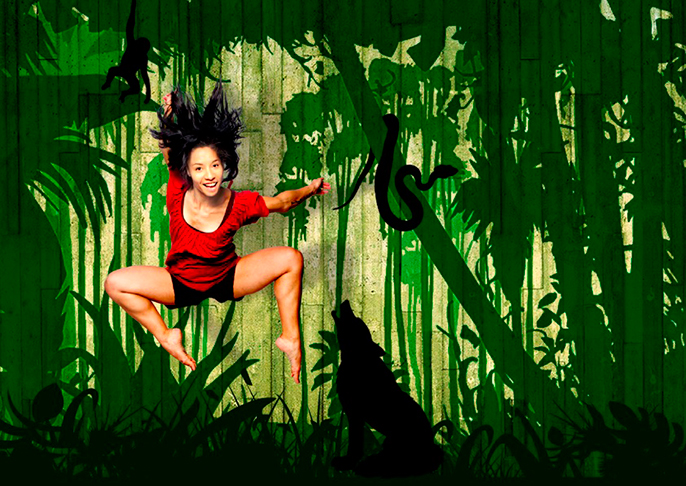 Natalie Nicole James (Mowgli) performs many styles admirably as well as various tricks, tumbles and some beautiful aerial work with a charm and focus that makes us care.
Note that the title doesn't mention Walt Disney - instead, this production of The Jungle Book (see listing) takes its cue directly from Rudyard Kipling's source material - contemporising it by locating the action to a 'modern-day' fictionalised urban setting, and by using spoken-word, dance, puppetry, circus, and aerial disciplines.
The piece starts in the 'present-day' as our spoken-word-spouting narrator, 'Baloo' the bin-man - using a microphone on the end of his broom - introduces the major characters (e.g.; Mowgli, Shere Khan, Kaaa, The Wolf Crew, etc.) before rewinding us back 13 years to show us the story from the beginning.
The much-loved tale remains largely intact for this reading, with Baby Mowgli being adopted by the skateboarding Wolf Crew (at the insistence of Bagheera) – before being pursued around the urban jungle by the criminal, 'Shere Khan'. Mowgli is then befriended by Baloo, kidnapped by the anarchic Monkeys, and rescued by Bagheera, Kaa, and Baloo.
After the interval, Mowgli removes herself from the Wolf Crew in order to survive among the robotic 'Suits' (a metaphor for the conforming nine to fivers). Not being able to make it, she hits hard times – only to be reunited with her mother.
Her mother tries to 'civilise' her by taking her to fancy restaurants and introducing her to different types of music and dance (culture). Mowgli is embarrassed at her inferior manners, runs away, and strikes up a friendship with Vee, the vulture. Mistaking her for Mowgli, Shere Khan attacks Vee, and is then pursued and captured and imprisoned by the police. Mowgli then bids an emotional goodbye to her mother before returning to Council Rock, where she can run with the Wolf Crew (if she so desires).
The shared aerial duet between Mowgli and Vee (almost sensual in tone) is a delight, as is the section where Mowgli is taught the languages of the other animals by Baloo and Bagheera. Another standout is the 'Pygmalian'-like culture lessons, where Mowgli dances to ballet, jazz, and classical (reverting to her preferred 'street' styles each time, much to her mother's annoyance).
While the individual dance performances are good, the group choreography seems a little 'flat' – often appearing to exist only to get to the next solo dance, trick, or tumble (the skateboards seem like a 'get-out-of –jail' card).
Kloe Dean, and Matt Knight are highly skilled and – most importantly – extremely watchable as (respectively) Bagheera and Akela.
Nathalie Alison (Kaa and Vee) is also very good; as confident in the air as she is seductive on the ground.
The Jungle Book is well constructed, and has some winning performances.


But it is Natalie Nicole James (Mowgli) who has the heavy lifting. She performs many styles admirably (from commercial to jazz to street to ballet), as well as various tricks and tumbles. She also performs some beautiful aerial work, and - most importantly – performs with a charm and focus that makes us care.
The soundtrack, lighting, and sets are simple, but effective (e.g.; the lampposts doubling for pole-dancing poles and the gates for riots shields and cages).
I thought the first half was a little flat, but the piece gained momentum as it progressed. This is no Disney homage; nor is it as child-friendly as the recent live-action Hollywood remake.
It is, in fact, along the same lines as the recent Into the Hoodz (read review); another piece that uses commercial dance and an urban setting to update a well-known children's story (or stories). I mention this because many adults in the audience expressed bemusement at this contemporary reading; interestingly, the children seemed to have less of an issue (despite the often dark tone).
My concern would be managing the expectations of a multi-generational audience, especially one primed for a proto-Disney experience.
That having been said, the piece is well constructed, and has some winning performances.
Info: The Jungle Book is on National Tour until August 28, 2016 | See listing