Light Shining in Buckinghamshire - review
National Theatre
Published:

Wednesday, April 29, 2015 6:03 AM

| Review by: Gillian Fisher | Afridiziak Star Rating: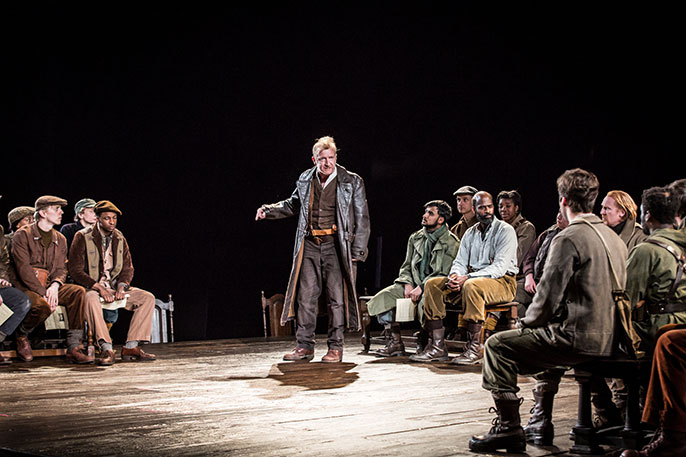 Light Shining in Buckinghamshire is a thought provoking and intelligent production, sure to encourage audience members to seek out the ballot box.
Caryl Churchill's historical drama is a feast for the eyes. Quite literally as the piece opens upon a lavish banquet scene complete with hymnal singing. Set during the English Civil Wars, the play delves into the inflamed political landscape of 17th century England. Far from Westminster, in fields and lowly halls, an army is rising to fight against the monarch state. An impassioned production, we watch England's underclass driven by hunger and religious zealotry. But once the crown has fallen, it seems questionable whether England under Cromwell will be any more green or pleasant. In 2015 with Britain gripped in pre-election frenzy, Lyndsey Turner's production reflects upon the grass roots of our current electoral system.
With a committed ensemble cast of over 40, this production captures the bustling activity of pre Reformation England wonderfully. With market scenes and political gatherings in town squares, Churchill has given voice to England's 17th century demographic. The realities of hunger and homelessness are starkly presented; Ashley McGuire's portrayal of a woman wracked with guilt, selling cloth to survive is acute. In such grim circumstances, many seek reassurance from the fact that Jesus will be returning in the next few years. The set designed by Es Devlin palpably depicts the gulf between rich and poor. A colossal dining table laden with suckling pigs acts as the stage. The nobility sit at the perimeter, picking at their entrees whilst the peasantry stride across, discussing their campaigns. Political ideology and its effects are central to this piece, the Leveller movement being a key focus. Nicholas Gleaves plays Mr Star; ardent leader of this movement which aims to reclaim and cultivate the land to feed the masses. The development of this character is especially poignant, as his philanthropic idealism gives way to practical bureaucracy once he is named squire.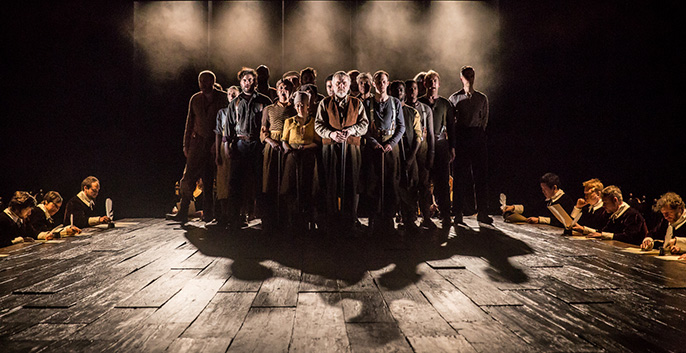 Turner's direction is assertive with chronicled events such as the Putney Debates of 1647 being played out fervidly. The authenticity of accounts is also enhanced with excerpts from political pamphlets. Whilst the piece is firmly set in the Civil Wars era, parallels with modern government are shrewdly made. The cast's attire changes to represent different periods. From Jacobean tunics to land girl overalls and activist duffle coats, costume designer Soutra Gilmore shows time advancing whilst the debates remain unchanged. The 1647 discussions over suffrage and one's place of birth not being a deciding factor are especially resonant within our multicultural society.
The political discussions are acted out with vehemence by the cast, but the text can at times be a little sprawling. The plays boldly explores subjects of gender, immigration, fundamentalism and class from the 17th century perspective. The contrast between past and present is incredibly profound. In the England of today serfdom has been abolished, women have the vote and education is a right not a privilege. But for all these advancements, those in power still represent the few rather than the many. A thought provoking and intelligent production, sure to encourage audience members to seek out the ballot box.
Info: Light Shining in Buckinghamshire is at National Theatre until June 22, 2015 | book tickets
Related links
Joseph Rowe – interview, Light Shining in Buckinghamshire