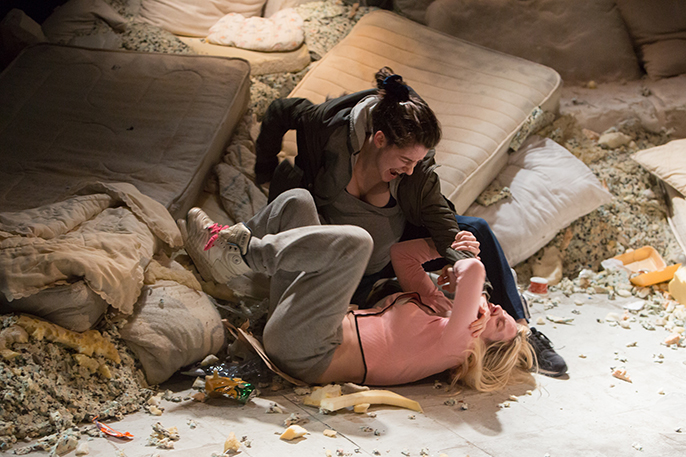 Pests is the new play by Vivienne Franzmann. A two-hander, it tells the story of two sisters, clinging to each other for support in a sea of filth and degradation.
By the end, it is not clear whether their inter-dependence has kept them both afloat or, indeed, has (through the years) been dragging them down.
It starts off with pregnant sibling 'Rolly' (played by Ellie Kendrick), having just been released from prison, arriving at the abode of her older sister, 'Pink' (Sinead Matthews). One is reluctant to call it a home; it is chaotic, rancid, and full of old, decomposing, ill-gotten attachments and discarded debris; a physical manifestation of their lives.
The performances, by Ellie Kendrick and Sinead Matthews are both superb; they have much work to do, but never let it seem laboured.
Pink is a raw nerve... a vast array of tics, quips, and expletive-filled tit-bits. She keeps herself 'afloat on a diet of cheap sex, cheap drugs, and… The Spice Girls ('Zig-a-zig-ah').
Rolly, by contrast, is quieter, slower, and both more considered, and considerate (attributes clearly exploited by her sister over the years).
As the story unfolds between them, we get to hear how they were initially raised by two abusive, substance-dependent parents before being put into care, where (when 'Rolly' was eight-years-old and 'Pink was 12) they were separated for four years. During this time, Pink started engaging in all possible forms of self-abuse and, adhering to the old maxim: 'misery loves company', started grooming her sister to become her 'partner-in-grime'.
It is no surprise, then, that, upon hearing how her newly-released sister has received assistance from a fellow-inmate ('May') whilst on the 'inside', Pink is less than enthused. First, she pours scorn on Rolly's newly-developed literacy and then, more insidiously, she scuppers a 'sure-fire' job interview for an out-of-town hotel; the success of which would have meant, presumably, 'losing' Rolly for good (as opposed to keeping her nearby… 'for bad'). Pink then engineers the means by which her sister will (re) join her on a descent into self-abuse, self-destruction, and degradation.
But it isn't all horrible! Pink's attempts at keeping her sister on board range from the sublime (gaining possession of a pair of red shoes), to the sub-human (regaining possession of said red shoes), and through to the ridiculous. In one of the funniest episodes in the play, a juicer, a banana, a quarter of a pizza, and an old cup of tea are utilised to make a most original 'health-drink' in a misguided attempt at both familial bonding, and to boost the pair's "vitaminisation". Priceless!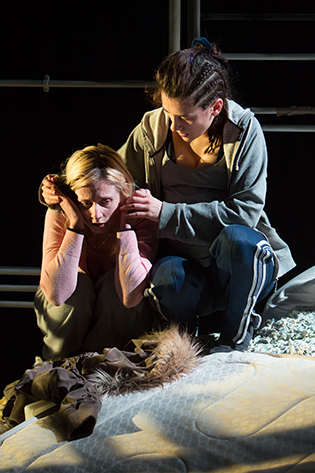 At one point, upon realising that her sister ultimately means her no good, Rolly looks set to finally get out. But, what's that they say? 'Blood is thicker than water, heroin, or strangely-flavoured smoothies!'
The sisters' communication is, at once, free-flowing, and fractured; a wonderfully constructed amalgam of urban 'gutter-speak', stylised repartee, sibling shorthand, and brutally foul language. The script (filled with juicy mini-monologues) describes people, actions, and objects in simple terms: either "Gold star", or with colourful, strokes of expletive-laden word-play. Although at times the story seems a little sign- posted, the entertainingly stylised dialogue more than make up for it.
The performances, by Ellie Kendrick and Sinead Matthews are both superb; they have much work to do, but never let it seem laboured. As the two actors make up the only two speaking parts (a silent female appears briefly to remove Rolly's baby), it seems as if we are listening in on a secret language that only they share. Their communication is both intimate and realistic which, in turn, makes their relationship, and indeed our reaction to it, more visceral. Lucy Morrison's direction must also be commended.

The single set by Joanna Scotcher is lovely; it is an intricate, three-sided interlacing of pipes that is, at once, a house and a cage. Within it are uneven mounds of old sofas, filthy bedding, and other detritus, allowing the actors to both manipulate their habitat (on different heights and levels), and also be camouflaged by it much like the 'pests' of the title. Mention should also be made to Fabiana Piccoli (lighting design), Emma Laxton (sound design), and Kim Beveridge (video design); all of these elements are carefully and cleverly used to enhance both script, and performances.
Info: Pests is playing at Jerwood Theatre Upstairs at the Royal Court, London until May 3, 2014. Book tickets