Home, The Shed – review
Published:

Wednesday, April 2, 2014 0:05 AM

| Review by:

Words by Lloyd Lewis-Hayter

|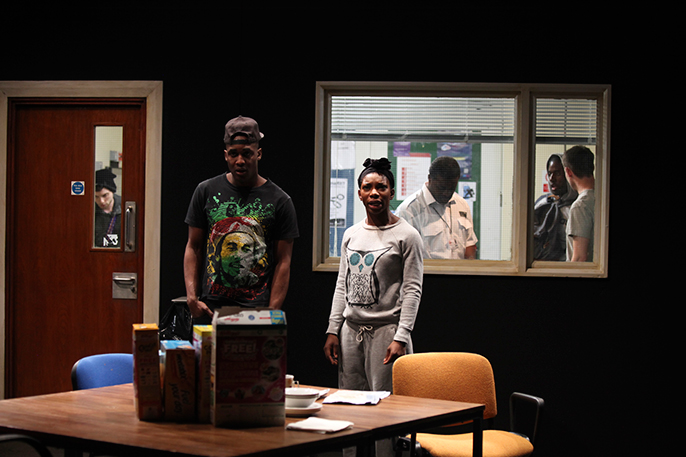 "That whole council house thing is just a myth now." Uttered by Sharon, manager at one of the largest hostels in London, it is the line that encapsulates not only the play but also the state of the country. Since Home ended it's first run in September 2013, the young and vulnerable have been hit by further cuts to benefits and services. As we learn in an added scene at the end of this updated production, such cuts have resulted in key staff redundancies, and whole mother and baby units being evicted, often being forced to relocate to completely new cities.
Taken from over 30 hours of recorded interviews with director Nadia Fall and hostel staff and residents, the script is layered with verbatim monologues and dialogue as well as some brilliantly inserted bursts of song. With the majority of the small cast playing at least two characters, making use of all the nooks and crannies of The Shed, you quickly get a sense of being within the fictional play's hostel Target home to 210 residents. The cast is excellent with each role delivered near on perfect. The character relationships and group dynamics are believable, humbling and entertaining.
You easily forget the actors are playing more than one role as Kadiff Kirwan effortlessly switches from a timid performing arts student unsure of his sexuality to a charismatic and popular ex resident. Antonia Thomas also showcases her ability to master more than one character with her portrayals of an Eritrean asylum seeker, British Bangladeshi single mother and rowdy sister to Michaela Coel's young mum. Nominated for best female newcomer at this week's Jameson Empire Film Awards for her appearance in Sunshine on Leith, Antonia Thomas is the actress of the moment with her breakthrough role in cult programme Misfts being resurrected just last night as part of new channel London Live's lineup.
The cast is excellent with each role delivered near on perfect. The character relationships and group dynamics are believable, humbling and entertaining
Grace Savage, two times UK Beat boxer champion plays young pregnant Jade and beat boxes her way through scenes, with the different rhythms and tones carefully creating coherent conversations. MOBO nominated Shakka has assisted with the musical elements, and with lyrics from Plan B's powerful Playing With Fire as well as Babycham's Ghetto Story bringing a knowing smile to the generation Target is home to, his impact on the piece is clear. The set also adds another layer to the dynamics with a window through to the reception allowing for the hustle and bustle of the hostel to remain evident throughout the piece as well as catering to many comedic moments.
The high level of both acting and singing results in a truly beautiful play, however the multiple role playing leaves you with fragmented stories, and the bursts of song take away from the realism culminating in a lack of true empathy for the characters. Speaking to the Evening Standard last year, director Nadia Fall explained she felt she 'had to turn down the volume on how crazy the place can be because I thought nobody would listen.' With news of further cuts and youth unemployment featuring heavily on our TV and newspapers everyday it seems now is the perfect time to turn the volume right up.
Info: Home is at The Shed, National Theatre until April 30th, 2014 | Book tickets