Collabo – review
Published:

Wednesday, April 9, 2014 10:39 AM

| Review by:

Lloyd Lewis-Hayter

|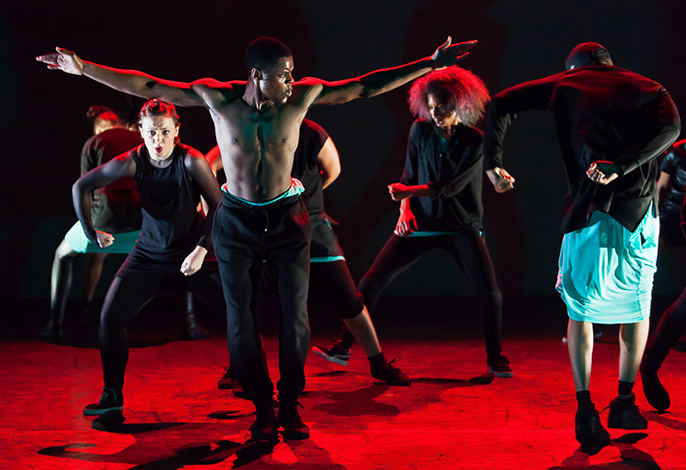 The first thing myself and probably the rest of the Collabo audience were wondering last week was if regular host and EastEnders actor Ricky Norwood would return this year amid his recent scandal. The second thing we were all wondering was if Collabo would be able to outdo itself again. With a slicker, quicker show mixed with the highest standard of dancers, Collabo did it all again and then some for the eighth year running.
Dreamed up and pieced together by Got To Dance artistic director, founder and choreographer of Avant Garde Dance Tony Adigun, with a little help from east London Dance, Collabo is becoming just as much of an important date in dancers' calendars' as its big brother Breakin' Convention. With no Ricky Norwood in sight, we quickly forgot any disappointment as last minute stand in Team Diplomats dancer Daryl Baker proved himself as a natural host.
A Collabo tradition, each year one piece of music is chosen for a variety of solo dancers and groups to give their interpretation.
Fresh from touring the world with Blaze, Kloe Dean gave the first interpretation piece. A Collabo tradition, each year one piece of music is chosen for a variety of solo dancers and groups to give their interpretation. With a powerful splash of waacking, Kloe interpreted this year's music, a beat by Irish producer Chris Jaymez to an audience full of supporters. Another ritual of the show is the Choreography Challenge. Given a random set of dancers, a piece of music they haven't heard before along with some words selected by the audience, a choreographer is given the challenge of creating a brand new piece in the space of two hours during the show. With the audience choosing the words plantain and yellow for his inspiration, this year's choreographer Brian Gillespie presented us with his dancers starting on the floor as if being fried in a pan, ending up on their feet scooping plantain into their mouths.
House All Stars, as it says on the tin are the stars of cutting shapes and fast footwork, and received a great response from the audience as they infused the current boom of house music with live African drums. Kayzar Dance gave another stand out interpretation of Chris Jaymez's music. One of the largest ensembles to grace the stage, Kayzar Dance included members of all ages with even the youngest being able to keep up with the fast paced choreography. The final performance of the night came from Tony Adigun's group Avant Garde Dance. Unable to perform on the first night of Collabo due to performing their Black Album show elsewhere, the audience were eager to see what Adigun had up his sleeve. Even though the high energy piece was unlike the group's usual abstract work it was no doubt the highlight of the night with the choice of music; Macklemore's Can't Hold Us providing a perfectly uplifting end to a powerful two nights.