One Night with Joan - review
Leicester Square Theatre
Published:

Thursday, April 18, 2013 11:30 AM

| Review by:

Gillian Fisher

| Afridiziak Star Rating: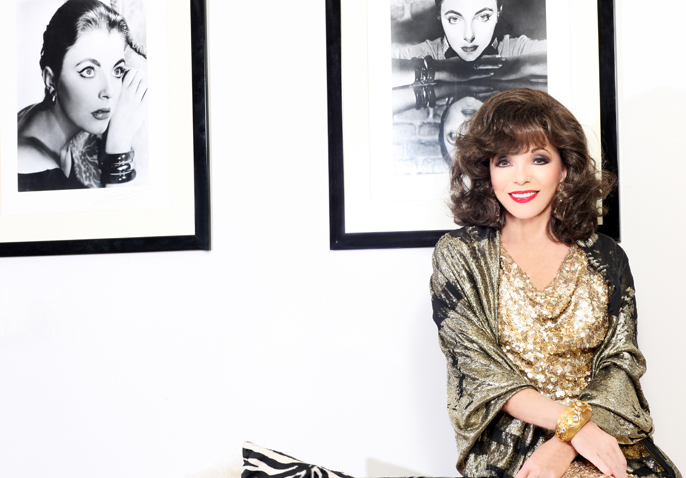 I have never been a girl to make a huge effort with my appearance. For me pulling out the stops involves whacking on some mascara and hoping for the best. But tonight I board the Piccadilly line with my hair straightened, my eyes carefully lined and I have even gone to the extreme lengths of donning a dress. The reason? I have a date at Leicester Square Theatre. A glamorous evening of indulgence; One Night with Joan Collins and one does want to look one's best.

As a showreel of Dynasty clips commences with an American voice over introducing 'Superbitch Alexis Carrington' it seems the evening will be a rather formulaic showcase of Collins' best known role. That is until the immaculately groomed star totters onto the stage in impossibly high sliver stilettos declaring "Stop! There was so much before that!" to raucous applause. As a woman who appeared on the cover of playboy at the age of 50, Joan has never been one to stick to formula.
As a woman who appeared on the cover of playboy at the age of 50, Joan has never been one to stick to formula"
Dressed in black sequined trousers and a sheer black evening top Joan begins at the beginning. Giving us a glimpse into her earliest memories as part of the showbiz Collins family, Joan treats the audience to family photographs of herself as a tot at the seaside. Receiving her first review at three 'Joan Collins makes the fairest fairy' the road to stardom was already paved. Long before the shoulder pads of Dynasty or the famous swing scene in The Stud a fresh faced 17-year-old Collins signed a contract with J. Arthur Rank. But it was with 20th Century Fox that she shot to international fame starring in The Girl on the Red Velvet Swing. Labelled as 'England's answer to Ava Gardener' Collin's describes the glamorous party lifestyle of Hollywood's golden age which came at a price.

As part of her contract Collin's had to shoot various scantily clad 'Turn 'em on poses' and was instructed to lose eight pounds from her already slimline frame. Later on Joan describes the inherent ageism in Hollywood and her refusal to let her advancing years stop her playing the role of the desirable female. Joan's incredible story is narrated by various stills and video clips which are meticulously composed by production designer Oliver Sones. We even steal a glance at Collin's screen test for Cleopatra; a role she never played due to her refusal to 'be nice' to the producers. Joan's phenomenal success without resorting to the casting couch is part of what makes her such a formidable and inspiring figure. Not one for bitterness, Joan cites several occasions where she was told candidly that she would never make it in 'this town' which she repeats with a knowing smile and subtle shrug of the shoulders.
The show is truly a one off and impossible to replicate. My night with Joan is one I will never forget.
Collins relives the most notable events in her life with good humour and a no nonsense finiteness. Currently on husband number five, each unsuccessful marriage is summarised with an offhand 'and that was divorce number... ' As Joan describes being a mother, moving from London to LA and accepting roles which 'would stretch her as an actress' (cue clip from Empire of the Ants) her upbeat self reliance and willingness to poke fun at herself shines through. There is plenty of name dropping, this is a woman who has worked with Richard Burton, was snubbed by Joan Crawford and lusted after by Gene Kelly. Her account of meeting 'a rather nondescript blonde girl' who turned out to be Marilyn Monroe resulted in some very sage advice. The evening feels strangely intimate and though scripted and neatly directed by husband Percy Gibson there is a genuine warmth from Collins as she delivers countless personal anecdotes and quotes from the biggest names in Hollywood history.

The evening was simply wonderful, an honest yet highly theatrical insight into the fascinating life of a woman who never played by anyone's rules but her own. The show is truly a one off and impossible to replicate. My night with Joan is one I will never forget.
Info: To find out more about this production and for more information on the upcoming tour please visit joancollins.net