Soul Sister, Hackney Empire
Published:

Sunday, April 22, 2012 20:07

| Review by:

Ronke Lawal

|


There are a number of American musicians that make up the soundtrack of my childhood and indeed my adulthood; Michael Jackson, Luther Vandross, Whitney Houston, Lionel Richie and Tina Turner are but a few. Alas the former three are no longer with us in the physical form but their music is of course immortal. Tina Turner has always had a truly original and vibrant sound to me, not the traditional r&b/soul her blend of rock and rhythmic pop made her stand out. Her voice, her sound, has always embowered an inviolable strength; even without knowing her story one cannot help to be moved by her music knowing that she has stood strong in the presence of something which has tried to break her.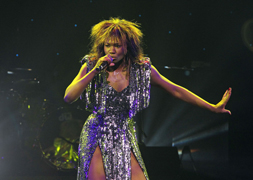 I am an '80s baby so the opportunity to not only visit The Hackney Empire (in my borough of birth) but also to see the musical re-enactment of a legend was almost too good to be true. From the first scene which opened with "Private Dancer" I felt like a child again, wanting to dance and scream as though Tina Turner herself stood on stage. And one could be forgiven for mistaking Emi Wokoma for Tina herself; such was her stage presence and vocal ability. We meet Anna Mae Bullock (Emi Wokoma) en route to her destiny in St Louis where she meets Ike Turner (Chris Tummings) and the road to stardom beginnings.

For those of you who have seen the movie "What's Love got to do with it" you will find this to be a more palatable translation of The Ike & Tina Turner Story. However that is not to say that too much comparison should be drawn to the film. Chris Tummings (Ike Turner) is a confident male lead, causing the audience to love and hate him; love him for his candour, hate him for his general presence, violence and crassness!

Emi Wokoma's embodiment of Tina Turner was powerful and convincing, where at times it may have been deemed caricaturist, Bob Eaton's direction and Jason Pennycooke's choreography allows her to be fluid and believable. I commend the musical company directed by Sean Green who brought the score to life. Highlights included "It's gonna work out fine", "Poor Fool", a particularly moving rendition of "Help" and the show stopping performance of "What's Love go to do with it" and "The Best".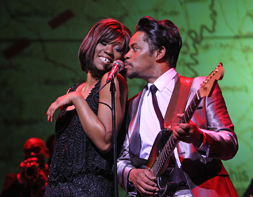 The issue of domestic violence is dealt with realistically, illustrating the brutal impact that love, control and violence can have on a relationship. The harsh realities of the music industry and the power of self-belief are all represented through Tummings and Wokoma's performances. "Soul Sister" is an incredibly entertaining stage show, John Miller and Pete Brooks have done a great job of creating an energetic musical which tackles difficult themes in a sensitive yet poignant manner. The only shortfalls would be the introduction of Rhoma (Sharon Benson), Tina Turner's best friend and spiritual mentor, which I felt to be a little rushed and the cartoon strip voice overs were at times a little distracting and not always necessary.

This is a show for all the family and is a great celebration of the beauty of womanhood. It saddens me to think that for many young women of this age, Nicki Minaj and Rihanna will be their only musical inspirations when a true legend like Tina Turner has been gifted to us. Tell the world about "Soul Sister" - it is 'Simply The Best'!
---
Related links