Review: Tell Hell I Ain't Comin', Broadway Theatre in Catford
Published:

Thursday, April 14, 2011 16:16

| Review by:

Shari Bollers

|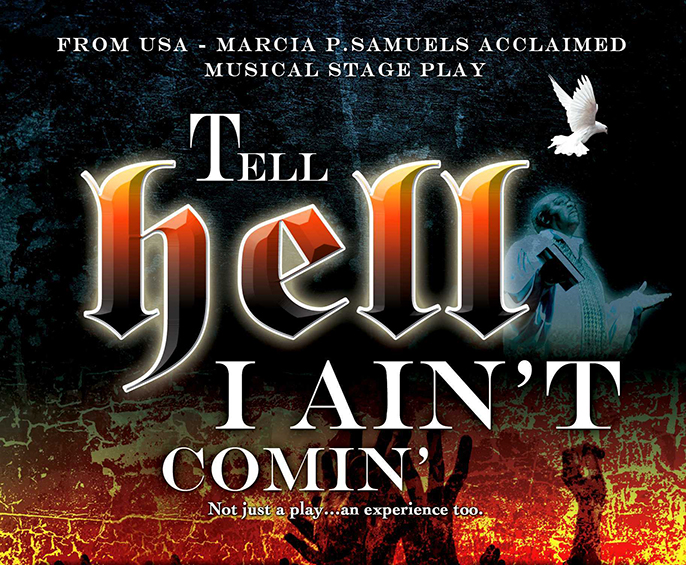 I went along to the Broadway Theatre in Catford to see the gospel musical Tell Hell I Ain't Comin' by Marcia P. Samuels. This play was originally a poem that she had written and it had been suggested that she should turn it into a stage play and boy am I glad she did. The play is a funny thought provoking look at people who have found themselves in hell and the story of how they got there.
Andre D'arby was adorable as Pastor Allgood who after dying finds himself being directed to hell. Throughout his journey in hell he meets a myriad of characters that profess to not belonging in hell and we find out what led to their untimely demise. Whether it be the S.O.C (Sunday Only Christian) who sins in the week and repents on the Sunday or the young boy caught up in gang life. Allgood truly believes he doesn't belong in hell and proclaims this fact throughout his time in hell. It's a shame that his mic wasn't always audible.
The music was catchy and I found myself and those around me tapping our feet to the music. I am sure if audience knew the words to the songs they would have joined in as well. All member of the cast had amazing soulful voices, it's a shame that they ended up in hell.
This is a must see for those who have and haven't got faith you'll leave having had watched a very enjoyable show, seen some amazing talent and singing some new tunes.
---
Related links
Tell Hell I Ain't Comin' was at the Catford Broadway theatre from 7-9 April, 2011