Afridiziak offer: Discounted tickets to see Nothing But a Man at the BFI Southbank
Published:

Monday, September 16, 2013 2:20 PM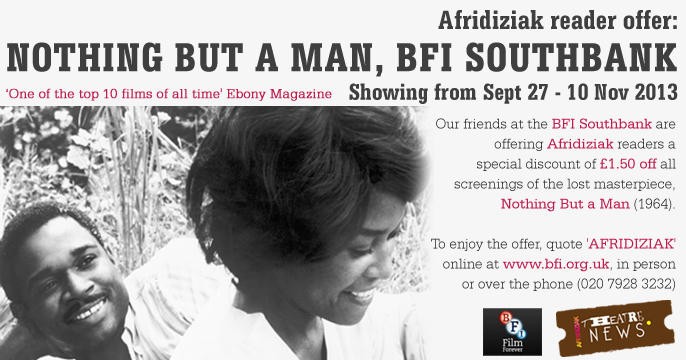 Trailer: Nothing But a Man
Nothing But a Man - courtesy of www.corp.kaltura.com/
A landmark of US cinema, this uniquely truthful depiction of black life in early 1960s Alabama won great acclaim at the Venice, London and New York film festivals. Though it then sank into relative obscurity, a recent restoration by the Library of Congress has again made its many virtues gloriously apparent.
When railroad labourer Duff (Ivan Dixon) meets teacher Josie (Abbey Lincoln), he decides it's time to settle down to marriage and a factory job. Trouble is, he's expected to tolerate white bosses who, wittingly or not, are unfailingly racist, and Duff has his pride. Moreover, the couple have to deal not only with the disapproval of Josie's preacher father, but with Duff's son by a previous relationship and his own alcoholic father. Small wonder this was reputedly Malcolm X's favourite film; terrific performances by the mostly African American cast (Lincoln is especially memorable as the strong-willed Josie), eloquent camerawork by Roemer's writing partner Robert M Young, and a matchless soundtrack of Motown tunes make for understated but powerful drama. Still more impressive, the film provides persuasive insights into how social conditions can influence not only relationships but notions of masculinity, responsibility and resistance, so that it still feels surprisingly modern and all too relevant.
SPECIAL OFFER
Our friends at the BFI Southbank are offering Afridiziak subscribers a special discount of £1.50 off all screenings of the lost masterpiece, Nothing But a Man (1964). To enjoy the offer, quote 'Afridiziak' online at www.bfi.org.uk, in person or over the phone (020 7928 3232).
Info: Nothing But a Man is at the BFI Southbank, Belvedere Rd, South Bank London SE1 8XT until November 10, 2013 Book online