Get £15 tickets to see The Royale, Bush Theatre
13 Mar - 18 Apr 2015

by Marco Ramirez | directed by Madani Younis
Published:

Tuesday, March 3, 2015 0:12 AM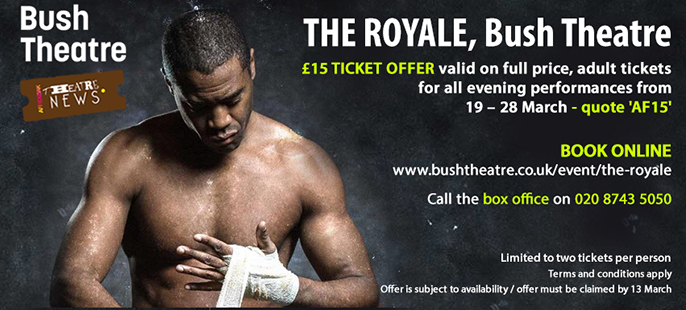 Special Afridiziak Ticket Offer!
£15 TICKET OFFER Valid on full price, adult tickets for all evening performances from 19 – 28 March - quote 'AF15' when booking. Limited to two tickets per person. Terms and conditions apply. Offer is subject to availability. Tickets must be booked by 13 March 2015. BOOK NOW ONLINE or call the box office on 020 8743 5050.
The Royale | Trailer
The Royale | Trailer, courtesy of YouTube.com
Jay 'The Sport' Jackson dreams of being the undisputed heavyweight champion of the world. But it's 1905 and, in the racially segregated world of boxing, his chances are as good as knocked out.
When a boxing promoter hatches a plan for the 'Fight of the Century', The Sport might land a place in the ring with the reigning white heavyweight champion, but at what cost? It's not just a retired champ he's facing, it's 'The Great White Hope'. In daring to realise his dream, is Jay responsible for putting African American lives in the danger zone?
Told in six rounds and set in a boxing ring, The Royale is inspired by the often overlooked story of Jack Johnson, a boxer who – at the height of the Jim Crow era – became the most famous and the most notorious black man on Earth. More
Go behind the scenes | Meet the cast
INFO: £15 TICKET OFFER Valid on full price, adult tickets for all evening performances from 19 – 28 March - quote 'AF15' when booking. Limited to two tickets per person. Terms and conditions apply. Offer is subject to availability. Tickets must be booked by 13 March 2015. BOOK NOW ONLINE or call the box office on 020 8743 5050
---
Related links