News on Afridiziak Theatre News patron , Angie Le Mar: Tune into The Brothers on MTV Base this week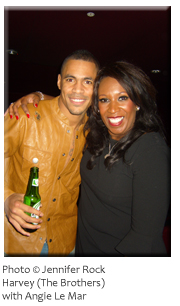 MTV Base brings ground breaking comedy drama to the small screen! MTV Base proudly presents The Brothers, the hugely successful smash theatre production transformed for the small screen, premiering on Tuesday March 24th 2009 at 10.30pm-11.30pm in a 4 part extravaganza, continuing the following week on March 31st from 10.30pm-11.30pm!
MTV Base brings ground breaking comedy drama to the small screen! Ever wondered what the guys talk about when they're home alone?
How they look at their best friend's girlfriend or how many take-away romances a week they have?
Well The Brothers will give you an amusing insight into their world...
Written and directed by the multi-talented Angie LeMar, also known for her riveting radio shows and legendary stand-up comedy, The Brothers is a modern day snap-shot of the friendships of three young black men.
It's a story about the women in their lives and how relationships survive the consequences of deceit and betrayal.
The issues are hard but the tone is light-hearted and laugh-out loud funny and people of all races, ages and classes will relate to the gripping story lines.
Put musician and reality TV show dream boy Harvey (ex So Solid crew) with rising TV and film star Chucky Venn (Sharpe's Peril, The Dark Knight), finish off with actor Jason Barrett (Cage Rage) and you have a male line up hot enough to get the ladies, tabloid gossip columnists and journalists salivating.
The ladies balance that sizzling line up in the form of singers/actresses Michelle Gayle (Eastenders) and Kelle Bryan (pop group Eternal) amongst others.
The show will have your friends debating and discussing the issues at length-expect explosive storylines and a gripping night with MTV BASE and THE BROTHERS!
The Brothers Premiers Tuesday March 24th 2009 at 10.30pm - only on MTV BASE