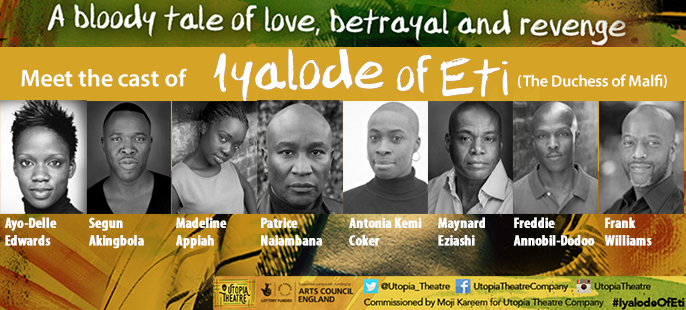 The cast has been announced for Iyalode of Eti - a bloody tale of love, betrayal and revenge...
Iyalode of Eti is a unique West African transposition of one of the greatest dramas ever written, John Webster's masterpiece The Duchess of Malfi. The recently widowed Iyalode – a young, beautiful chief – longs to marry her servant, Oguntade. Her brothers vehemently forbid it, but Iyalode secretly marries and gives birth. If the brothers discover the deceit, a trail of torture, torment, betrayal and murder could follow...
This is a theatre event with music, poetry and dance immersing The Duchess of Malfi's original setting to pre-colonial Yoruba land with its many sights, sounds and colours.
Madeline Appiah (plays Iyalode of Eti) trained at The Liverpool Institute of Performing Arts. Theatre credits include: In The Next Room or The Vibrator Play; The James Theatre, The Duchess of Malfi; The Old Vic, Speechless; Shared Experience, Macbeth, Merchant of Venice and Taming of the Shrew; Royal Shakespeare Company, Welcome to Thebes; The National Theatre, Off The Endz; Royal Court, It Felt Empty When the Heart Went at First; Arcola, Restoration; Headlong Theatre Company, The Wedding Dance; Nitro. Television credits include: Partners in Crime, King for a Term, Doctors, Gavin and Stacy, Holby City, The Bill and EastEnders.
Freddie Annobil-Dodoo (plays Oguntade) (AKA Freddie Annobil-Dodoo) is a British theatre, television and film actor known for programmes such as the BBC′s Bafta Award-Winning Drama Serial, Holding On. Most recently he was seen in the BBC's hospital drama, Holby City playing the role of Kabi Oalanjo. Television credits include: 'Grange Hill', 'The Bill', 'Casualty', 'Heat Of The Sun', 'The Vice', 'Come Rain Come Shine' with David Jason. Theatre credits include: The Day The Bronx Died at the Tricycle Theatre, When Brains Don't Count at the Royal Court Theatre and Sing Yer Heart Out for the Lads at the Royal National Theatre. He was awarded the Barclays Theatre Awards (TMA) in 2001 for Best Actor in a Supporting Role for his performance in Yerma Adapted by Biyi Bandele.
Segun Akingbola (plays Oloye Taiyewo Olorogun) trained at The Poor School and ALRA. Theatre credits include: Julius Caesar (RSC, Tour) Macbeth (Greenwich Playhouse); The Patient (Soho Theatre); Under Milk Wood (ALRA Theatre). Television includes: One Night (BBC) Julius Caesar (Illuminations/ BBC) Holby (BBC). Film: Patience (Persistence/ Mob films) Ambition to Live (Triforce promotions) Sea of Regrets (iLikeTrains/ Progressive). Actor, writer and amateur percussionist; Segun studied under Ian Carr as part of the London Fusion Orchestra as a teenager through WAC. He is a proficient drummer and has a keen interest in music, the visual arts and different forms of martial arts.
Maynard Eziashi (plays Oluawo) has over 25 years experience as a professional actor, he won the Silver Bear Award for Best Actor at the 41st Berlin International Film Festival in 1991 for Mister Johnson, starring alongside Pierce Brosnan. Other film credits include: The Streets of Calabar, The Contract, Kiss Kiss Bang Bang, When Brendan Met Trudy, Ace Ventura: When Nature Calls, A Good Man In Africa, Bopha, and Twenty-One. Television includes: Hotel Babylon, The Changeling and Coronation Street. Theatre includes The Dead Wait (Park Theatre), Wedlock of the Gods (Cochrane Theatre), Faith V Reason (Bush Theatre), A Winter's Tale (RSC), Pericles (RSC), Guess Who's Coming For Dinner (St Andrews Lane, Dublin), A Jamaican Airmen Foresees His Death (Royal Court) and A Respectable Wedding (Almeida Theatre).
Antonia Kemi Coker (plays Osunkemi) is a performer with over 25 years experience working nationally and internationally in regional and West End theatre, TV and Radio as well as in Young People's theatre, Forum Theatre, Street Theatre, site-specific, and on-site role play. Theatre credits include: Collective Artistes' ZHE (read review) (read interview), Witchy in Beauty & the Beast ( Royal Stratford East) Things Fall Apart, Yerma, Ikpiko: Sense of Belonging and The African Company Presents Richard III. Antonia has played lead roles in The Big Life (Apollo/Theatre Royal), African Snow (York Theatre Royal), Ragamuffin(UK Tour) and Lear's Daughters (Yellow Earth). Antonia has recently been a part of the rehearsed readings of NORMAL at Talawa Theatre company by Theresa Ikoko, BAD JOKE at the Southwark Playhouse, by Joseph Wild SUNDAY at Stratford East by Joy Ghar Akpojoto and RIGHTS OF PASSAGE at Oxford House by Clare Summerskill. and is delighted to be working with Utopia Theatre on this exciting project.
Patrice Naiambana (plays Esubiyi) is an African Performing Artist from Sierra Leone. Theatre credits include: Royal Shakespeare Company, playing the title role in Kathryn Hunter's Othello (read interview), Warwick the Kingmaker in Michael Boyd's Olivier Award-winning Histories Cycle Ensemble and Asian in Adrian Noble's The Lion The Witch and The Wardrobe. He has played in Steven Berkoff's Corialanus and Marcello Magni's Tell Them I am Young and Beautiful. Film work includes Monochrome (2015), The Bible miniseries (2014), 3 Sides of a Coin (2013), Highlander (2007) Schweizter (2007) His Edinburgh Fringe First Award-winning solo show The Man Who Committed Thought tours internationally and performed in Australia 2014. Television credits include: General Mukata in the Channel 4 sitcom In Exile, Silent Witness, Judge John Deed, Casualty and Torchwood. Patrice is the Founder and Lead Facilitator at Tribal Soul Arts CIC leading lab work in diverse environments for social transformation.
Frank Williams (plays Akanbi) studied Creative Writing and Media at Middlesex University and then went on to Drama School. Credits include: Thieves Like Us. Southwark Playhouse. Pebbles In The Sea and A Road less Taken (Arcola). He was also in The Country Wife as Horn, Orsino in Twelfth Night. Other credits include. Roberto Zucco, One Flew Over the Cuckoos Nest, Dark of the Moon, Wedlock Of the Gods, Of Mice and Men. (Tour) Our Husband Has Gone Mad Again. The Gods are Not to Blame and Most recently Basira in London (Film).
Ayo-Delle Edwards (plays Labake) is a London based singer/actress, trained at Mountview Academy of Theatre Arts. She is currently working on her project 'Forever Becoming' which combines her British and Nigerian influences expressed through songs and stories. Her latest collaboration is Naija, the Musical – a three year development project which she is co-devising and writing with UK based renowned freelance theatre practitioner, Femi Elufowoju, jr. At the tender age of four, her family moved back home to Africa, where she adjusted to a new way of life, assimilating a new found culture through formative education and formulating new friendships. Surrounded by eclectic rhythms and sounds, Ayo-Dele became fixated with music a huge cultural signpost at every corner she turned. Merging her British musical repertoire with the African heritage was inevitable and grew into her main passion. Her name means 'Joy has come home' in Yoruba, a tribe and language spoken in Nigeria, Western Africa.
Spirits: Funke Adeleke; Bisola Bello; George Oluyinka; Jack Matthews; Adetoun Akinbiyi; Fumy Opeyemi
Info: Watch the Scratch Performance of Iyalode of Eti on Saturday 12th September 2015 - 7:30pm @ Rich Mix, 35-47 Bethnal Green Rd, London, E1 6LA | Book tickets or Sunday 13th September 2015 - 7.30pm @ Arcola, 24 Ashwin St, London, E8 3DL | Book tickets
This piece is a work in process which will be followed by a Q&A.
Utopia Theatre website | @Utopia_Theatre on Twitter | Utopia Theatre Facebook
Iyalode of Eti is kindly supported by Arts Council England.