British Urban Film Festival awards ceremony nominees announced!
Published:

Tuesday, September 1, 2015 10:22 AM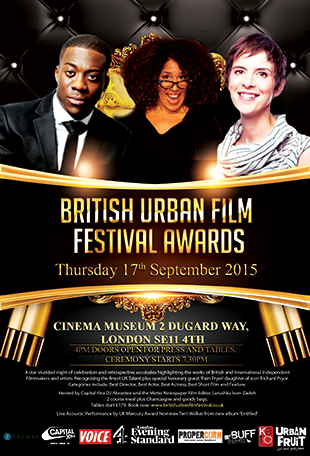 The British Urban Film Festival has announced that comedienne, cabaret performer and daughter of the late Richard Pryor, Rain Pryor, will be in London to receive an honorary award in recognition of her father's contribution to comedy, film and television at the British Urban Film Festival awards (supported by Channel 4) on Thursday 17 September.
For the first time in its 10 year history, the British Urban Film Festival will be recognising actors, actresses, scriptwriters and filmmakers whose work has been showcased by BUFF since the festival was launched in the summer of 2005. The inaugural BUFF Awards will also present emerging talent awards to filmmakers and scriptwriters whose work has featured in this year's British Urban Film Festival which runs from the 17th to the 21st September.
Rain Pryor said: "My dad was an icon who changed the face of comedy and shared his deepest truths. It is an honour to accept this award on his behalf, not only because he is my father, but because he created in his children social change and truth."
Emmanuel Anyiam-Osigwe, founder of BUFF, said: "Richard Pryor is one of the most iconic personalities ever known. With his uncanny ability to engage with audiences, hismaterial has stood the test of time in a career spanning over 25 years on stage and on screen. He has been an inspiration to comedians and entertainers, past present and future and we are truly honoured to have one of his children in London to help celebrate his legacy."
The British Urban Film Festival Awards will be hosted by Abrantee Boateng & Larushka Ivan-Zadeh at the Cinema Museum in Kennington on Thursday 17 September 2015 British Urban Film Festival Awards nominees and recipients:
1. The British Urban Film Festival best short film award (across 10 years):
Nominees:
Driftwood (Dir: James Webber)
Sunny Boy (Dir: Jane Gull)
The Estate Agent (Dir: Nils Lindemann)
Slapper (Dir: Chiwetel Ejiofor)
2. The British Urban Film Festival best actress award (across 10 years):
Nominees:
Daniella Down (Mum, Dad, meet Sam)
Isaura Barbe-Brown (David is Dying)
Daisy Haggard (Calloused Hands)
KT Gorique (Brooklyn)
3. The British Urban Film Festival best actor award (across 10 years):
Nominees:
Lonyo Engele (David is Dying & Virgo)
Clint Dyer (Sus)
Noel Clarke (Adulthood & Huge)
Stanley Chinoso (Woolwich Boys)
4. The British Urban Film Festival best director award (across 10 years):
Nominees:
Stephen Lloyd Jackson (David is Dying)
Noel Clarke (Adulthood)
Anthony Abuah (Woolwich Boys)
Jesse Quinones (Calloused Hands)
5. The British Urban Film Festival best video award (across 10 years):
Nominees:
Dear Mr Cameron (Dir: Martin Denham)
I am Who (Dir: Mark One)
See it in my eyes (Dir: Jaha Browne)
End of the Block (Dir: Omari Carter)
6. The British Urban Film Festival best documentary award (across 10 years):
Nominees: !
Amy (Dir: Asif Kapadia)
The Trials of Muhammad Ali (Dir: Bill Siegel)
Casuals (Dir. Mick Kelly)
The Fade (Dir: Andy Mundy-Castle)
7. The British Urban Film Festival best movie award (across 10 years):
Nominees:
David is Dying
Woolwich Boys
Adulthood
Calloused Hands
8. The British Urban Film Festival Live Script Reading award (for 2015):
Recipients:
Nadine Woodley & Dani Moseley (40 Elephants)
Louis Lagayette (Trendy)
Francesca Castelbuono (Faded)
9. The British Urban Film Festival emerging talent award (for 2015):
Recipient: TBA
10. The British Urban Film Festival best comedy award (across 10 years):
Nominees:
Huge (Dir: Ben Miller)
Breaking Britain (Dir: Adriel Leff)
Mum, Dad, meet Sam (Dir: Tony Sebastian Ukpo)
Drink, Drugs & KFC (Dir: Aml Ameen)
11. The British Urban Film Festival British legacy award (across 10 years):
Recipient: TBA
12. The British Urban Film Festival inaugural honorary award:
Recipient: Rain Pryor (on behalf of Richard Pryor)