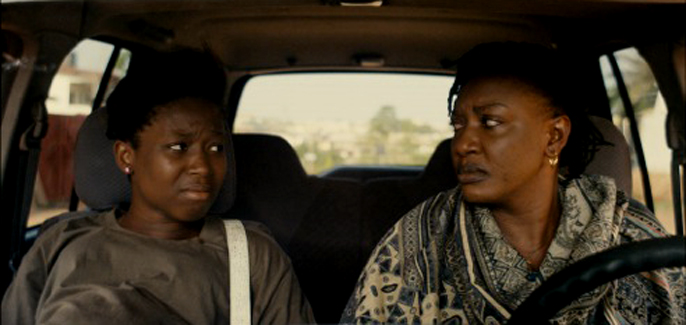 13 & 16 Oct
B FOR BOY
Dir-Scr Chika Anadu. Prod Chika Anadu, Arie Esiri. With Uche Nwadili, Nonso Odogwu, Ngozi Amarikwa.
Nigeria 2013. 114min. Prod Co No Blondes Productions
B for Boy is a simple but elegant debut feature set in contemporary northern Nigeria where the pressure is most often on the woman to conceive a male child. Amaka Okoli is a middle class, devoted wife and a mother to her 7-year-old daughter and who at nearly 40 is expecting her second child. An ultrasound at her local hospital she finds out that this time it's a boy. A few days later she loses the baby. A permanent damage to her womb means she won't have babies any more. Amaka says nothing about the stillbirth to anyone including her husband although she initially tried but failed to grab an opportunity to tell him. Instead she fakes being pregnant. In desperation she embarks on a journey into adopting a baby boy. A beautiful and truly believable realist drama with an outstanding performance from Uche Nwadili as Amaka. Keith Shiri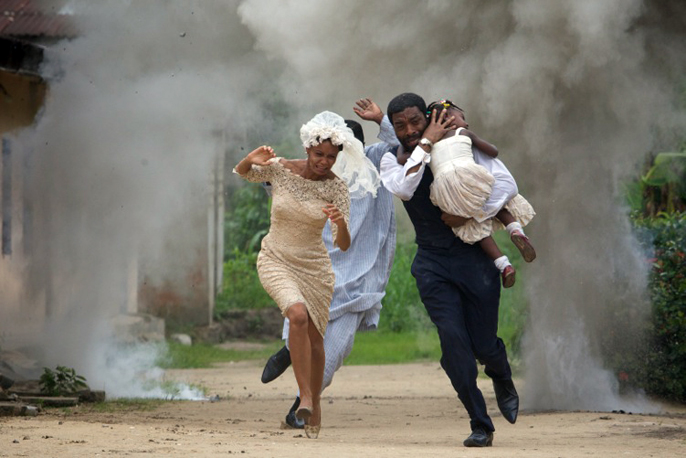 19 & 20 Oct 2013
HALF OF THE YELLOW SUN
Dir-Scr Biyi Bandele. Prod Andrea Calderwood. With Chiwetel Ejiofor, Thandie Newton, Anika Noni Rose.
UK-Nigeria 2013. 106min. Sales Metro International
Writer and director Biyi Bandele's excellent feature debut is an epic love story set in Nigeria on the eve of the disastrous civil war of the late 1960s. Olanna (Thandie Newton) and Kainene (Anika Noni Rose) are strikingly beautiful twins who live a middle-class, urban life in the newly independent nation. The women's fractious relationship is typified by their very different choices of lovers, but their rivalries must be set aside as they become swept up in the turbulence of conflict. Bandele's screenplay is an astute adaptation of Chimamanda Ngozi Adichie's highly acclaimed novel of the same name, bringing the source material's main characters – Olanna, Kainene, university professor Odenigbo (Chiwetel Ejiofor), his 13-year-old houseboy Ugwu (John Boyega) and Kainene's lover, Richard (an Englishman who has come to Nigeria to study the arts) to vibrant realisation. As chaos engulfs them, they are thrown together and violently torn apart in ways none had ever imagined. Keith Shiri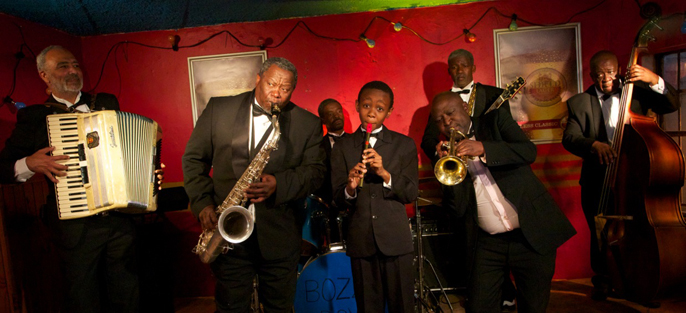 19 Oct 2013
FELIX
Dir Roberta Durrant. Prod Zenele Mthembu, Roberta Durrant. Scr Shirley Johnson. With Hlayani Junior Mabasa, Linda Sokhulu, Janet Suzman, Thapelo Mofokeng, Royston Stoffels, Andre Jacobs.
South Africa 2013. 97min. Sales 13 Films. Recommended for ages 8+
The audience choice at this year's Durban International Film Festival centres on Felix Xaba, a 14-year-old boy who dreams of becoming a saxophone player just like his late father. Despite the clear disdain of his church-going mother, who is firmly of the opinion that jazz is the devil's music, Felix is determined not give up – so determined, in fact, that he manages to obtain a scholarship to attend an elite private school for music. Further still, he finds out about his father's former band mates who, without his mother's knowledge, encourage him in his love of the saxophone and help him practice and prepare to play in the school's jazz concert. Felix is a charming family film anchored firmly by the effortless central performance from Hlayani Mabasa. Keith Shiri
19 & 20 Oct 2013
RAGS AND TATTERS
Dir-Scr Ahmad Abdalla. Prod Mohamed Hefzy. With Asser Yassin, Amer Abed, Yara Gubran.
Egypt 2013. 86min. Prod Co Film Clinic
The scenes in Egypt this past summer, dubbed a second revolution after incumbent President Mohamed Morsi was ousted through a combination of massive civilian protests and military intervention, have underscored again how volatile the situation remains in the Arab world's most populous country. At the time of going to press hundreds of Egyptians had died in the ensuing outbreak of violence between different factions. Few Egyptian filmmakers have been as involved or associated with the revolutionary spirit in the country as director Ahmad Abdallah, whose 2010 Microphone presciently foresaw the anti-establishment fervour in Egypt with its depiction of the Alexandrian underground music scene. Abdallah returns with Rags and Tatters, a hauntingly beautiful tale that takes viewers back to those historic revolutionary days of early 2011. Abdallah eschews the iconic setting of Tahrir Square to tell, instead, the story of a prisoner, played by Asser Yassin, who escapes from jail only to find himself on the run in a country he no longer recognises. Instead we are transported to the twilight alleyways of an Egypt on the fringe and rarely seen on film. Deliberately contemplative in both mood and tone, Rags and Tatters is absent of the typical adrenaline associated with films about revolution. What emerges instead is a deeply affecting portrait of the true price of change. Ali Jaafar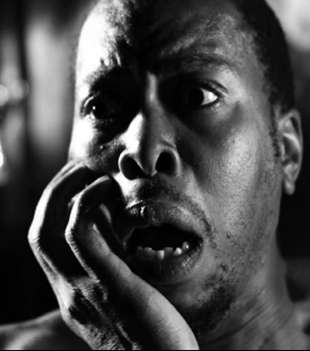 13, 14 & 15 Oct 2013
OF GOOD REPORT
Dir-Scr Jahmil XT Qubeka. Prod Michael Auret, Luzuko Dilima. With Mothusi Magano, Petronella Tshuma, Lee-Ann van Rooi.
South Africa 2013. 109min. Prod Co Spier Films, The New Brighton Motion Picture Company
From its disturbing opening scene of a man unpicking buried teeth from his head, to revealing this social misfit turning into an adequate teacher who lusts after the young girls at his school, Of Good Report is a highly provocative drama that got the South African censorship board in a panic at its world premiere earlier this year at the Durban International Film Festival. For those who have been anticipating original and satisfying cinema from South Africa for a very long time, the wait is over. Parker Sithole, a newly recruited high school teacher of seemingly 'good report' or references, meets the sexually charged Nolitha, superbly played by 23-year-old Petronella Tshuma, at a local bar. The brief sexual encounter is what seems to have upset the South African government censorship board, whose decision to ban the film was reversed after week-long protests by filmmakers and audiences. Parker later learns that the beautiful Nolitha is an under age pupil in his class, but what started as a chance fling drives Parker into a deep obsession with tragic consequences. Shot in black and white with crisp direction, Of Good Report is a magical piece of cinema observed in close focus and amidst intense performances, the film demonstrates the original and most coveted talent of its director, Jamil XT Kubheka as he delivers a compelling and insightful journey into the mind of a disturbed and troubled man. Keith Shiri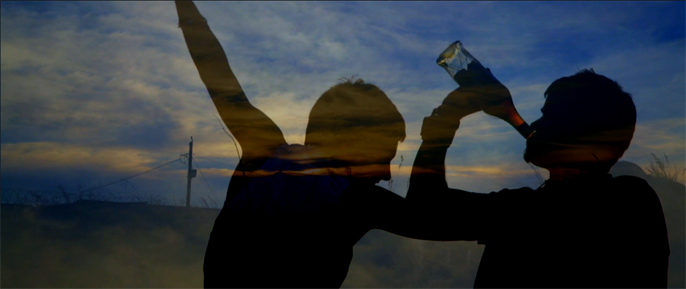 10 & 11 Oct 2013
DURBAN POISON
Dir-Scr Andrew Worsdale. Prod Diony Kempen, Deon Meyer, Carmel Nayanah. With Brandon Auret, Cara Roberts, Gys De Villiers, Marcel Van Heerden.
South Africa 2013. 94min. Prod Co Karoo Film Company
After an absence of almost three decades the maverick South African writer director Andrew Worsdale is back with a film that offers a unique approach to a familiar Bonnie and Clyde genre reworking. Following a police investigation into four murders, this road movie charts the doomed romance of its two protagonists and is inspired by the story of Charmaine Phillips and Pieter Grundlingh, a South African couple that went on an alcohol and drug-driven killing orgy in the 1980s for more than a fortnight, leaving a trail of bodies in their wake. Durban Poison offers a profound insight into the outlaw lovers and the marginalised white South African working class, with a stand out performance by Brandon Auret as the brutal Pieter Grundlingh. A deserving Best South African Film award winner at the 2013 Durban International Film Festival, this is an emotionally affecting and handsomely paced thriller from a filmmaker who has been away for too long. Keith Shiri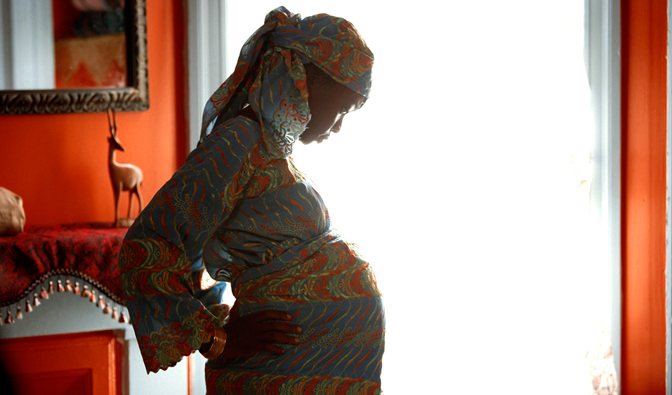 13 & 17 Oct 2013
MOTHER OF GEORGE (made in the USA but still could be interesting to your audience)
Dir Andrew Dosunmu. Prod Lars Knudsen, Jay Van Hoy, Matt Parker, Carly Hugo, Darci Picoult, Chris Maybach, Saemi Kim, Patrick Cunningham, Tony Okunsbowa. Scr Darci Picoult. With Danai Gurira, Isaach De Bankolé, Yaya Alafia.
USA 2013. 106min. Sales K5 Media Group GmbH
Andrew Dosunmu returns to London after his debut feature, Restless City, played at LFF two years ago. In Mother of George, Dosunmu dishes out an even more dazzling aray of rich colours, music and dance in a methodically paced and visually pleasing drama about a young Nigerian wife driven to despair at being unable to conceive. Brooklyn restaurant owner Ayodele and his bride Adenike (The Walking Dead's Danai Gurira) are married and ceremoniously blessed with traditional Nigerian prayers of fertility. However, Adenike does not become pregnant and, with mounting pressure from her mother-in-law, she must take drastic measures to save her marriage. With sumptuous, spellbinding cinematography from the cinematography by Bradford Young (Pariah, Middle of Nowhere), Andrew Dosunmu's exquisite second feature is an enlightening look at immigrant life, capturing the vibrant culture of the Yoruba community in New York with great editing and sparkling photography. Keith Shiri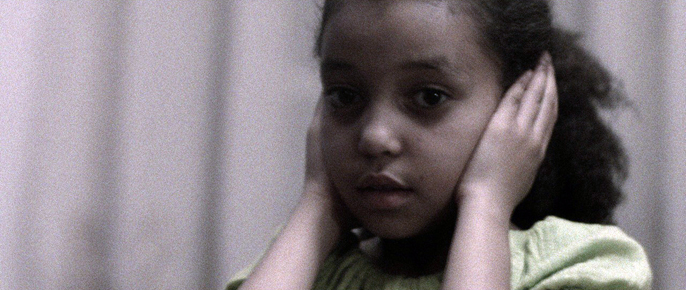 9 & 12 Oct 2013
AFRICA FIRST SHORTS
Ada MT Dir Zelalem Woldemariam. Ethiopia 2013. 18min
A young Ethiopian composer deals with a traumatic childhood experience when a deaf spirit inspires him to channel his memories in a new direction.
Kwaku Ananse Dir Akosua Adoma Owusu. Ghana-Mexico-USA 2013. 26min
Ghanaian mythology combines with elements of autobiography and the fable of the trickster spiderman to show that there are two sides to every coin.
Twaaga Dir Cédric Ido. Burkina Faso-France-USA 2013. 30min
Burkina Faso in 1987 is a country in the throes of revolution. Manu, an eight-year-old who loves comics, tags along with Albert, his big brother. When Albert decides to undergo a magic ritual to become invincible, Manu realises there are real powers to rival those of his comic-book superheroes.
Security Dir Mark Middlewick. South Africa 2013. 15min
A lonely security guard working the graveyard shift in a colossal Johannesburg shopping mall finds solace in a storefront mannequin. Total running time 89min
Info: The BFI International Film Festival in partnership with American Express runs from the 9-20 October 2013. See full programme
Related links
Nothing But a Man – discounted tickets for Afridiziak readers