Daniel Kaluuya and Anthony Welsh join Arinzé Kene to announce 'Misty' extension
Published:

Friday, October 5, 2018 4:34 AM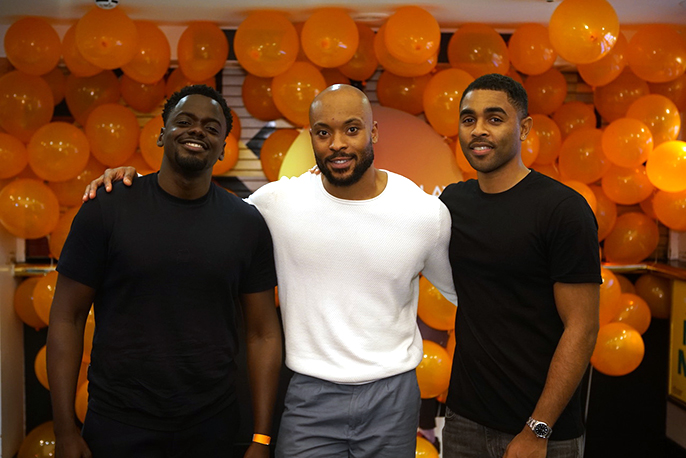 Actors Daniel Kaluuya and Anthony Welsh join Arinzé Kene on stage to announce that 'MISTY' will extend its run at Trafalgar Studios until 17 November 2018 due to phenomenal demand.
Following its sold-out run at the Bush Theatre and critical acclaim in the West End, Arinzé Kene's MISTY 'The most important cultural experience in British theatre right now' (BBC), will extend its run at London's Trafalgar Studios due to phenomenal demand. Originally due to end on 20 October, the production will now play until 17 November.
On Thursday, September 27, actors Daniel Kaluuya (Oscar nominated in 2018) and Anthony Welsh (The Brothers Size at The Young Vic, The Barber Shop Chronicles at the National Theatre) joined Kene on stage to celebrate the most talked about show in the West End which has been acclaimed for its success in attracting new audiences into the West End with its mix of theatre, gig and performance-poetry.
Speaking after the show Kaluuya said 'I love Misty. When Arinzé asked Anthony and I to host a night around it, we wanted to celebrate it and get as many people talking about it as possible.'
MISTY by Arinzé Kene
Directed by Omar Elerian
Designed by Rajha Shakiry
Lighting design by Jackie Shemesh
Sound design by Elena Peña
Video design by Daniel Denton
Dramaturgy by Kirsty Housely and Stewart Pringle
Performed by Arinzé Kene
Musical Directors / Musicians - Shiloh Coke and Adrian McLeod
Little Girl – Mya Napoleon / Rene Powell / Sedonna Henok
NEED TO KNOW: MISTY IS NOW EXTENDED UNTIL 17 NOVEMBER 2018 at Trafalgar Studios, 14 Whitehall, Westminster, London SW1A 2DY | Read our 5 star review