Three superstars of the west end come together for a special album of musical theatre classics
Leading ladies are Amber Riley, Beverley Knight and Cassidy Janson
Published:

Saturday, October 21, 2017 5:33 AM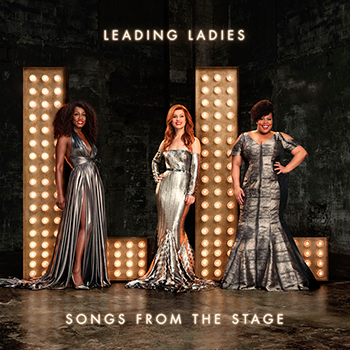 Direct from the West End comes a unique union of three celebrated queens of musical theatre: Amber Riley ("Dreamgirls"), Beverley Knight ("The Bodyguard" and "Memphis"), and Cassidy Janson ("Beautiful"). This is Leading Ladies.
Read interview with Beverley Knight
The trio has announced "Songs From The Stage" – an album of unforgettable songs from great musicals like "Hamilton", "Cats", "Rent", "Dreamgirls", "Funny Girl", "The Bodyguard", "Memphis" and "Beautiful" and many more. "Songs From The Stage" will be released on 17 November 2017 through East West Records (Warner).
Amber, Beverley and Cassidy had become friends after seeing each other's shows, so it was no surprise that the three performers leapt at the opportunity to do an album together. The creative journey was nothing short of a joyous and bonding experience for the ladies when they caught up to share their favourite songs and the personal stories that coloured them.
The Leading Ladies said: "We all knew we'd have so much fun making a record like this. Every track means something to us – whether it had been from a show one of us had done or from musicals we love. There were so many beautiful songs to choose from, it was near impossible to shortlist to one album. We have absolutely enjoyed singing together and hopefully, you will be able to see us together on stage soon."
"Songs From The Stage" is produced by Grammy Award-winning British producer Brian Rawling, who has worked with chart-topping artists such as Cher, Tina Turner and Lionel Richie.
"Songs From The Stage" tracklisting
One Night Only ("Dreamgirls")
Seasons of Love ("Rent")
I'm Every Woman ("The Bodyguard")
You Make Me Feel Like A Natural Woman ("Beautiful")
Wind Beneath My Wings ("Beaches")
Helpless ("Hamilton")
Memory ("Cats")
Somebody to Love ("We Will Rock You")
Falling Slowly ("Once")
Love Will Stand ("Memphis")
Raise The Roof ("The Wild Party")
Will You Still Love Me Tomorrow ("Beautiful")
Don't Rain On My Parade ("Funny Girl")
Have Yourself A Merry Little Christmas ("Meet Me in St. Louis")
Each of the Leading Ladies are accomplished stars of stage, music and screen in their own right.
Info: Songs from the stage is out on 17 November 2017 through East West Records (Warner)