The 17th Alfred Fagon Award - Shortlist for 2013
Published:

Tuesday, October 29, 2013 4:37 PM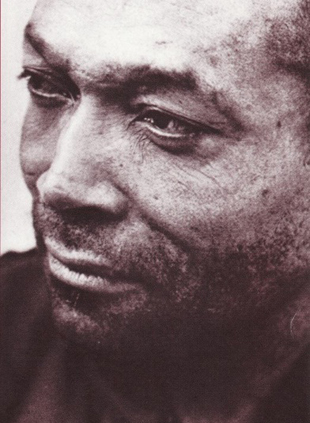 Afridiziak Theatre News is proud to be a media partner for the 2013 Alfred Fagon Award
OLADIPO AGBOLUAJE
Fractures

DIANA N. ATUONA
Liberian Girl

DENTON CHIKURA
The Epic Adventure of Nhamo the Manyika Warrior and His Sexy Wife Chipo

MARTIN EDWARDS
The Glory Road

DANNY JAMES
Bounty

CHINO ODIMBA
The Long Poem

JULIET GILKES ROMERO
Razing Cane



Info: The 17th Alfred Fagon award ceremony takes place on Friday, November 29, 2013, 2pm at the Tricycle Theatre, 269 Kilburn High Road, London NW6 7JR | Contact: Thomas Kell (Administrator for the 2013 Alfred Fagon Award) (e) info@alfredfagonaward.co.uk | (t) 020 3435 6508 (Tiata Fahodzi)
The Alfred Fagon Award 2013 – meet the shortlisted writers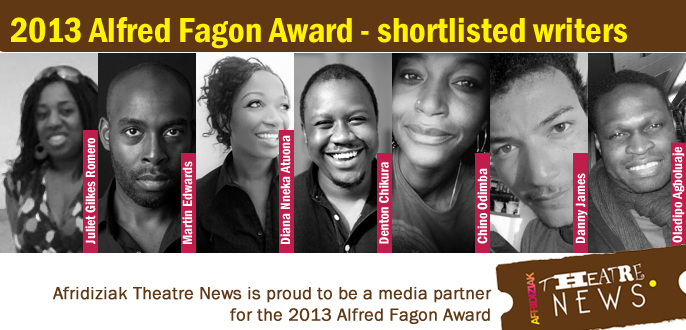 Oladipo Agboluaje
Fractures
Oladipo Agboluaje is a past winner of the Alfred Fagon Award (2009).
He has written several plays, including Early Morning, Mother Courage, For One Night Only, The Estate, Iya-Ile (Olivier nomination), God is a DJ, The Hounding of David Oluwale, The Christ of Coldharbour Lane, Knock Against my Heart (Writers Guild nomination), The Garbage King, and Say Goodbye Twice. He is a recipient of the Peggy Ramsey Award.

Diana N. Atuona
Liberian Girl
Diana Nneka Atuona is a British born, Nigerian writer from Peckham, South London. She studied International Politics at South Bank University and upon graduating, was awarded a scholarship from Gray's Inn to study Law, though her first passion is has always has been to write for stage and screen. She has been a member of the Royal Court's Invitation Writing Group and was the Theatre Local officer for The Royal Court's Theatre Local Project in 2011 and 2012. Her first and only play, Liberian Girl, placed top 25 in the Verity Bargate 2013 competition (Soho Theatre) and was longlisted for the Bruntwood Prize 2013.

Denton Chikura
The Epic Adventure of Nhamo the Manyika Warrior and His Sexy Wife Chipo
Denton Chikura was born and raised in Zimbabwe and migrated to the UK in 2002. Since then he has lent his comic charm as an actor to companies such as Told by an Idiot, Complicite, National Theatre and his own company, Shakespearean troupe Two Gents Productions, whose two-man interpretation of Two Gentlemen of Verona was acclaimed at the Globe in 2012 and has toured the world. The Epic Adventure of Nhamo the Manyika Warrior and His Sexy Wife Chipo is his debut as a playwright.

Martin Edwards
The Glory Road
After graduating from Cambridge University, Martin pursed a career in journalism. Reporting for the local press on the explosion of gun crime in north west London during the late 90s, he was later headhunted by BBC London. Some of his most notable stories included the London terror attacks on 7th July 2005 and a week-long feature on the crack cocaine trade in the capital. After more than 10 years of news reporting, Martin took a change in direction and retrained as an actor, studying for two years at The Oxford School of Drama. The Glory Road is his first play.

Danny James
Bounty
Danny James is a twenty-four year old writer from Peckham. In 2012 he graduated from the Royal Court Young Writer's Programme and was mentored by Stephen Jeffreys at RADA'S Advanced Script Writing Course. He has also worked as a Junior Secretary in the House of Commons to Chukka Ummuna MP.

Chino Odimba
The Long Poem
Chino Odimba is a Nigerian-born playwright, raised in London, and now living in the South West. Past work includes Women Embrace Two (Bristol Old Vic, 2002) and An Ode to Adam (Ustinov Theatre, 2009). More recently Chino has written A Blues for Nia for Eclipse Theatre, Rainy Season (BOV Ferment), and RAAR Birds (Ugly Sister Productions). Since taking part in the first invite-only National Writing Group at Royal Court, London, she has been a Writer-on-Attachment at the Bristol Old Vic, where she had a rehearsed reading of a new play His Name is Ishmael (October 2013).

Juliet Gilkes Romero
Razing Cane
Juliet Gilkes Romero is a playwright and journalist who has reported for the BBC from countries including Ethiopia, Cuba, Haiti and the Dominican Republic. Her latest play Upper Cut received a rehearsed reading at the TARA Theatre directed by Lotte Wakeham. Her radio drama One Hot Summer aired as an Afternoon Play on BBC Radio 4 in 2012. In 2009 Juliet won the Best Play Award at the Writers Guild of Great Britain for At The Gates Of Gaza (Birmingham Rep and UK tour). Juliet was part of Hampstead Theatre's Writers' Attachment Scheme and wrote Sergine performed at the Haiti earthquake fundraising event there in 2010.



---
Related links
Alfred Fagon Award 2013 shortlist
Alfred Fagon Award - official website
Alfred Fagon Award - Twitter
Alfred Fagon Award 2013 competition
Levi David Addai wins 2011 Alfred Fagon Award
Oladipo Ogboluaje wins 2009 Alfred Fagon Award
Paula B Stanic wins 2008 Alfred Fagon Award