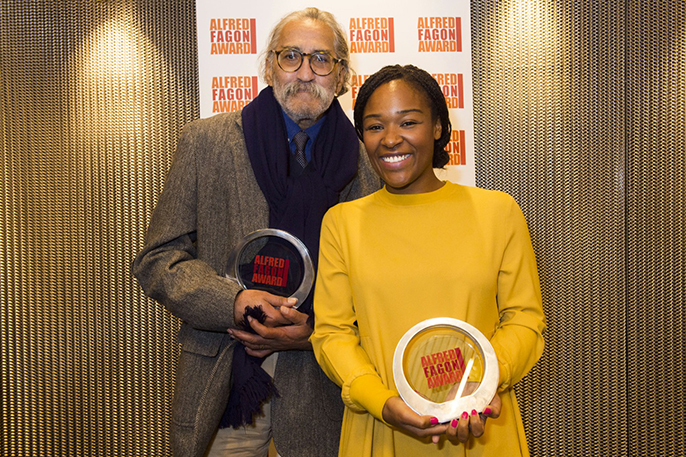 The Alfred Fagon Award has been supporting black British playwrights for 18 magnificent years. Celebrating in grand style at the National Theatre's newly renovated Dorfman Theatre, Charlene James wins Best New Play of the Year with her powerful drama Cuttin' It. A poignant occasion as the award commemorating the late Jamaican playwright officially comes of age.
Charlene James was shortlisted for the 2014 Alfred Fagon Award along with Beverly Andrews for Annawon's Song, Mark Norfolk for Dare to Do and Somalia Seaton for Crowning Glory. As winner of the accolade, James joins the likes of Roy Williams and Rachel De-lahay who have been honoured by the Alfred Fagon committee. A clearly delighted James thanked Talawa for supporting her in her career. She then explained that she wrote her play exploring FGM in Britain because "I'm not a politician or an activist, but I am a writer. Cuttin' It is my way of getting this story out there."
Reverend Rose Hudson-Wilkin presented the award following an ardent speech in which she commented "Our stories need to be told and we are best placed to tell our stories." The Speaker's Chaplain also imparted a wise Jamaican proverb "If yuh waan good, yuh nose haffi run."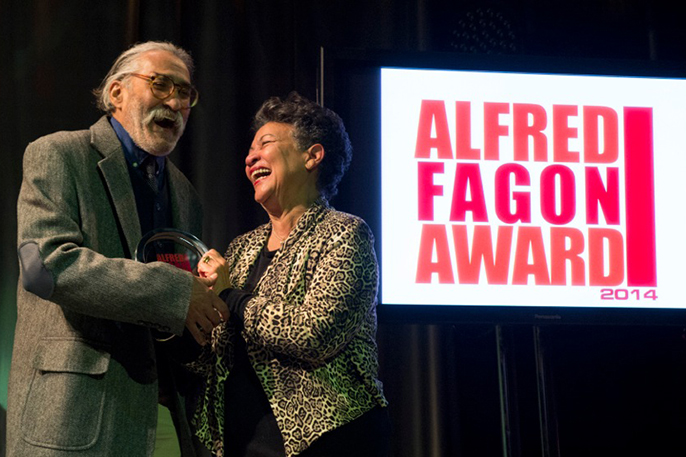 Supported by the Peggy Ramsay Foundation, the ceremony was organised by Pauline Walker who looked exceptionally glamourous as she gathered the likes of Michael Buffong and Yvonne Brewster together for photos. A new addition to the annual ceremony was the Outstanding Contribution to Writing Award. Mustapha Matura was presented with this inaugural award which he dedicated to Roland Rees who he says "discovered me and nurtured me and my plays." The founder of The Black Theatre Co-operative was greeted with a video message from friend of 43 years Nicholas Kent. From an upside down stance due to his Australian locale, the former Artistic Director of the Tricycle affirmed the vast influence of Matura's work. "For most of us, there are opportunities that just wouldn't have been created without him."
As well as the anticipation and general buzz characteristic of award ceremonies, the Alfred Fagon Award is particular in its tone of remembrance. Acting veteran Anton Phillips who hosted the event reminisced about his own friendship with Fagon whom he described as a force of nature. "He made the most amazing impact. He knew everybody. If Alfred had pulled up outside my house with the Queen in the back of his car I wouldn't have been surprised." This was a laughter filled afternoon, celebrating provocative new work and concurrently paying tribute to those who blazed the trail for a new generation.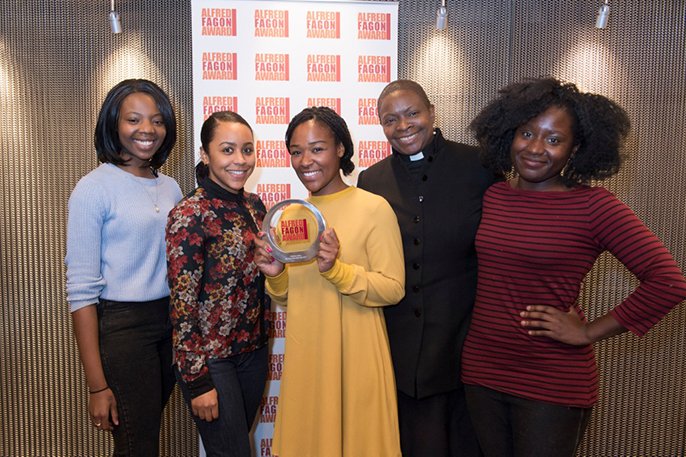 Related links
Shortlist for 2014 Alfred Fagon Award
Celebrating 18 years of the Alfred Fagon Award