New Book Moves the 'Role Model' Goalposts from Famous Black People to the Everyday
Published:

Monday, November 12, 2012 8:50 AM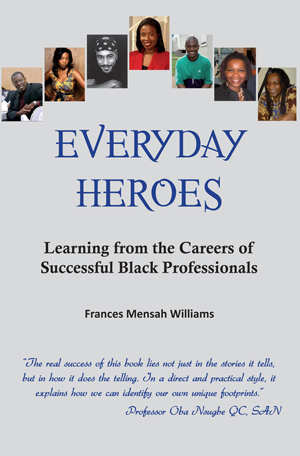 Black role models need to be seen as accessible and in careers that are realistic and achievable, says Frances Mensah Williams, a writer and careers coach with a successful track record of guiding Black professionals in the UK to achieve their career aspirations. "When it comes to black role models, there seems to be a limited range of names and professions that crop up," she says. "But the fact is that relatively few young Black people are going to end up as premier league footballers, famous singers or successful athletes."

Speaking of the reasons for her book 'Everyday Heroes: Learning from the Careers of Successful Black Professionals', Mensah Williams, the CEO of HR and Training consultancy Interims for Development Ltd. and Editor of the leading online careers publication, ReConnect Africa.com, says: "'Everyday Heroes' came about because our children still seem to be directed towards either historical figures like Martin Luther King or modern day footballers and athletes when it comes to showcasing role models during Black History Month. Yet we have so many successful Black professionals in Britain that are a great resource for young people to learn from. It's high time now that we tell their stories."

'Everyday Heroes: Learning from the Careers of Successful Black Professionals' is a collection of interviews with sixteen professionals from different careers including law, accountancy, music, publishing, medicine, banking and architecture. In a practical, easy-to-read format, the 'everyday heroes' talk about what it takes to succeed in their careers, their own influences and the life lessons they have learned along the way. The book also includes a number of projects and exercises to help readers assess their own skills and identify potential career routes.
Info: 'Everyday Heroes: Learning from the Careers of Successful Black Professionals (ISBN: 978-0-9569175-0-8) is available through www.everyday-heroes.co.uk