Give Pegasus Back its Wings – A fund raising Gala Concert
Published:

Tuesday, November 15, 2011 4:32 PM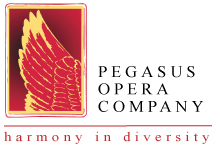 A host of talented singers will celebrate Pegasus' 19 years work in Arts and Arts Education, giving their talents and time free of charge to raise money for Pegasus Opera Company.

The evening will be compared by actress Martina Laird, best known for the role of Comfort in Casualty.

The Gala event also includes a fun auction where audiences are invited to bid for fantastic prizes. This will be another opportunity to help raise money for the Opera Company. Prize donations include champagne, tickets to the theatre, signed production shots and posters, vouchers and much, much more.

Singers performing are: Elizabeth Llewellyn , (Soprano); Maureen Brathwaite, (Soprano); Alison Buchanan (Soprano); Donna Bateman (Soprano); Preshi Navaratnam (Soprano) Hyacinth Nicholls (Mezzo-Soprano); Alison Crookendale (Mezzo-Soprano); Bernard Abervandana (Tenor) & Ronald Samm (Tenor) Aris Nadirian (Bass-Baritone); Rodney Clarke (Baritone); Simon Thorpe (Baritone) ; Keel Watson (Bass Baritone) & Robert Anderson (Bass). With Stephen Higgins and Waiyin Lee on Piano.

The Gala event is a celebration of the great achievements Pegasus has gained over the years. Like the great pioneers of the past the organisation has brought people together to create a legacy for future generations.

Pegasus Opera is the leading multi-racial touring Opera Company in the U.K. and was founded in 1992 by its current Artistic Director, Lloyd Newton. The Company creates opportunities for professional singers from all backgrounds to develop and perform in high quality and innovative opera productions and arts education work. Past productions include Carmen, Magic Flute, I Pagliacci on National Tours and Porgy and Bess at the Barbican Concert Hall, Delius' Koanga at London's Sadler's Wells and Treemonisha at the QEH, Southbank Centre and on National Tour.
---
Info: Pegasus Opera Company's Gala Concert is on Friday 25th November, 7.30pm at St. Paul's Church (Actors Church), Covent Garden Piazza, London WC2E 9ED. Compared by actress Martina Laird. Tickets £15.00, to book call Pegasus Opera Company on 020 7501 9501 for further information and make a donation log on to www.pegasus-opera.net