Canada's #1 Gospel Play Melody of Deception Comes to the UK
Published:

Sunday, May 3, 2015 3:53 AM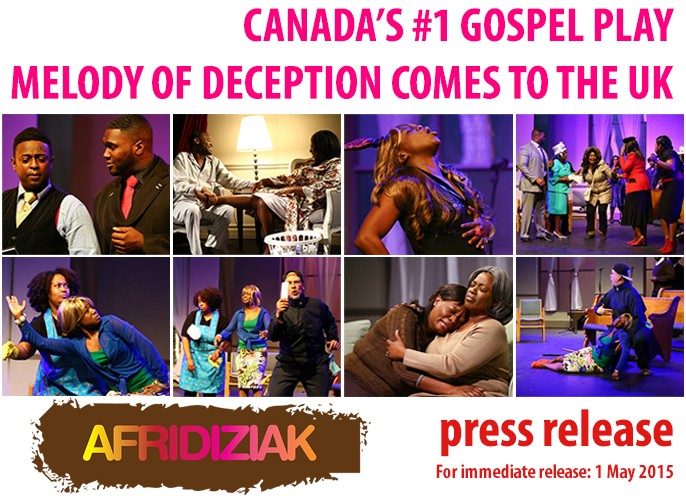 The hit Canadian gospel stage play "Melody of Deception" will make its UK debut in Birmingham and London on 15-17 May 2015.
After sell out shows in Toronto and Jamaica and 7 television series which aired across Canada, author-playwright and director Dr Elaine Brown Spencer of Kaleo Productions has teamed up with the UK's Alan Charles of Focus Arts Promotions (Love Sax and all that Jazz) to give the UK a taste of Canada.
Adapted from the popular book Private Pain In Public Pews, Melody of Deception brings a dazzling dramedy about deception and betrayal nestled in a heartfelt message of hope. The play deals with church secrets and the private lives that hold them. It's no secret the Christian church has been experiencing a period of turbulence. From the Pulpit to the Pew, leaders and laypersons are falling from their pedestals one after the next with scandals of infidelity, double lives and money obsessions. But the real secrets are embedded in the stories of pain behind these scandals. And that's where the play Melody of Deception comes in.
The story focuses on newly wedded Humble Helen when she returns with her husband Jessie who has been hired as the new musical director at church. With a mandate to "bring back the choir", Jessie delivers as the church is brought to a whole new level of praise and worship. The Bishop laments as the direction of the church is not what he wants it to be and everyone is taken off guard when some dire series of events unfold that finds the church locked in a web of deception.
"The play addresses what we all know has gone on in the church, but we're too afraid to talk about," says Spencer. "It's dramatic, thought provoking and funny! A bit of humor makes difficult issues much easier to talk about."
Dr. Elaine Brown Spencer is a professor of Social Work and author of two books and four stage plays. It was through Divine inspiration along with her background in counseling that ultimately led her to write the book and adapt it into a stage play series. "I was writing down some advice to share with someone going through hard times. And when I started writing I literally couldn't stop. Those jottings translated into a book, which was how the stage plays got started".
Beautifully written and emotionally captivating this gospel ensemble combines drama, laughter and roof-lifting gospel music for a mind-bending roller-coaster ride that is one of Dr Spencer's funniest and most moving plays.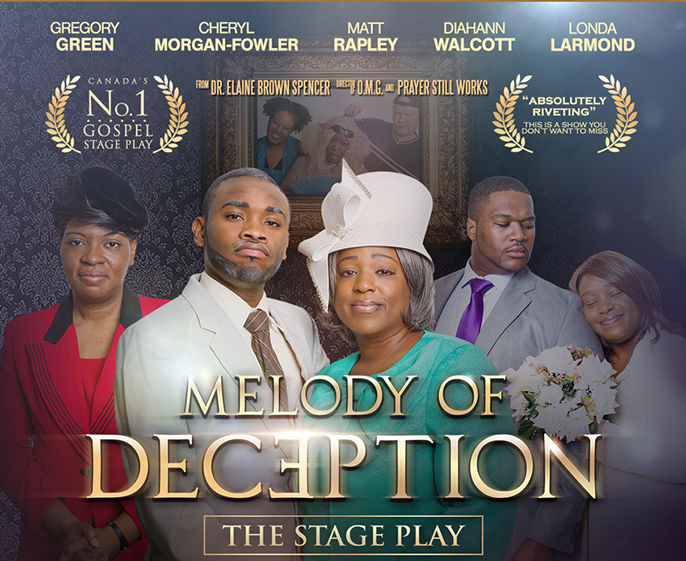 For more information on Dr Spencer's books, stage plays, CD's and tour dates, visit www.kaleoproduction.com
Birmingham Listing info:
Melody of Deception is at the Church of God of Prophecy, Aberdeen Street, Winson Green, Birmingham B18 7DL, Friday 15 May 2015 | Tickets are £20 in advance kaleoproduction.com/en/products or £25 on the door or call 0121 643 6187 / 01902 424 020 / 07742 154 061 for further and tickets
London Listings info:
Melody of Deception is at Catford Broadway Theatre, Saturday 16 May, 7.30pm and Sunday 17 May, 6pm. Tickets are £25 in advance broadwaytheatre.ticketsolve.com or £30 on the door | call 07989 574 066 / 07723 085 092 for further info and tickets
Twitter: @MOD2015TOUR | @DrElaineSpencer | #melodyofdeception | #mod2015tour
Further press information: to review Melody of Deception in Birmingham on 15 May or London on 16/17 May or to arrange an interview with Dr Elaine Spencer or request images, please contact Sophia A Jackson sophia@afridiziak.com / 07855 86 77 78.
- ENDS -