Meet the cast of The Shepherd's Chameleon
Published:

Monday, May 6, 2013 4:36 PM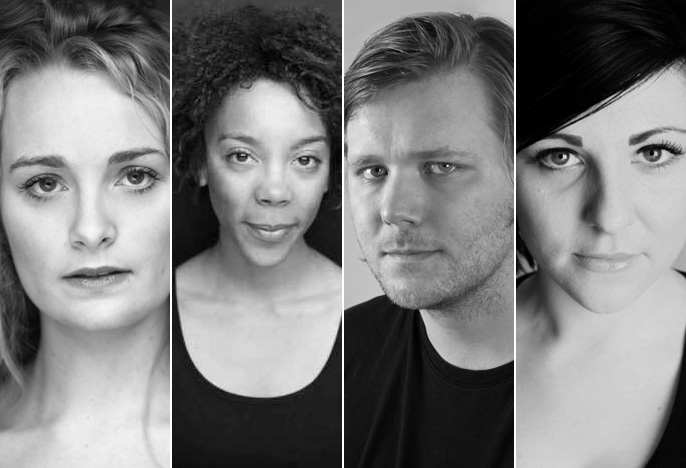 The Shepherd's Chameleon by French-Romanian dramatist, Eugene Ionesco is an absurdist comedy about the playwright battling his critics.
Directed by the award-winning Moji Kareem, The Shepherd's Chameleon runs from 8-25 May at the CLF Art Café in Peckham, south-east London. The cast includes Thomas Solberg (Ionesco), Lucie Chester (Bartholomeus I), Olivia Nicholson (Bartholomeus II) and Sarah Sharman (Bartholomeus III).
LUCIE CHESTER, (Bartholomeus I) is a Northern actress based in London. She developed an avid interest in acting and music from a young age working with companies such as 'Northern Academy of Performing Arts', 'Opera North' and 'Hull Philharmonic'. She has a degree in Performance Theatre from York St John where she was awarded the Graduate Prize for Acting. Lucie was honoured to perform her own play, which she also wrote and directed, at York Theatre Royal in 2011 and has since acted and sang professionally both on and off screen. Lucie is also a script writer and has had her work showcased on the professional stage, and is currently writing a collection of short plays and monologues.
OLIVIA NICHOLSON, (Bartholomeus II) recent graduate of Drama Centre London, has worked with many established directors such as Graham Theakston, Richard Standevan, Burt Cesar and Indra Boose. During her intensive training she learnt the works of Stanislavsky, Meisner, and Uta Hagen in great detail. When cast in The Shepherd's Chameleon she felt like she had to unlearn everything she was taught and immerse herself in this absurdist world. She found this extremely demanding, liberating and baffling all at the same time. Before her training she worked with Birmingham repertoire in 'his dark materials' and then toured Europe with a theatre in education company, ACLE. Olivia writes, directs and produces. Her latest short film 'The Blues' is currently in production.
SARAH SHARMAN, (Bartholomeus III) trained at Bird college of Dance and theatre performance, since graduating she has worked on various film, tv and music productions. Though auditioning for theatre plays and musicals, this a Sarah's debut.
THOM SOLBERG (Ionesco) came from Norway to study music in Leeds with designs of becoming an opera singer. Through performances in Dido and Aeneas, The marriage of Figaro, The Coronation of Poppea, Orpheus ed Euridice he discovered a love for acting and spent the next years taking classes to learn the trade with ActUpNorth. Meanwhile he appeared in short films Bathtime, The Birth of a Master and Shovelhand Dan. Since moving to London he has done the folk musical Van Winkle.
This is the launch production from Utopia Theatre led by Moji Kareem.
---
Related links
The Shepherd's Chameleon is at the CLF Art Café from 8-25 May 2013
The Shepherd's Chameleon
The Shepherd's Chameleon - Courtesy of YouTube.com