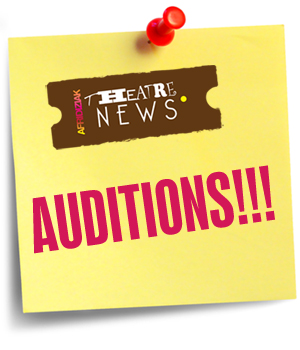 Actors and actresses needed for the staged reading of new drama THE NEW VOICE OF HOME. This play will performed as part of Talawa Firsts on the 7th June. You can find out more about the event by visiting www.talawa.com/talawa_firsts.php
THE NEW VOICE OF HOME
With their parents back-home in Nigeria, away from the fast city life-style of London, Ifeanyi has been left in charge of the house. His twin Ifeoma wants her family to stay out of her private life and Adaeze's arrival makes things more complicated for her brothers and sisters who struggle to fit into the majority culture around them while honouring and preserving their own culture.

The Opiah family have always been very reputable, rich and proud but now the generational gap of experience is causing the family problems and a house divided against itself cannot stand.
Casting Breakdown:
IFEANYI black African, MALE, 24 - 28, 5.11ft or taller, secretive, urgent drive, unbalanced
Chisseled face, stubble and a rough afro. Ifeanyi is an ambitious and humble man that prefers to seperate his work from his family and private life. Although he has a distinguished career; he finds it difficult to uphold and maintain a decent reputation from people that matter the most.
---
IFEOMA black African, FEMALE, 24 - 28, attractive, fixed opinions, sophisticated
Ifeoma enters from upstairs. She is dressed sophisticatedly, wearing pumps anda Trench coat. Fair-skinned, tall and slender with full shoulder lenght hair. She's as smart as she is beautiful and knows it. Her opinions are fixed and she often has trouble balancing her priorities and duties.
---
ADAEZE black African, FEMALE, 30 - 34, abrasive, flamboyant style, witty
Accent: Nigerian, Igbo speaker (required)
Early-thirties. Confident and Outspoken. Adeaze is wearing a head scarf on her head, a traditional dress, taylored to fit her shapely figure and fine jewelry that compliments her mahogany complexion. Her African accent is stronger at times, especially when she breaks into their native Igbo language.
---
CHIDERA black African, FEMALE, 21 - 25, hardworking, down to earth, self-conscious
Chidera is a devoted and hard-working young woman in her early-twenties but looks much older. She is erratic, reserved and speaks softly. Her style is avant-gard, often wearing strong opposing colours. Her choices in life are as random as her mode of dress.
Accent: Nigerian, Igbo speaker (not essential)
---
UCHENNA black African, MALE, 15 - 19, 5.8ft or taller, laid back, charismatic, funny
Uchenna is in his late-teens, charismatic and laid-back. Usually sporting the lastest street clothes with a neat hair-cut.
---
KARL black Caribbean, MALE, 26 - 30, 6ft or taller, charming, determined, patient
Accent: Jamaican (required)
Karl is a respectable and loyal man in his late-twenties. Neat appearance, tall, low hair-cut and strong features. His personable manner and free spirit are part of his appeal. Despite his many achievements, inconsistent circumstances keep causing him to put his own dreams aside.
---
MELANIE black Caribbean, FEMALE, 24 - 28, honest, lonely, disillusioned
Melanie is an attractive young woman is her mid-twenties but is dressed very plain, wearing black with her hair tied back. Her string of failed relationships has left her in a state of disillusionment.
---
MRS EZINNE black African, FEMALE, 64 - 68, strong, prudent, generous
Accent: Nigerian, Igbo speaker (required)
Mrs Ezinne is in her mid-sixties. A generous and strong soul. The hardship and loss she faced in her past has made her value the peace she has finally found. She understands English, yet only speaks in her familiar native Igbo language.
---
For more info and to apply for any of these roles in THE NEW VOICE OF HOME, please email anthonetteisioma@gmail.com with your current CV and photo. Tell us which role you would like to be considered for asap, your mobile number and availability for audition and rehearsals.
Auditions will be held between the 15th – 20th May
Rehearsals on the 6th – 7th June