Tiata Fahodzi announces a new repertory ensemble to tour a brand new outdoors show and a hit revival
Published:

Sunday, March 9, 2014 4:30 PM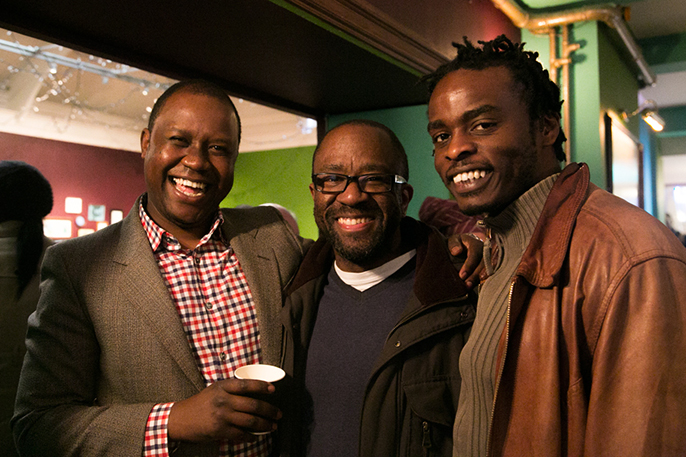 Tiata Fahodzi announces its first repertory company, which tours two productions during 2014. Directed by Artistic Director Lucian Msamati, the company takes its brand new outdoors production The Legend of Hamba to festivals around the UK, whilst reviving 2013 hit play The Epic Adventure of Nhamo the Manyika Warrior and His Sexy Wife Chipo by Denton Chikura around the country and at CLF Art Café at the Bussey Building in Peckham.
The Legend of Hamba first performances: 11 May at 2pm + 5pm at Brighton Festival
The Epic Adventure of Nhamo the Manyika Warrior and His Sexy Wife Chipo press night: 29 May at Watford Palace Theatre
Created by Lucian Msamati with the repertory company, The Legend of Hamba is a contemporary African Everyman play, co-commissioned by Without Walls, Brighton Festival, Greenwich+Docklands International Festival, Hat Fair and Watford Palace Theatre. The piece begins in 1914, as Hamba sets off to war from his Zimbabwean home. He wins and loses empires, becomes a king, a beggar, a poet and a thief. Yet, a hundred years later he finds he is no closer to home.
Tiata Fahodzi's first ever outdoors production, The Legend of Hamba premieres at the Brighton Festival on 11 May, before a UK tour of prestigious festivals including the Greenwich+Docklands International Festival, Imagine Watford Festival, Winchester's Hat Fair, Stockton International Riverside Festival and Kendal Mintfest.
Lucian Msamati: 'At a time when opportunities to present new material are increasingly difficult, The Legend of Hamba sees the company exploring fresh, bold and innovative ways in both creating new material and engaging with wider audiences.'
Following exuberant audience and critical response to its premiere at the Tricycle in August 2013, Tiata Fahodzi tours Denton Chikura's play The Epic Adventure of Nhamo the Manyika Warrior and His Sexy Wife Chipo throughout May and June, in association with Watford Palace Theatre. Turning African storytelling and theatrical decorum on their heads, the Zimbabwean comedy was described as 'a delight from start to finish' (Financial Times), 'undeniably good fun' (Evening Standard) and 'a total joy' (WhatsOnStage.com).

The fast-paced action opens as a desperate narrator tries to create the ultimate African fable but finds he is missing a hero – until dashing goatherd Nhamo appears on the horizon and is pulled into a whirlwind adventure.
The repertory company is Ery Nzaramba (who originated the role of Nhamo), Stefan Adegbola, Anniwaa Buachie and Everal A. Walsh.
Tiata Fahodzi – Theatre of the Emancipated – has become the leading British African theatre company since its foundation in 1997. Under the Artistic Directorship of Lucian Msamati, the company creates world-class theatre reflecting the cultural experience of Africans. It has a strong track-record of commissioning and developing new writing whilst reinterpreting contemporary classics.

Tiata Fahodzi was co-nominated with Soho Theatre for an Olivier Award in 2010 for Oladipo Agboluaje's Iya-Ile. Recent productions also include Bola Agbaje's Belong (co-produced by the Royal Court Theatre, as part of its Olivier Award winning Upstairs season), an all-female version of Joe Penhall's Blue/Orange (Arcola), Roy Williams' Joe Guy and Oladipo Agbouaje's The Estate (both on tour and at Soho Theatre).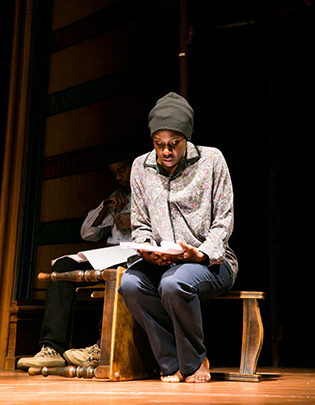 Listings details
The Legend of Hamba
11 May at 2pm + 5pm - Brighton Festival / www.brightonfestival.org / 01273 709 709

22-26 June, times tbc - Greenwich+Docklands International Festival / www.festival.org.uk / 020 8305 1188

28-29 June, times tbc - Imagine Watford Festival / www.watfordpalacetheatre.co.uk / 01923 225 671

July / August - Festival tour including Winchester Hat Fair, Stockton International Riverside Festival and Kendal Mintfest (details to be announced)

The Epic Adventure of Nhamo
Venue: Watford Palace Theatre
Dates + times: 29-31 May at 7.45pm + 31 May at 3pm
Box office: www.watfordpalacetheatre.co.uk / 01923 225 671
Tickets: £15/£12.50

Venue: North Wall Arts Centre, Oxford
Dates + time: 3-4 June at 8pm
Box office: www.thenorthwall.com / 01865 319 450
Tickets: £13/£11 (students: £5, limited availability) + booking fee

Venue: CLF Art Café at the Bussey Building, Peckham, London
Dates: 6-13 June, times tbc
Box office: www.clfartcafe.org
Tickets: tba

Venue: Birmingham Repertory Theatre
Dates + time: 18-21 June at 8pm
Box office: www.birmingham-rep.co.uk / 0121 236 4455
Tickets: £12/£9