Pop sensation Cleo Higgins to make her West End stage debut in Thriller Live
Published:

Saturday, June 7, 2014 2:03 PM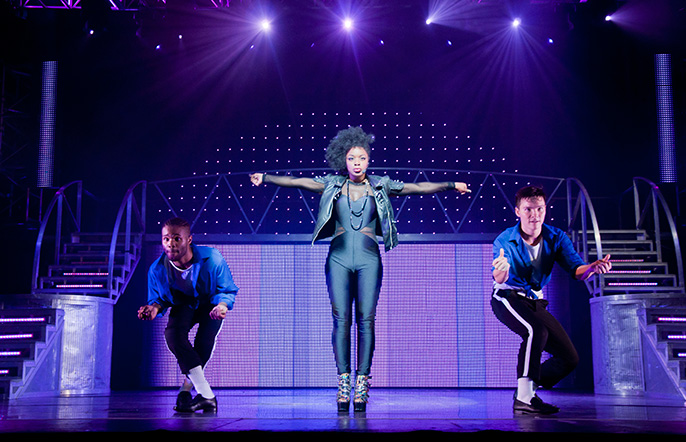 Michael Jackson and Cleo Higgins were both successful child stars... singing in pop groups with their siblings and managed by their parents.
As lead singer of Cleopatra, aged 13, Cleo was signed to Madonna's Maverick label in the US
She had three top five hits, two hit TV series, sang for the Pope and supported The Spice Girls on tour.
In 2013 Cleo reached the final stages of The Voice with Will.i.am calling her "a superstar"
Sensational Cleo Higgins, lead singer of 90s pop group Cleopatra and Will.i.am's unforgettable contestant on The Voice, is to make her West End debut in Thriller Live.
Cleo joins the London cast of the long-running, record-breaking show on Tuesday 24 June direct from touring the UK and Europe, where she earned rave reviews for her incredible Jackson-like vocals.
"I'm a huge Michael Jackson fan and I identify with him," said Cleo. "I'm an Eighties baby - I come from the same era. When he died I literally cried every day for a year. His death reminded me how connected I felt to him as a person and musician, but I didn't recognise how strong those links were until then. My favourite song I get to perform in the show is They Don't Really Care About Us. I get to feel the energy Michael gave when he sang, when it was recorded. I get right into that zone and I feel every word. We celebrate his incredible legacy in Thriller Live. His songs will never die."
Higgins, from Birmingham, is one of four lead vocalists who divide up Jackson's catalogue of chart hits between them.
Thriller Live is a constantly evolving spectacular concert-style show with no storyline to slow down the action. It instead celebrates the songs, ground-breaking videos and iconic dance moves of the world's greatest entertainer.
Thriller Live has become a huge global hit, chalking up more than 3,700 performances in 29 countries and a global audience of almost three million. It has also been playing for more than five years at the Lyric Theatre, where it opened in January 2009, and is now officially the longest running show in the venue's 125-year history.
And Michael Jackson continues to make headlines. Last month he topped the album charts almost five years after his passing with the release of his second posthumous album, Xscape. He became the first artist to reach the Billboard Hot 100's top 10 in five different decades (and six including his work with the Jackson 5), the single Love Never Felt So Good, with Justin Timberlake has sold millions worldwide, and his 1983 No1 Billie Jean re-entered the US charts thanks to the popularity of a viral video featuring the track.
Thriller Live, directed and choreographed by award-winning Gary Lloyd, is produced by Paul Walden and Derek Nicol for Flying Music in association with Adrian Grant for Key Concerts, author of Michael Jackson – The Visual Documentary.
Thriller Live recently cemented its reputation as one of the West End's longest running current shows by extending its booking period by more than 12 months to Sunday 19 April, 2015
---
Related links
Thriller Live launches academy to train young Michael
6-year-old Croydon girl is Thriller Live's 1 millionth West End customer
October 2013 review - Thriller Live
February 2013 review - Thriller Live
January 2009 review - Thriller Live