BirdGang become first dance company to be an associate of the Young Vic
Published:

Thursday, July 2, 2015 9:43 AM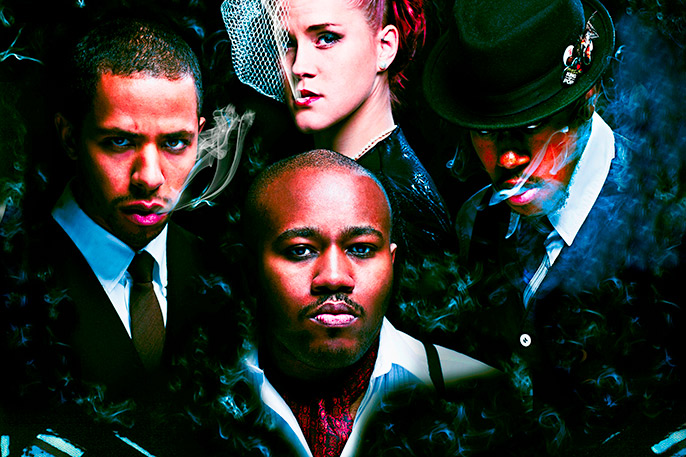 Led by artistic directors Ivan Blackstock, Simeon Qsyea, Quails (Ukweli Roach) and Kendra J Horsburgh, the acclaimed company established in 2005 is now based at offices in the Young Vic. It will have the opportunity to collaborate with and be supported by the theatre's team whilst pursuing its future projects. BirdGang Dance Company and the Young Vic developed a relationship on A Harlem Dream, which debuted in the Maria Studio as part of Dance Umbrella 2014. This was the Young Vic's first collaboration with BirdGang Dance Company and with Dance Umbrella.
BirdGang Dance Company: the first dance company to be an associate of the Young Vic
BirdGang Dance Company: the first dance company to be an associate of the Young Vic Courtesy of YouTube.com
BirdGang have their roots in hip hop culture. They are interested in stimulating audiences through a combination of movement, music, film and striking lighting design. This interest led to the creation of 'Aahehop', their unique style of movement that draws on influences including hip hop, jazz, contemporary, physical theatre, spoken word, illusion, and film. The company produces performances for a variety of spaces across the UK and internationally.
Previous credits include: A Vice in Harlem (Harare International Festival of the Arts 2015 with the British Council), The Aviary (Monolab Festival, Luxembourg); feature films Street Dance 3D 1 and 2 (lead and performance); Minions The Movie live launch; the MTV Awards, Sky TV Awards, Urban Music Awards, BRIT Awards and the BAFTAS; direction and choreography of numerous commercials including 'Stain Dance' for Ariel. BirdGang's work has been performed at venues such as The Royal Opera House, Sadler's Wells and the Barbican. They have worked with music artists including WILL.I.AM, Mariah Carey, Jungle, Rita Ora, 50 Cent, JLS, Dizzee Rascal and George Michael amongst many others.
Forthcoming credits include choreography for FKA Twigs, movement direction for Dynamo's UK Tour, Club Cultures at Latitude Festival 2015 and Vice (Breakin' Convention International Hip Hop Dance Theatre Festival US Tour).
Ivan Blackstock, a founding artistic director of BirdGang commented: "Since our conception BirdGang Dance Company have strived to bring thought-provoking and innovative work to UK and international audiences. Using our signature style (Aahehop) to tell powerful stories and paint vivid 'pictures' is a passion that has united us over the ten years we have been choreographing and directing together. I speak for all of us when I say that we are truly honoured and excited to be working with an organisation like the Young Vic who are renowned for their daring and vibrant productions, along with their dedication to investing in and developing young artists in the UK."
---
Related links
Ivan Blackstock - interview
Ukweli Roach - interview