Black Poppies – Britain's Black Community and the Great War By Stephen Bourne
Published:

Monday, July 14, 2014 7:26 PM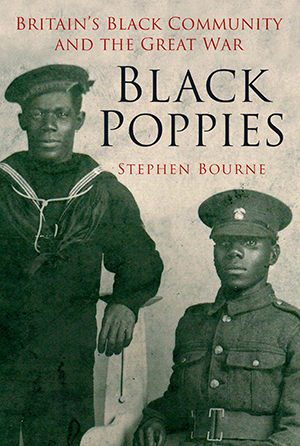 In 1914 there were at least 10,000 black Britons, many of African and West Indian heritage, fiercely loyal to their Mother Country. Despite being discouraged from serving in the British Army during the First World War, men managed to join all branches of the armed forces and black communities made a vital contribution, both on the front and at home. By 1918 it is estimated that the black population had trebled to 30,000, and after the war many black soldiers who had fought for Britain decided to make it their home.
Black Poppies explores the military and civilian wartime experiences of these men and of women, from the trenches to the music hall. Poignantly, it concludes by examining the anti-black race riots of 1919 in cities like Cardiff and Liverpool, where black men came under attack from returning white soldiers who resented their presence, in spite of what they and their families had done for Britain during the war.
With first-hand accounts and original photographs this is the first book of its kind to focus on the black British experience during the Great War. This new offering from Stephen Bourne is fascinating and eye-opening.
An author's Q & A includes contributions from Patrick Vernon OBE, Lorna Blackman, Garry Stewart and Nicholas Bailey.
Chapters highlight Walter Tull, Norman Manley, the British West Indies Regiment, Seaford Cemetery, the 1918 Taranto mutiny, Mabel Mercer and the music halls, Amanda Ira Aldridge, the 1919 'Race Riots' and what black Britain was like in 1919.
Stephen Bourne's previous books include Mother Country – Britain's Black Community and the Home Front 1939-1945 (The History Press, 2010) and The Motherland Calls – Britain's Black Servicemen & Women 1939-1945 (The History Press, 2012).
Info: Black Poppies by Stephen Bourne is published on August 4, 2014 by The History Press | buy a copy