Press launch: The Epic Adventure of Nhamo the Manyika Warrior and His Sexy Wife Chipo, Tricycle Theatre
Published:

Tuesday, July 9, 2013 6:08 AM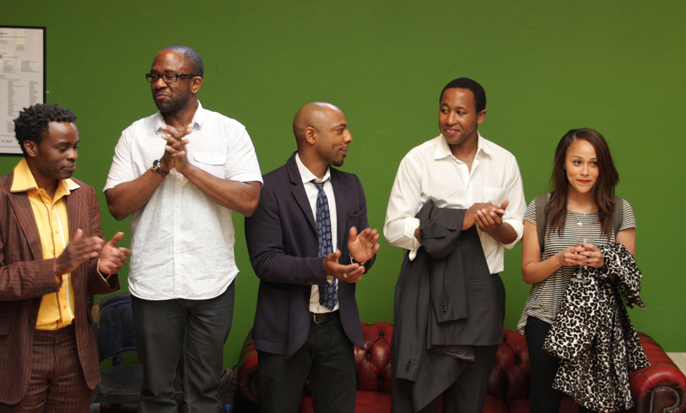 The great British summer is in full swing and the Tricycle theatre is getting into the spirit by embarking on a new partnership with Tiata Fahodzi. An alliance between London's most ingenuitive theatre and the only theatre company giving a voice to Africans in Britain certainly sounds like an ideal pairing.
Speaking at the press launch, the Tricycle's artistic director Indhu Rubasingham states "It's fantastic to be working with Tiata Fahodzi for the Tricycle. It's exactly what this theatre should be doing. It's about partnerships and working with incredibly talented people. I know it's going to be a huge success."
Starting as they mean to go on, the partnership's first production The Epic Adventure of Nhamo the Manyika Warrior and His Sexy Wife Chipo, is described by Lucian Msamati as "a joyous romp."
Written by Zimbabwean actor and playwright Denton Chikura the play is a modern reimagining of Zimbabwean folklore with plenty of ribald comedy. As artistic director of Tiata Fahodzi, this will be the first production Msamati has personally directed for the company. Surprisingly the Zimbabwean actor says he is not nervous. "I'm not because I'm surrounded by amazing people. Indhu has been a constant inspiration. I knew the moment I read the play that it was gonna work. One: because it's as mad as I am. Secondly because of its wit, its joy and the way it says 'Come, embrace this play.'"
Unsurprisingly there's a lot of love in the room! Tribute is paid to Tiata Fahodzi's administrative director Thomas Kell, who describes putting on the play as "A two year voyage. Now that the actors are rehearsing and bringing their energy the whole thing finally feels real."
As Msamati introduces the cast, which includes Don Gilet, Nyasha Hatendi and Ery Nzaramba the director describes his admiration for each actor. A particularly touching anecdote involved his initial meeting with Nzaramba, which involved a note left on Msamati's dressing room door. The role of 'sexy wife Chipo' will be played by Tanya Fear; the only actress who Chikura would have in the role. When asked to describe the play, Fear enthusiastically replies "It's just incredibly funny. It's got a lot of heart. I'm half Zimbabwean so I'm kind of basing it upon my Mum. She's sort of an African queen as they say! The play takes every theatre convention and just turns it on its head. We're just letting it all hang out."
Summing up the daring new venture between The Tricycle and Tiata Fahodzi, Msamati candidly says. "I don't see who aside from the Tricycle would have had the courage to have put on Denton's play. Also, no other theatre company besides ours would produce a play that's like Shrek, meets Shaka –Zulu, meets the Inbetweeners and take a chance on it. In order to execute a piece of work like this properly takes a certain amount of chutzpah." Chutzpah is something that this new theatrical union is certainly not lacking.
Related links
Interview with Lucian Msamati
Interview with Don Gilet
Indhu Rubasingham launches new season at the Tricycle