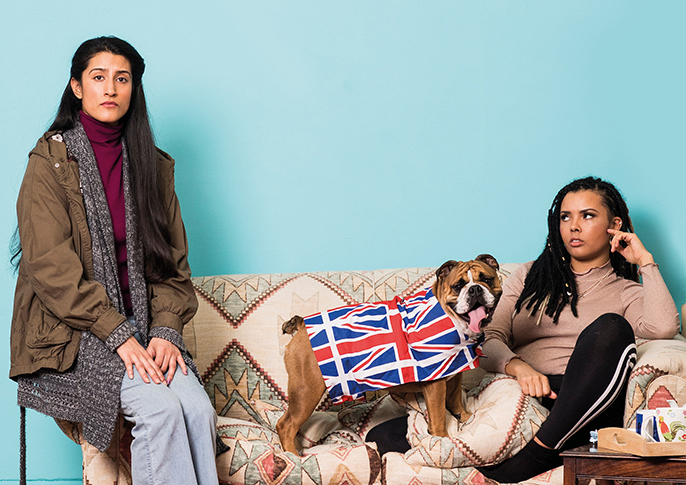 NYT is holding a search for talented new members at more locations than ever before, with auditions and interviews taking place at more than 40 locations across the UK for ages 14 – 25 for its 2018 intake. Successful applicants will follow in the footsteps of celebrated alumni, getting the chance to develop their talent with the world's leading youth arts organisation.
Paddington star Hugh Bonneville, who is a National Youth Theatre Patron and alumnus said: "I loved meeting this year's National Youth Theatre REP Company recently after watching their terrific, visceral production of Othello in the West End. I'd encourage any young person looking to find an outlet for their talent to sign up for an audition. The skills you develop at the National Youth Theatre will help set you up for whatever you want to go on to do in life, on stage or off it. And you'll make lifelong friends, too."
The NYT's application process gives applicants from all backgrounds across the UK the chance to join the prestigious company and build careers in the industry whilst learning to work with other young people. The courses provide skills development in theatre practice, voice and movement. The backstage programme provides practical experience, allowing participants to develop skills within a range of fields including lighting, sound, scenic construction, stage management or costume. This year NYT will launch a new Digital Course as part of the Backstage Courses.
This year the NYT REP Company celebrated its fifth year in the West End with a three-month run at the Ambassadors. Since its conception 77 actors have benefitted from the free training the course offers, which collectively would have cost nearly £700,000 to train for a year at drama school. Over half of the REP actors have been female and over 25% have been BAME. Over 95% of participants have gone on to work professionally in the creative industries with alumni including Sope Dirisu (2013), title role star of the RSC's 2017 production of Coriolanus, Seraphina Beh (2016) recently seen as Madison Drake in EastEnders and who was cast after being spotted in the REP and started filming the following week, Ellise Chappell (2015) who plays Morwenna in BBC One's Poldark and Lauren Lyle (2015) who stars as Marsali in the Amazon Prime drama series Outlander. It has recently been announced that the Andrew Lloyd Webber Foundation has awarded the NYT REP Company £75,000 over the next three years.
AUDITION DATES
Audition dates are now on sale and can be purchased here.
Applicants need to apply by 24 March 2018. Auditions cost £46 and the NYT operate a bursary fund for those facing financial barriers to applying. In 2017 £650,000 worth of support has been awarded.
Aberystwyth, Aberystwyth Arts Centre
23 and 24 Feb
www.aberystwythartscentre.co.uk
Barnsley Civic
17 March
www.barnsleycivic.co.uk
Belfast Grand Opera House
10 Feb
www.goh.co.uk
Bexhill On Sea , De La Warr Pavilion Marina
24 March
www.dlwp.com
Birmingham, MAC
24 and 25 Feb
www.macbirmingham.co.uk
Blackburn, The Bureau
17th March
www.bureaublackburn.co.uk
Birmingham, Old REP
17 and 18 Feb
www.oldreptheatre.co.uk
Bradford, Alhambra Theatre
3 Feb
www.bradford-theatres.co.uk
Bridlington Spa
3 and 4 March
www.bridspa.com
Brighton, Dome
3 and 4 Feb
www.brightondome.org
Bristol, Bristol Old Vic Theatre School
17, 18 Feb, 10, 17 March
www.oldvic.ac.uk
Bristol, Hamilton House
14 - 17 Feb
www.hamiltonhouse.org
Bournemouth - Arts University Bournemouth
3 March
www.aub.ac.uk
Canterbury, Gulbenkian
17, 18 Feb
www.thegulbenkian.co.uk
Cardiff, WMC
3 and 4 Feb
www.wmc.org.uk
Cornwall, Hall for Cornwall
17 Feb
www.hallforcornwall.co.uk
Chelmsford, Tomorrow's Talent
16 Feb
www.tomorrowstalent.co.uk
Edinburgh, Traverse
10 and 11 Feb
www.traverse.co.uk
Elgin, Gordonstoun School
25 Feb
www.gordonstoun.org.uk
Glasgow, Platform
17 and 18 Feb
www.platform-online.co.uk
Guildford, G Live
3 March
www.glive.co.uk
Hull, Hull Truck
10 Feb
www.hulltruck.co.uk
Lancaster, The Dukes
3, 4 Feb
www.dukes-lancaster.org
Leeds, West Yorkshire Playhouse
15, 16, 17 Feb
www.wyp.org.uk
Leicester, The Curve
10, 17 & 18 Feb
www.curveonline.co.uk
Liverpool, Everyman
3 March
www.everymanplayhouse.com
London, Archway Methodist
12 - 16 Feb
www.londonmethodist.org.uk/archwaymethodistchurch.htm
London, ArtsDepot
20, 21 Jan
www.artsdepot.co.uk
London, Theatre Peckham
15, 16 Feb & 3, 4 March
www.theatrepeckham.co.uk
London, Jackson's Lane
4, 11, 18, 25 Feb & 4 March
www.jacksonslane.org.uk
London, London Bubble
12 -16 Feb
www.londonbubble.org.uk
London, National Youth Theatre
13, 14, 20, 21, 27, 28 Jan, 10 - 18 Feb
www.nyt.org.uk
London, Toynbee Studios
10 - 17 Feb
www.artsadmin.co.uk/toynbee-studios
London, St James the Less, Pimlico
27 Jan, 3, 10, 17, 24 Feb, 3, 10, 17, 24 March
www.sjtl.org
Manchester, Z Arts (Backstage Interviews)
24 Feb
www.z-arts.org
Manchester Royal Exchange
3, 4, 10, 11, 20, 21, 24 Feb
www.royalexchange.co.uk
Milton Keynes - Stantonbury Theatre
24 Feb, 17 March
www.stantonburytheatre.co.uk
Newcastle / Gateshead, Baltic
17, 18 March
http://baltic.art
Northampton, Royal & Derngate
16 Feb
www.royalandderngate.co.uk
Norwich, Theatre Royal
15 -18 Feb
www.theatreroyalnorwich.co.uk
Nottingham Playhouse
17 Feb
www.nottinghamplayhouse.co.uk
Plymouth, Devonport Guildhall
17, 18 Feb
www.devonportguildhall.org
Sheffield, Sheffield Theatres
23, 24 Feb
www.sheffieldtheatres.co.uk
Swansea - Gower College
24 March
www.gcs.ac.uk
York Theatre Royal
15,16 Feb
www.yorktheatreroyal.co.uk