Stand Up for your Writes
Published:

Tuesday, January 28, 2014 6:39 PM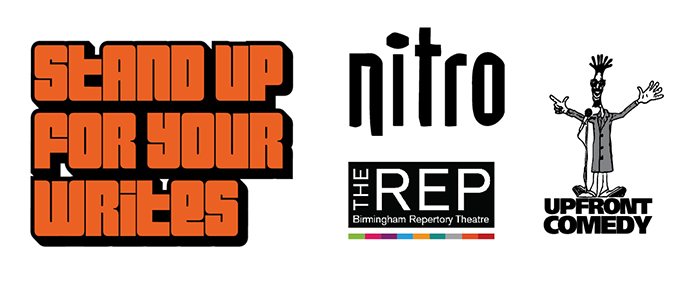 Nitro Music Theatre, Upfront Comedy and Birmingham Repertory Theatre are giving experienced stand up comedians a unique opportunity to become the next comedy writers for theatre and comedy musicals.
Comedians from across the UK are invited to take part in a development project led by Felix Cross MBE (Artistic Director, Nitro), and Tessa Walker (Associate Director, The REP). Six will be chosen to progress through three stages that will lead to staged readings of their plays. The project aims to discover new theatre voices in comedy for the stage.
Felix Cross says, "For comedians this is a chance to explore ways of expanding their work into new territories; learning related skills that could take them into the worlds of theatre, music-theatre, TV, film, etc. For Nitro, this is a very exciting way of looking at new talent. We have always said that working with artists who are highly established in their own fields but who may be new to musical-theatre is an inspiring way of working. We are looking forward to producing the main-stage premiers of at least one of the shows that have developed out of this tremendous project."
The project will include exploring story structure and character development, with mentoring, support and feedback along the way to writing a full script. It is the first project of its kind in the UK and represents a tremendous opportunity for discovering exciting new voices from the range of talented comedians.
John Simmit, Director of Upfront Comedy says, "This is a great opportunity for some talented stand ups to break new ground with their writing. They're already proven in one field, but every stand up quietly wants to write that play, novel or screenplay and this is a big practical chance to address that."
Birmingham Repertory Theatre has a long history of discovering and developing new writers. Associate Director, Tessa Walker says, "Working with Upfront and Nitro on this adventurous project continues our aim of discovering and nurturing new theatre talent.. We're very much looking forward to helping comedy writers with a first step towards seeing their work on stage."
A project of this calibre would normally require a fee to participate but Stand Up for your Writes is fully subsidised through funding from Arts Council England.

Details of how to get involved are available at: www.nitro.co.uk/projects/now/stand-up-for-your-writes/
Criteria
This opportunity is open to experienced stand up comedians who have not yet had a professional production of their writing staged in a theatre. You must be available for the workshop on Mon 17 & Tue 18 Feb 2014 at 11am – 4pm each day.
How To Apply
Please send your CV (including your address and contact details) and up to two A4 pages detailing why you would like to take part in Stand Up for Your Writes and a short outline of a script idea you would like to explore.
Deadline
Please email your proposal to: standup@nitro.co.uk by 5pm on Tuesday 4 February 2014. You will be informed by Friday 7 February whether you have been successful.
For questions and further information about the project please email: diane@nitro.co.uk.
---
Related links
Nitro Theatre to open in Australia
Felix Cross - interview