Second annual Afridiziak Gifts and Occasions Christmas Shopping boutique raises £194 for the African-Caribbean Leukaemia Trust
Published:

Monday, January 2, 2012 11:37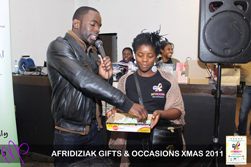 The festive season was welcomed with the second annual Afridiziak Gifts and Occasions Christmas Shopping boutique, held on Saturday 3 December 2011 at the CLF Art Café in south-east London. This unique shopping event brought together top quality exhibitors who offered unique, culturally inspired gifts not found on the shelves of local high street shops. The day included Christmas Carols sung by Gospel Essence choir, dj's Blaze it Up Entertainment and rapper Mas Law keeping shoppers and exhibitors in high spirits. Estar Artistics and Strange Fruit kept children smiling with face-painting and a Christmas card making workshop. Noisettes lead singer Shingai Shoniwa also came to do some shopping too.

Sophia A Jackson, Afridiziak Gifts and Occasions communications director, said: "Thank you to our sponsors, partners, volunteers, friends and family and the guests who contributed to the success of the day. Afridiziak Gifts and Occasions is all about supporting African-Caribbean businesses in raising their profile, this event is one way for them to do this. Thank you to the exhibitors who came back from 2010 and our new exhibitors who joined us this year".

Charity: For the second year running we chose the African-Caribbean Leukaemia Trust [ACLT] as our official charity and we raised £194 through raffle ticket sales and proceeds from our ticket sales. Much loved actor and ACLT supporter Jimmy Akingbola [Rev/Holby City] was present on the day to announce the raffle prize winners and multicultural card publisher Colorblind Cards were also present on the day selling their Angels range of Christmas cards - 15 per cent from the sale of each card goes to the ACLT.

ACLT's co-founder and director of operations, Beverley De-Gale OBE, said: "Thanks to the Afridiziak team on their efforts for delivering a superb Christmas shopping event and for raising vital funds which contribute to the lifesaving work the ACLT provide to those suffering from leukaemia and other life threatening blood related cancers. We truly appreciate their continued support".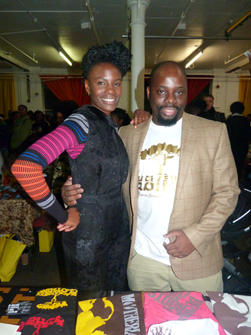 Our 2011 exhibitors: Unit London; Mmm Hair; Dete Tete Designs; Style Queen Boutique; Dinah's Dessert's; WOW WOW Flowers; Qemamu Mosaics; Positive Image Project; Greenshack Productions; Sheabutter Cottage; Onekana; Yess Essentials; Aziza; Cabbi Arts and Textiles; Handmade by George; Hair We Grow Natural; Ugo's Boutique; Ndulge; Afrocenchix; Tantie Lorraine; Rise Books; The Calabash Hub; Colorblind Cards; Sotonye; Kofi Arts; Nerua Phut Accessories; She's Royal Wraps; Beautiful Roots; Cotton Candy Flamingo / Tata and Friends; Arroco.co.uk; Blackarmoor Clothing; Supreme Exfoliating Mitts; Michelle Campbell; Design to Impact; Chayselle Unique/Rachelle Reid; Ka-Ima B.joux; Oya's Adornments; Evelyn Products; Proud to Be African; Joli Create; RococoChichi, Strange Fruit and Dolls Like You.

Afridiziak Gifts and Occasions finance and operations director, Deanne Rowe said: "Thank you to our sponsors, partners, exhibitors, volunteers and shoppers who made the event special. We had a wide range of sponsors who made the goodie bags worth having and our partners who also contributed to the day's success. The exhibitors and their products were of a high quality and provided something for everyone - thank you for letting us host you all at our event which we hope will continue to improve and grow with the help of all the people that made it happen."

Exhibitor feedback:
She's Royal Wraps: "Afridiziak Gifts and Occasions Christmas shopping boutique was fabulous: great venue, fab music, great people, what more can you ask for? Yes, please to 2012!"

Onekana be Seen: "Had a fabulous time at the Afridiziak Gifts and Occasions Christmas shopping boutique! Much thanks to all who made purchases and showed love. Congrats to all the Afridiziak team."

Guest feedback:
Sherece Rainford: "Great turn out, fantastic products on sale."

Kay Russell: "I liked everything about the event. The goodie bags were a great bonus; there was so much going on. The selection of exhibitors was fantastic – great quality. I'm impressed."

Cicelia Deane: "The event felt laid back with a sense of community; liked the promotion on local black businesses who I would otherwise not have heard of".

Sponsors and partner organisations:
Thank you to Afridiziak Theatre News; Lime magazine; African-Caribbean Leukaemia Trust; CLF Art café; The Fancy Baker, Dee's Luxury Jamaican rum cakes; Duchess's Sorrel; Mellz Photography; Blaze it Up Entertainment, Estar Artistics, Strange Fruit and Gospel Essence Choir.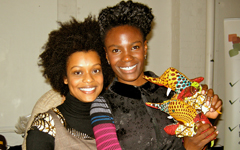 Goodie bags: Thank you to the following companies for contributing to our impressive goodie bags: Pendeza Pantyhose, Organic Root Stimulator, Just Cool, Crème of Nature, Mazuri, Kato Enterprises/Ultimalt drinks and Picturehouse Cinemas.

Raffle prizes: Thank you to the following exhibitors and organisations for contributing to our fabulous raffle prizes – Mizani, Harper Collins, Wow Wow Flowers, Ugo's Boutique, Tantie Lorraine, Style Queen Boutique, Sotonye, Sheabutter Cottage, RococoChichi, Risebooks, PositiveImageProject, Oya's Adornment, Onekana, Nerua Phut Accessories, Natural Grace Therapies, Jolicreate, Handmade By George, Evelyn Products, Dolls Like Us, Cotton Candy Flamingo, Cabbi Arts and Textiles, Blackarmoor Clothing, Beautiful Roots, Arroco, Afrocenchix, and Yess Essentials.
---
Notes to editors
For press enquiries, interviews with the founders of Afridiziak Gifts and Occasions, our 2011 sponsors partners, an exhibitors ; logos and images please contact Sophia A Jackson on sophia@afridiziak.com.


Afridiziak Gifts and Occasions was launched in September 2010 by Deanne Rowe and Sophia A Jackson. We are all about unique gifts which are culturally inspired by African-Caribbean culture and we support entrepreneurs in getting their goods and services to a wider audience.

- Deanne Rowe (e) deanne@afridiziak.com (m) +44 (0) 7787 22 78 28

- Sophia A Jackson (e) sophia@afridiziak.com | (m) +44 (0) 7855 86 77 78


HISTORY
Afridiziak Gifts and Occasions Christmas shopping boutique 2010: The first event was held at the Oval House Theatre, south-east London. There were 30 exhibitors and we raised £120 for the African-Caribbean Leukaemia Trust. As well as our supportive shoppers, Ellen Thomas and Dona Croll from the world of acting also joined us on the day. Info: www.afridiziak.com/xmas2010
About the African-Caribbean Leukaemia Trust [ACLT] – promoting bone marrow and blood donation

The ACLT was established in June 1996 by Beverly De-Gale and Orin Lewis, the parents of Daniel De-Gale. When the charity was initially set up, Daniel had already been suffering from Leukaemia for three years. Daniel's parents were informed that his only hope of survival was to receive a bone marrow transplant. Due to the fact that bone marrow contains racially specific characteristics, the compatible donor for Daniel could only be found within the black or mixed race population. At the time when the shattering news was revealed, there were just 550 black or mixed race people on the UK bone marrow registers. The Consultant at Great Ormond Street Hospital who was responsible for Daniel informed the parents that there was just an approx. 1 in 250,000 chance of Daniel finding a compatible donor.

Daniel finally won his battle against Leukaemia when on 16th June 1999 at the age of 12 he received a bone marrow transplant from an unrelated American donor, Doreene Carney, at Great Ormond Street Hospital. This enabled Daniel to live a full and fruitful life including successfully passing his exams at school and University. Daniel was in full remission and free of Cancer, but due to complications with his health that led to multiple organ failure he died aged 21 on the 8th October 2008 in hospital surrounded by his family. The charity raises awareness which enables potential donors to come forward at the ACLT registration drives to be involved in the process of offering hope and a healthy future to someone whose disorder may otherwise prove fatal. The ACLT has raised the numbers of potential black/mixed Race donors from 550 to approx. 33,000 and many lives have been saved in the process. Info: www.aclt.org