Hackney Empire award £30,000 as part of the Arts Council's Free Theatre Initiative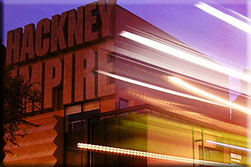 Arts Council England announced that 31 theatres across London have been awarded a total of £2.5 million from the Department of Culture Media and Sport as part of a pilot scheme offering free theatre tickets to under 26 year olds. Launching in February 2009, the initiative will aim to give away over 258,000 tickets over two years to young people across London.
Simon Thomsett, chief executive of the Hackney Empire said:
"We are delighted to have been successful in securing funds from the Free Theatre Initiative and expect the scheme to be very popular indeed with our audiences.  We already have a strong reputation for the genuine diversity of our audiences and for attracting people who do not necessarily consider themselves theatre-goers. This initiative will allow us to target new groups and individuals for whom a visit is usually financially prohibitive.   We are sure the initiative will help us reach new people and develop new methods of engagement with a view to encouraging new first-timers to develop a theatre-going habit."
Theatres in 20 boroughs across the capital will be taking part in the scheme, which aims to reach new audiences and develop a new generation of arts attendees.
Moira Sinclair, Executive Director of Arts Council England, London said:
"We are delighted by the response of so many theatres across London to this scheme and look forward to working with them. This is a wonderful opportunity to showcase the wealth of talent that we have here in the capital, in much loved local venues as well as our national theatres. Traditionally attendance at arts events drops between the ages of 18-26, so we hope that this scheme will introduce more young people to the thought provoking, physically exciting and visually entertaining world of contemporary theatre and in doing so create a life long love for the art form."
The free theatre scheme - which will be named in the New Year - is supported by £2.5 million additional funding to the Arts Council's core grant from the Department for Culture, Media and Sport.