Egusi Soup is served up again as playwright secures first major tour of her work
Published:

Thursday, February 13, 2014 8:33 AM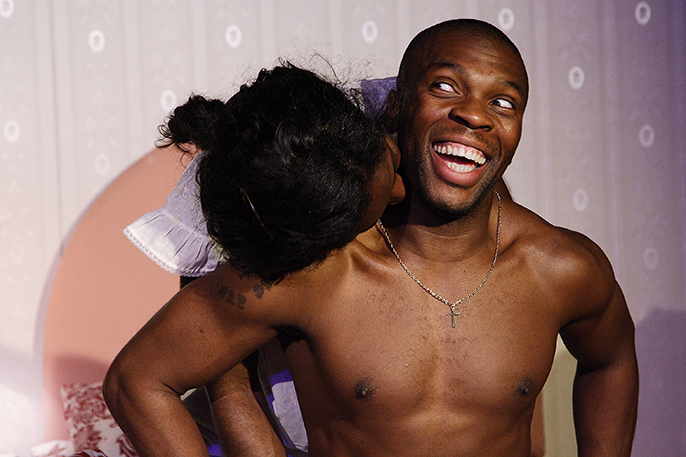 Egusi Soup by Bruntwood award-winning writer, Janice Okoh, opens at Theatre Royal Bury St Edmunds (20-22 February), and then goes on tour to: Key Theatre, Peterborough (24-25 February), artsdepot, North Finchley (5 March), Hull Truck Theatre (7-8 March), Derby Theatre (14 March), Birmingham Repertory Theatre (18-22 March), The Albany, Deptford (25-28 March) and Nottingham Playhouse (4-5 April).
Mixing comedy and hard-hitting drama, Egusi Soup is about the Anyias, a British-Nigerian family, who prepare to head home to Lagos for a memorial service in honour of the late Mr Anyia. However, they soon realise they will need to get rid of some excess baggage first, and not just of the material kind. The chaotic return to London from the USA of the Anyias' eldest daughter disrupts the family equilibrium, and deeply held resentments dramatically resurface. Only time will tell if the family can settle their differences over a nice bowl of egusi soup.
Egusi Soup was produced by Menagerie at Soho Theatre in May 2012 and after popular demand is back to tour the country in Spring 2014. Okoh's other credits include: short plays for the Royal Court (Open House, 2013), Live Theatre/Soho Theatre (Utopia, June/July 2012), Theatre 503, Islington Community Theatre, Unicorn Theatre and others. In 2011, Janice was the winner of the Bruntwood Award – the most prestigious playwriting award in the UK – for her play Three Birds, which was produced by the Bush Theatre and Manchester Royal Exchange in Feb-Apr 2013. For television, Janice is currently story-lining and writing scripts for Casualty, Doctors, Eastenders and Holby City.
Cast include: Lorna Gayle (I Was a Rat, Birmingham Rep; Nation, National Theatre; Sugar Mummies, Royal Court; The Crucible, RSC), Gloria Onitiri, who has just finished playing the lead in The Bodyguard in the West End (The Tempest, Bath Theatre Royal; Charlotte's Web, Polka Theatre; Takeaway, Theatre Royal Stratford East), Richard Pepple (Mountaintop, Gale Theatre London & Barbados; The Loneliness of the Long Distance Runner, Pilot Theatre / York Theatre; Belong, Royal Court / Tiata Fahodzi), Seun Shote (Routes, Royal Court; One Man Two Guvners National Theatre / International Tour; Twelfth Night, Nottingham Playhouse) and Anna-Maria Nabirye (Leaving Planet Earth, Grid Iron; Pandora's Box, Arcola Theatre; 24 Hour Plays, Old Vic Theatre).
Egusi Soup is a co-production between The Theatre Royal Bury St Edmunds and Menagerie Theatre Company. Menagerie is one of the UK's leading independent new writing theatre companies, seeking out and supporting talented new writers. As well as touring widely, Menagerie curates and produces the annual Hotbed New Writing Theatre Festival in Cambridge. Egusi Soup was first developed at Menagerie's Sparks programme and then at the Hotbed Festival. Janice Okoh is a Menagerie Associate Writer.
The Theatre Royal Bury St Edmunds, the last Regency Theatre in the UK, has been a producing house for over 10 years; in that time, the Theatre has worked on everything from Georgian revivals to new writing, Shakespeare and adaptations of popular novels to children's work. The Theatre has produced several national tours.
www.menagerietheatre.co.uk
www.facebook.com/MenagerieTheatreCompany
www.theatreroyal.org
www.facebook.com/TheatreRoyalBSE

@Menagerie_
@TheatreRoyalBSE
#EgusiSoup14

TOUR DETAILS
Theatre Royal Bury St Edmunds | mainhouse
Thursday 20th February, 7.30pm
Friday 21st February, 7.30pm
Saturday 22nd February, 2.30pm & 7.30pm
Box Office: 01284 769505
booking@theatreroyal.org
www.theatreroyal.org

Key Theatre Peterborough | mainhouse
Monday 24th February, 7.30pm
Tuesday 25th February, 2.30pm & 7.30pm
Box Office: 01733 207239
www.vivacity-peterborough.com/venues/key-theatre

Arts Depot | The Pentland Theatre
Wednesday 5th March, 8pm
Box Office: 020 8369 5454
www.artsdepot.co.uk

Hull Truck | studio
Friday 7th March, 8pm
Saturday 8th March, 8pm
Box Office: 01482 323638
www.hulltruck.co.uk

Derby Theatre | studio
Friday 14th March, 8pm
Box Office: 01332 59 39 39
www.derbytheatre.co.uk

Birmingham Repertory Theatre | The Door Studio
Tuesday 18th March, 8pm
Wednesday 19th March, 8pm
Thursday 20th March, 8pm
Friday 21st March, 8pm
Saturday 22nd March, 8pm
Box Office: 0121 236 4455
www.birmingham-rep.co.uk

The Albany | mainhouse
Tuesday 25th March, 7.30pm
Wednesday 26th March, 7.30pm
Thursday 27th March, 7.30pm
Friday 28th March, 7.30pm
Box Office: 020 8692 4446
www.thealbany.org.uk

Nottingham Playhouse | mainhouse
Friday 4th April, 7.45pm
Saturday 5th April, 7.45pm
Box Office:
Bottom of Form
0115 941 9419
www.nottinghamplayhouse.co.uk

---
Related links